ENGLISH
For my home-coming this time, because I don't like trains and its
last service
to me, I decided to catch a Garuda Indonesia flight from Jakarta to Jogjakarta. I chose GA 214 which departed at 5.50 PM.
Yesterday morning when I went to Garuda's office in Bandung to do a City Check-In and guess what?? There was gonnabe a delay for 1.5 hrs. They tried to inform me the day before but I didn't answer my phone (because I was in the middle of my last final-exam!!). Okay, so I also delayed my travel to airport from 12 PM to 2 PM (lucky there was still an available seat in travel 14.00). Btw, I got a City Check-In Boarding Pass (orange).
Then, at 12.30 PM, I tried to get a taxi to go to the departing point at BTC. Guess what?? It was SO difficult to find one!! Lucky at 1.10 PM I got one and arrived at BTC at 1.45 PM. At 2 PM, my travel departed. Well, I actually estimated the trip would take about 3 hrs from Bandung to CGK. But the travel agent said it was 4 hrs!! What!?!? Okay, she was the travel-agent, no reason for me to start a debate, he3... :) Guess what?? It was MY estimation which was correct. Maybe the 4hr estimation was a worst condition when we got trapped in a traffic jam in Jakarta?. At 4.50 PM we arrived at Soekarno-Hatta Int'l Airport. I walked to the check-in area and checked-in at GA 214 counter. After putting in baggage, the officer gave me another boarding-pass (green). That was weird for me. Then, I looked at it and apparently, there was an "extra" 20 minutes delay!! Arrggghhh... . When I asked the officer why there was a delay, he said because of aircraft-rotation. Well, at least Garuda gave me a complementary dinner for free because of the delay, he3... :)
Btw, there was a strange thing. When I looked at the monitor outside of the check-in area, GA 214 gate was F4. Then, after checking-in and checked at the monitor inside the duty free, it was E4 (what!?!? So far as I know, "D" and "E" are usually for international flights!!). I checked at my boarding-pass, it was only written "F", no exact number following... :( After having dinner, I checked it again and it was F6. Okay, so at 6.50 PM I walked to gate F6 and waited for my flight there. The boarding time should be at 7.20 PM. But as time went by, there was no call to board the plane!! Arrrggghhh.... . At 7.55 PM there was a call (some fellas were relieved), but unfortunately, that call was for Merpati's Passengers to Makassar, Biak, and Jayapura, wakakakakaka.... lol. At 8.05 PM, there was finally a boarding-call, but guess what?? We gotta board from gate F3!! OMG!!! But at least, at that time I really boarded the aircraft, he3... :)
Just as usual, the CGK-JOG flight took 50 minutes. The weather was okay (even though it was evening, I still could see we penetrated some cloud, he3... :D). My prayer was granted, we landed from the west side of the runway, so I could see the scenery of Jogjakarta City from above, he3... :D >> if it was from the east, I couldn't see anything, just a dark land. At 9.10 PM, we landed (just as usual, because of the 'wavy' runway, pretty roughly) at Adisutjipto Airport.

Even with the delay, I still A LOT prefer catching a flight than a train, he3... :)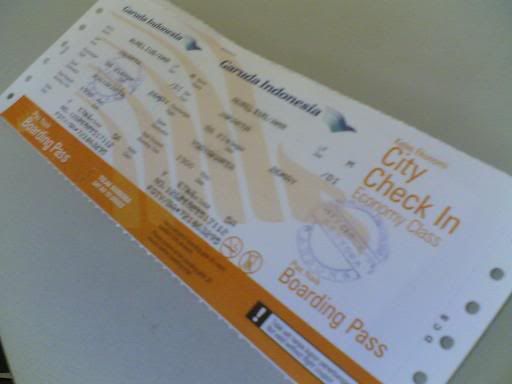 ::: My City Check-In Boarding Pass (orange)
::: My Normal Boarding Pass (green)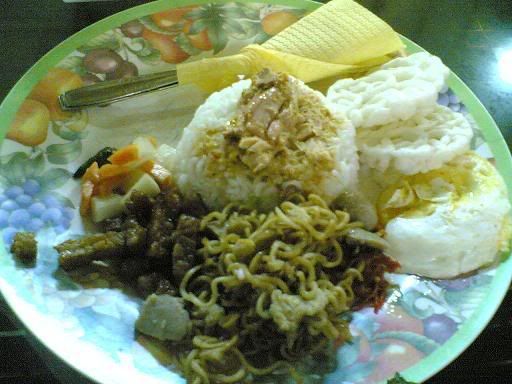 ::: A Complimentary Dinner
::: One spot inside Soekarno-Hatta Int'l Airport
::: Boeing 737-400 Garuda Indonesia GA 214 just after it landed at Adisutjipto Airport, Jogjakarta.

BAHASA INDONESIA
Untuk acara mudik saya kali ini, karena saya nggak suka kereta dan
pelayanan terakhirnya
, aku memutuskan untuk naik penerbangan Garuda Indonesia dari Jakarta ke Jogjakarta. Aku milih GA 214 yang berangkat jam 5.50 sore.
Kemarin pagi waktu aku pergi ke kantornya Garuda di Bandung untuk City Check-In, katanya akan ada delay selama 1,5 jam. Mereka mencoba ngasi tau aku sehari sebelumnya tapi ga aku jawab (lha aku lagi di tengah2 ujian-akhir yang terakhirku koq!!). Oke, jadi aku juga menunda travel saya ke airport dari jam 12 ke jam 2 (untung aja tu masih ada seat kosong buat travel yang jam 2 kan??). Btw, aku juga dapet City Check-In Boarding Pass (oranye).
Trus jam 12.30 siang, aku nyoba untuk dapet taksi kan untuk pergi ke tempat keberangkatan di BTC. Ternyata SANGAT susah untuk dapet satu!! Untung aja jam 1.10 siang akhirnya aku dapet satu dan sampe di BTC jam 1.45 siang. Jam 2, travelku berangkat. Hmm, sebenernya aku memperkirakan perjalanannya akan sekitar 3 jam-an kan dari Bandung ke CGK. Tapi agen travel-nya ngomong kalo ternyata 4 jam!! Apa!?!? Oke, dia kan agen travel-nya, ga ada alasan untuk memulai debat, he3... :) Dan gimana?? Ternyata perkiraanKU yang benar. Jam 4.50 sore kita udah sampe di Bandara Int'l Soekarno Hatta. Mungkin perkiraan 4 jam itu perkiraan terburuk kali ya kalo kita kejebak macet di Jakarta? Aku jalan ke area check-in dan check-in di konter GA 214. Habis masukin bagasi, petugasnya ngasi aku boarding pass yang lain (hijau). Aneh kan untuk saya. Trus aku melihatnya dan ternyata akan ada delay "ekstra" 20 menit!! Arrggghhh... . Waktu aku nanya petugasnya kenapa ada penundaan, dia ngomong katanya gara2 rotasi pesawat. Hmm, paling nggak Garuda ngasi aku makan malam komplementer gratis sih gara2 delay, he3... :)
Btw, ada hal yang aneh. Waktu aku liat di monitor di luar area check-in, gatenya GA 214 itu tulisannya F4. Trus habis check-in, dan liat di monitor di dalam duty-free, gate GA214 jadi E4 (apa!?!? Sejauh pengetahuan saya, "D" dan "E" kan untuk penerbangan internasional!!). Aku cek di boarding-pass-ku dan tulisannya cuma "F", ga ada nomer yang mengikutinya... :( Habis makan malam, aku ngecek lagi dan ternyata F6. Oke deh, jam 6.50 aku jalan ke gate F6 dan nunggu penerbanganku disana. Waktu boarding-nya seharusnya kan jam 7.20. Tapi selama waktu berjalan, ga ada panggilan boarding!! Arrrggghhh.... . Jam 7.55 malem ada panggilan boarding (beberapa orang da seneng tuh), tapi malangnya, itu untuk penumpang Merpati tujuan Makassar, Biak, dan Jayapura, wakakakakaka.... lol. Jam 8.05 malem akhirnya ada panggilan boarding, tapi tebak gimana?? Kita akan boarding dari gate F3!! Ya Tuhan!! Tapi paling nggak, waktu itu aku bener2 naik pesawat sih, he3... :)
Seperti biasanya, penerbangan CGK-JOG memakan waktu 50 menit. Cuacanya oke (walaupun malem, aku masih bisa ngeliat kita nembus awan, he3... :D). Doa saya terkabul, kita mendarat dari sisi barat landasan pacu, jadi bisa ngeliat pemandangan Kota Jogjakarta dari atas, he3... :D >> kalo misalnya dari timur ga keliatan apa-apa tu, cuma tanah yang gelap. Jam 9.10 malem, kita mendarat (seperti biasa, karena landasan yang 'bergelombang', lumayan keras lah) di Bandara Adisutjipto.

Walaupun dengan penundaan itu, aku masih JAUH lebih milih naik pesawat daripada kereta, he3... :)