ENGLISH
Last week, my calculus lecturer said there would be no class for this day since he is going to Yogyakarta (hohoho, my hometown). So, after the first lecture this morning over, we were free, he3... :) At first, my "Kewarganegaraan" lecturer said that we should attend a seminar at my campus which was started at 10 AM. Since at 10 AM we had lecture, we were late and my lecture said that was okay since twas an open seminar. Apparently, we weren't allowed to enter the room because we were late.
Okay, so my friends and I decided to go to CiWalk to watch a new movie released this month which has been waited for by millions of people in this world,
SPI

DERM

AN 3
!! Well, before going there, we did a research first on the internet about the theaters playing this movie (XXI at CiWalk) so we wouldn't be disappointed by the time we got there (the film wasn't played or all seats were fully booked). Apparently, all 4 studios of that theater played Spiderman 3!! Wow.... . So, no reason for those worries. We went there
There were 2 good playing-hours for us, 13.40 or 14.10. First, we looked at the 13.40 , and it was nearly fully booked!! The only empty seats were so close to the screen (the first 3 rows). Okay, so we switched our option to 14.10 where only some seats (at that time / 12.15 PM) had been booked. So, we still had almost 2 hours before the movie was played. We went downstairs and bought ice-cream and played sudoku, he3... :)
Finally, it was 14.10 when the movie started. We watched it, he3... :) Dun worry, there's no synopsis I'm gonna write here, he3... :)

My review:



Well, I think (by mile) it was the best movie I have ever seen (on cinema) this year, I score it 8.5 out of 10. There were so many lines (compared to the 2 previous Spiderman movies) but I'm okay with that. However, on some parts of the movie, I yawned and felt a bit bored. The good thing is that I think this movie owned many "grab-the-attention" aspects for a wide range of people. There were drama (super sensitive people could tear... lol), action (of course), and also comedy. Therefore, so many people would love it. The bad consequence was that it could make some people feel bored when the scene was not "in" to their 'taste' (just like what happened to me... :D). Overall, I think this movie was great (not only "good", it was great!!) and I recommend you guys to watch it, he3... :)
Btw, I think this film is gonna meet its "rival" this month,

Pirates of Caribbean 3

which is gonnabe premiered in 2 weeks... :) I'm waiting for it!! :) :)
Well, after that, we had dinner at a Milan Pizza Restaurant near Ciwalk, then we went back home.
I haven't watched American Idol yet, but this morning I voted for some contestants: LaKisha (5), Melinda (1), Jordin (1) and Phil (1). My vote for Phil was an ACCIDENT!! I didn't wanna vote for him but wrong info I got caused me voting for him... :( I tried to vote for Blake millions of time but none of them was in, the numbers were all busy... :(


::: Peter Parker a.k.a Spiderman (Tobey Maguire) in black suit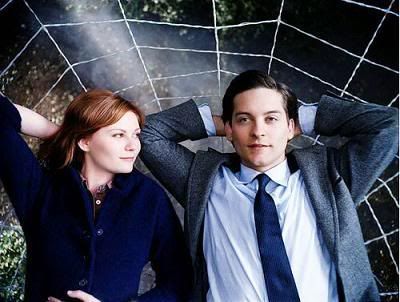 Mary Jane a.k.a MJ (Kirsten Dunst) and Peter Parker on Spiderman 3.



BAHASA INDONESIA
Minggu lalu, dosen kalkulus saya bilang ga akan ada kelas buat hari ini soale dia mau pergi ke Yogyakarta (hohoho, kota asal saya tuh). Jadi, habis kuliah pertama pagi tadi, kita bebash deh, he3... :) Pertamanya sih dosen Kewarganegaraanku nyuruh kita hadir ke seminar yang dimulai jam 10. Tapi kan jam 10 kita ada kuliah, jadi kita bakalan telat, dan dosenku bilang ga masalah soale kan seminar terbuka. Ternyata, kita ga diijinin masuk soale telat.
Okay, jadi temen-temenku dan aku memutuskan untuk pergi ke CiWalk untuk nonton sebuah film baru yang dirilis bulan ini yang sudah ditunggu oleh jutaan orang di seluruh dunia,
SPI

DERM

AN 3
!! Hmm, sebelum kesana, kita research dulu dong di internet tentang bioskop yang mainin film ini (XXI di CiWalk) jadi kita ga akan kecewa kalo waktu kita sampai kesana (ternyata filmnya ga dimainin ato kursinya udah dipesen habis). Ternyata, semua 4 studionya mainin Spiderman 3!! Wow.... . Ya dah deh, ga ada alasan kan buat kekhawatiran tersebut. Kita pergi deh.
Ada 2 jam main yang cocok buat kita, jam 13.40 ato jam 14.10. Pertama, kita liat yang jam 13.40 dulu, ternyata udah hampir dipesen semua loh kursinya!! Kursi kosong cuma tersisa di depan yang deket sama layar (3 baris pertama). Oke deh, kita akhirnya milih yang jam 14.10 soale baru beberapa kursi aja (waktu itu / 12.15 siang) yang udah dibeli. Jadi, masih ada 2 jam deh sebelum filmnya main. Kita turun, makan es krim dan main sudoku dulu deh, he3... :)
Akhirnya, jam 14.10 tiba juga, filmnya mulai. Kita nonton deh, he3... :) Tenang aja, ga bakalan aku tulis sinopsis koq disini, he3... :)

Review saya

:

Hmm, menurutku (sejauh ini loh), film ini adalah yang terbaik dari semua film yang aku tonton (di bioskop) sepanjang tahun ini, aku nilai 8,5 deh dari 10. Ada banyak dialognya sih (dibandingin sama 2 film Spiderman sebelumnya) tapi aku sih nggak masalah aja. Namun, pada beberapa bagian film, aku menguap dan merasa sedikit bosan. Hal bagusnya adalah aku rasa film ini memiliki banyak aspek "tarik-perhatian" untuk banyak sekali orang. Ada drama (orang yang
super
sensitif bisa nangis tu... lol), action (tentu saja), dan juga komedi. Makanya, banyak orang akan merasa bosan saat adegannya nggak "pas" sama 'selera'nya (seperti yang terjadi pada saya... :D). Secara keseluruhan, aku rasa film ini buagus banget (nggak cuma "bagus", bagus banget!!) dan aku nyaranin untuk nonton nih film deh, he3... :)
Btw, aku rasa film ini akan menemui "rival"nya bulan ini,

Pirates of Caribbean 3

yang akan dirilis 2 minggu lagi... :) Aku menunggunya!! :) :)
Hmm, habis itu kita makan malem di sebuah restoran Pizza Milan deh deketnya Ciwalk, trus balik.
Aku blon nonton American Idol nih, tapi pagi ini aku sempet sih vote buat beberapa kontestan: LaKisha (5), Melinda (1), Jordin (1) dan Phil (1). Votingku buat Phil adalah KECELAKAAN!! Aku gamau la vote buat dia tapi informasi yang salah menyebabkan saya vote buat dia... :( Aku udah nyoba vote buat Blake berjuta-juta kali tapi ga ada yang masuk, semua nomernya sibuk... :(