ENGLISH
Last weekend I actually came up with an idea of putting one more name of "Kassaya" inside
Kassaya Malioboro Mall
because there is a connecting door to Ibis Hotel inside my store. So,when people walk from Ibis, they still have no idea what store (the name) is next to them. I then told my dad my idea and he agreed, he3... :)
Therefore, 2 days ago, my dad and I made that word from stereoform. I couldn't do the cutting work (I'm so bad in handmaking... :D) and did the coloring (and lining the pattern on the stereoform), he3... :) The result?? Look at the pic. Probably it will be assembled at the same time of the second "

make-up

" (redecorating) of my store... :) (the first "

make-up

" was last weekend and I forgot to take the pic... :D).
Btw, this evening I went to a barbershop and got my hair cut... :) Finally I could take a pic where
my hair color
is clear, he3... :) I got the pic below, and also my new hair, he3... :) Btw, I just got my hair cut, my last time coloring hair was last April at this time, he3... :)
Arrggghhh, I'm now waiting for the rerun of The Apprentice on Star World.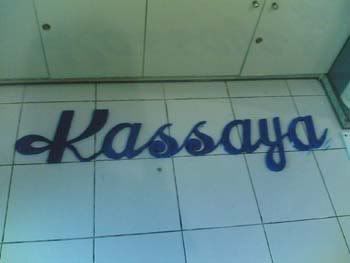 ::: "Kassaya" from stereforom
::: narcist time

BAHASA INDONESIA
Akhir minggu lalu aku sebenernya dapet ide untuk naruh satu lagi nama "Kassaya" di dalem toko
Kassaya Malioboro Mall
soale kan ada pintu yang nyambung ke Hotel Ibis di dalem tokoku. Makanya, kalo orang jalan dari Ibis, kan mereka gatau sebenernya mereka lagi di dalam toko apa (namanya). Trus aku ngomong ide itu ke papaku dan disetujui, he3... :)
Makanya, 2 hari yg lalu, papaku sama aku bikin tulisan itu dari stereoform (gabus). Aku gabisa kerjaan motong-memotong (aku tolol dalam pekerjaan tangan... :D) dan mengerjakan pewarnaan (dan juga bikin garis pola di gabusnya sih), he3... :) Hasilnya?? Liat aja deh di gambarnya. Mungkin tulisan itu bakal dipasang besok pada saat yang sama dengan "

make up

" (dekor ulang) yang kedua... :) ("

make-up

" pertama dilakukan akhir minggu lalu dan aku lupa ambil fotonya... :D).
Btw, sore tadi aku ke salon dan potong rambut... :) Akhirnya aku bisa ngambil gambar dimana
warna rambut saya
keliatan jelas, he3... :) Aku ada gambarnya tuh di atas, dan juga potongan rambut yg baru, he3... :) Btw, aku cuma potong rambut loh, terakhir aku ngecet rambut sih bulan April kemarin pada waktu ini, he3... :)
Arrggghhh, lagi nunggu rerunnya The Apprentice di Star World nih.