ENGLISH
Today is Sunday. This morning, I went to the church. Something I
always
often do when I'm at Jogja, hehehe... :) After the liturgy ended at 8 AM, my family and I had breakfast at Soto Pak Parman Kridosono.
Actually my parents had a plan to go to Magelang to attend their friend's
'syukuran'
party for her new tire shop there. However, this weekend my dad joined a table-tennis competition and yesterday he won making him proceeding to the next round which was today. Okay, he didn't feel good to be 'WO'ed and asked me to accompany my mom to Magelang, hahaha... :) Okay, so I did. We also asked my grandma whether she wanted to go to Magelang or not to visit our relatives. She said okay.
Then, at 10 AM we went to Magelang. At 11 AM we arrived there and dropped my grandma at our relatives' house and my mom and I proceeded to the party. At 11.30 AM the party started. Well then of course we had lunch, haha... :) There were Timlo Solo, Nasi Liwet Solo, Sate Ayam, and tengkleng. I ate 3 of them (not tengkleng). At 2 PM we went back to Jogja.
Then the rest of the day was just ordinary. I went to Malioboro Mall (arrgghh, damn BBM, the fuel price rise really made people's buying power drop).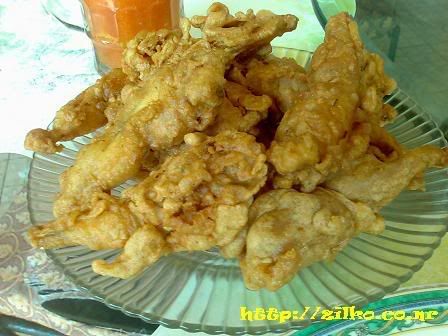 ::: swikee I ate yesterday
::: 'sate ayam'
::: 'Nasi Liwet Solo'

BAHASA INDONESIA
Hari ini adalah Minggu. Pagi tadi aku ke gereja. Sesuatu yang
selalu
sering aku lakukan kalo di Jogja, hehehe... :) Habis misa selesai jam 8 tadi aku sekeluarga makan pagi di Soto Pak Parman Kridosono.
Sebenernya kan ortuku lagi ada rencana mau ke Magelang untuk dateng ke acara syukuran temennya yang baru aja buka toko ban baru disana tuh. Nah tapinya wiken ini kan papaku ikutan kompetisi ping pong dan ternyata kemarin dia menang makanya hari ini kan lanjut ke babak selanjutnya. Oke, dia nggak ngerasa enak kalo kalah karena WO. Makanya dia nyuruh aku nemeni mamaku nggantiin dia ke Magelang, hahaha... . Ya udah gapapa deh. Trus kita juga nanya nenekku (mak-ku) mau kaga dia ikutan ke Magelang sekalian berkunjung ke rumah saudara. Katanya sih mau.
Trus jam 10 gitu kita berangkat ke Magelang. Jam 11 kita sampe disana dan nurunin mak-ku di rumah saudara trus aku sama mamaku pergi ke tempat syukurannya. Jam 11.30 acaranya mulai. Tentu saja kemudian kita makan siang dong, haha... :) Menunya tadi ada Timlo Solo, Nasi Liwet Solo, Sate Ayam, dan tengkleng. Aku makan 3 diantaranya (nggak mau tengkleng). Jam 2 siang kita balik deh ke Jogja.
Trus hariku biasa saja. Aku pergi ke Malioboro Mall sore ini (arrrgghh, sialan ni harga BBM naik kan jadinya daya beli masyarakatnya jadi turun, grr...).