ENGLISH
Okay, as you can read at
this entry
, yesterday (Monday) I had an inauguration ceremony at my campus as becoming a member of student councils in my campus (becoming the head of mathematics student council for the new period). It was a formal ceremony (of course), and I gotta wear white shirt, a tie, black pants, pantofel shoes, haha... :) It was really formal and I think I am suit wearing formal wears, wkwkwkwkw... LOL (narcist). There are actually some photos (because those pics will be published in this year's PM's bulletin) but none of them is taken by me so for now I won't upload it (them), hehe... . (beside I only have 1 file for now)
Anyway, I actually now have a plan to live a healthier life (tsah!!). My plan for my dinner at Bandung: (yea, only at Bandung since here I can handle my appetite, hahaha...)
"only eat couple of fruits (probably apples) for dinner"
So, to execute this will, yesterday when I went to a supermarket I bought 5 apples. Last night I ate 1 (but not for dinner since I bought that apples AFTER my dinner at KFC, wkwkwkwkw... LOL). I planned to have an inaugural dinner today BUT it didn't work, haha... :) Because of only having a quick brunch this morning, I was so starving for dinner and I ended up at Hoka-Hoka Bento, wkwkwkwkw.... LOL. Arrrggghhh, I hope it can start working tomorrow!! :)
Anyway, yeah!! On July Star World is gonna air The Apprentice LA (season six). YEEAAAHHH!!! hahaha... :)
::: my meal at KFC for dinner yesterday (Colonel Yakiniku)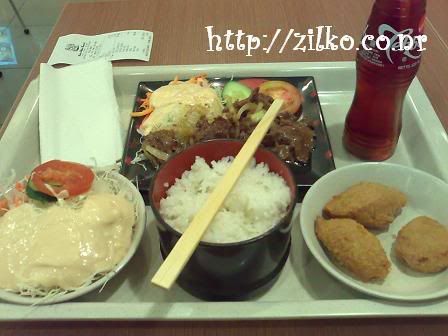 ::: my meal at HokBen for dinner today, hahaha...

BAHASA INDONESIA
Oke, seperti yang bisa dibaca pada
posting ini
, kemarin (Senin) kan ada Upacara Pelantikan gitu di kampus soalnya kan menjadi salah satu pengurus Persatuan Mahasiswa di kampus (menjadi Ketua Himpunan Mahasiswa Jurusan Matematika) gitu dah untuk periode yang baru. Acaranya jelas dong resmi banget, dan harus mengenakan kemeja putih, dasi, celana hitam, dan sepatu pantofel, haha... :) Bener2 formal dan baru nyadar ternyata aku cocok juga yah pake pakaian formal, wkwkwkwkw... LOL (narsis). Ada beberapa foto sih sebenarnya (soalnya foto2 itu akan dimasukin di Buletin PM tahun ini kayanya mah) tapi nggak satu pun yang diambil oleh saia jadi untuk sekarang sih aku belum bisa menguploadnya, hehe... . (di samping aku juga baru cuma punya 1 file koq sekarang)
Ngomong2, aku sebenernya ada rencana loh untuk hidup yang lecih sehat (halah!!). Rencana saia untuk makan malam di Bandung: (iya, di Bandung doang soalnya seharusnya bisa lebih menahan hawa nafsu makan sih, hahaha...)
"hanya makan beberapa buah (mungkin apel) sebagai makan malam"
Jadi, untuk mewujudkan niat ini, kemarin aku pergi ke supermarket beli 5 buah apel. Kemarin malam makan 1 biji (bukan buat makan malam soalnya kan baru ke supermarketnya SETELAH makan malam di KFC, wkwkwkwkw... LOL). Aku berencana untuk memulai deh percobaan hari ini TAPI nggak jadi deh, haha... :) Soalnya kan aku cuma makan dikit nih tadi pagi (digabung ni makan pagi dan makan siangnya tadi), dan jadinya kelaparan banget deh sorenya dan malah makan di Hoka-Hoka Bento, wkwkwkwkw.... LOL. Arrrggghhh, Semoga bisa dimulai besok dah!! :)
Ngomong2, yeah!! Mulai Juli Star World akan menayangkan The Apprentice LA (season enam) nih. YEEAAAHHH!!! hahaha... :)