ENGLISH
Finally last night I finished reading
Death In The Clouds
, a novel by
Agatha Christie
.
Plot Summary:
Hercule Poirot was a passenger of an international flight from Le Bourget Airport, Paris to Croydon Airport, London. Weirdly, some times during the flight there was a bee. One passenger, Madame Giselle, was found dead some minutes before landing. At that time Poirot found a weird poisonous dart lying on the floor. On the check, a blowpipe was found on his seat! This, however, made 10 passengers on board and 2 stewards became suspects.
He, of course, started his investigation of this case. Some past secrets were dug, many things were analyzed, a likely 'intruder' came in but then eliminated. In the end he found who the murderer was.
Well, I wanna write one spoiler, huahahaha.... :D
=== spoiler starts ===
- the murderer was the one who had 2 identities
=== spoiler ends ===
Okay, my comment. I think this novel is a good one. I like the storyline since it's not confusing nor giving too many unnecessary details. One thing is that I like Poirot's Method of digging the suspects' past, analyzing them and deciding who was guilty and who were innocent. I like the way he focused on the weird fact(s) (the existence of a bee on board) >> Err, actually this thing is kinda usual for detective stories but I still like it, hahaha... :) That's why I really like Detective Conan. The simple twist is also one appeal of this novel.
Anyway, while I was still reading I also made a guess about who the murderer might be. Well, my guess was correct, wkwkwkw... lol. But actually it was only based on feeling, LOL.
So yeah, I agree that Agatha Christie is a great novelist!! hahaha...
::: Agatha Christie's "
Death In The Clouds
" front cover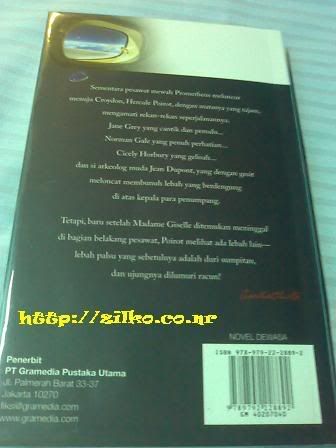 ::: Agatha Christie's "
Death In The Clouds
" back cover

BAHASA INDONESIA
Akhirnya semalam aku selesai membaca
Death In The Clouds
, novelnya
Agatha Christie
.
Ringkasan Cerita:
Hercule Poirot adalah seorang penumpang penerbangan internasional dari Bandara Le Bourget, Paris tujuan Bandara Croydon, London. Anehnya, pada waktu penerbangan ada seekor lebah. Satu penumpang, Madam Giselle, ditemukan meninggal beberapa menit sebelum mendarat. Waktu itu Poirot menemukan sebuah panah kecil beracun di lantai. Waktu pengecekan, sebuah sumpitan ditemukan di kursinya! Hal ini, akhirnya, membuat 10 penumpang dan 2 pramugara menjadi tersangka.
Dia, tentu saja, memulai investigasinya atas kasus ini. Beberapa rahasia masa lalu diungkap, banyak hal dianalisa, sebuah 'penyusup' kelihatannya masuk namun ternyata bisa dieliminasi. Akhirnya ketauan deh pembunuhnya suapa.
Iseng ah, mau ngask bocoran dikit neh, huahahaha.... :D
=== bocoran dimulai ===
- pembunuhnya adalah dia yang memiliki 2 identitas
=== bocoran selesai ===
Oke, komentar saya. Aku rasa novel ini ok juga loh. Aku suka jalan ceritanya soalnya nggak membingungkan atau berbelit-belit juga nggak memberikan terlalu banyak informasi-informasi nggak penting. Satu hal yang aku suka adalah Metoda-nya Poirot yang menggali masa lalu para tersangka, menganalisanya dan memutuskan siapa yang bersalah dan siapa saja yang nggak bersalah. Aku suka caranya dia fokus pada fakta-fakta tak biasa (misalnya keberadaan lebah di pesawat) >> Hmmm, sebenernya itu standar sih ya kalo untuk suatu novel dekektif tapi aku suka2 saja tuh, hahaha... :) Makanya juga kan kenapa aku suka banget sama Detektif Conan. Twist yang sederhana (menurutku) juga merupakan satu daya tarik novel ini.
Ngomong2, waktu masih membaca novel ini kan saya juga menebak-nebak siapa pelakunya. Nah, tebakan saya bener loh, wkwkwkwkw... lol. Tapi cuma berdasarkan feeling saja sih, LOL.
Jadi, yah, aku setuju kalo Agatha Christie adalah novelis yang hebat!! hahaha...