ENGLISH
Lately I haven't written about my daily life, hahaha... ;) Yea, the problem is that there is nothing really to write down since my days in Bandung have just been ordinary. One update about me is that I have been suffering a flu, damn.... :( It's now a bit better but still it's not healed yet.
Anyway, finally I decide that tomorrow evening I'm going back to Yogyakarta catching Turangga Express. My original plan was actually that I'm going back to Yogyakarta on Friday. However, this evening I went to Bandung Railway Station to buy tickets but they said all executive class tickets for Friday on any train have been sold out!! Arrrrggghhhhh!!!! So I asked if there is any left for tomorrow (Thursday). She said there were still some seats left on Turangga and 1 left on Night Lodaya. I then chose to take the Turangga one, hahaha.... . Yea, now it's on peak season so it's kinda hard to get tickets.
I think tomorrow is gonnabe a pretty long day, hahaha... ;) I have some meetings on campus and of course some stuffs to execute while Turangga departs at 7 PM. Next week on Thursday I'm going back to Bandung again tho...
O yea, last week I bought Agatha Christie's
The Big Four
after
her
positive review of the book, hehehe... ;) Unfortunately I haven't had time to read it tho, damn. However, I think tomorrow on the train I'll try to read it since probably I'm going to have the same experience as I had
this time
where I couldn't sleep on board eventho actually I was pretty tired, hahaha... ;)

Wimbledon 2008

Btw, waaa, how could Novak Djokovic lose on the 2nd round of Wimbledon 2008?? Waaa....

Anyway, Ana Ivanovic had a tough game against Nathalie Dechy. Ivanovic in the end won with 6 - 7, 7 - 6, 10 - 8 (waaa!!!). The game was really exciting to watch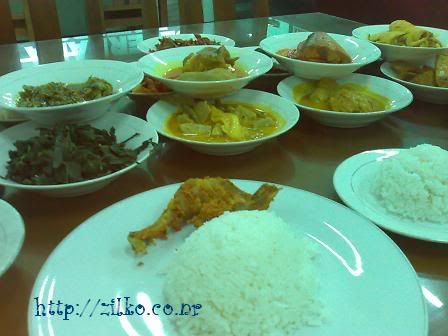 ::: my meal at a Padang Restaurant few days ago (

note: Of course I did NOT eat all of them, wkwkwkw, I just chose rendang, fried chicken and scrambled egg

... ;) )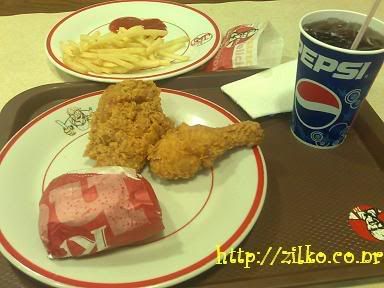 ::: my meal at KFC this evening (Combo 1)
::: my Turangga Express Ticket for tomorrow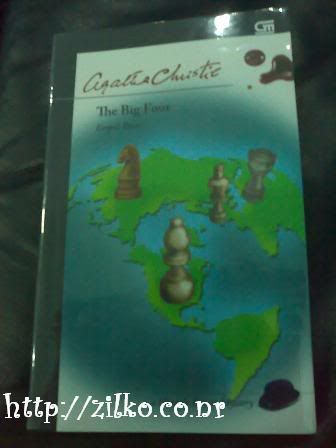 ::: Agatha Christie's "The Big Four"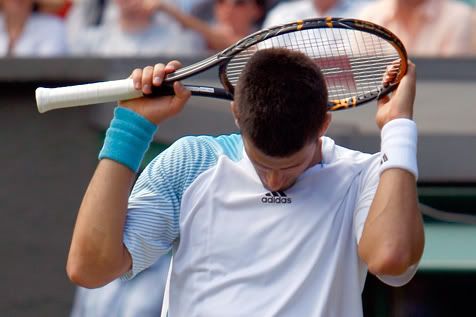 ::: Novak Djokovic lose (photo is taken from the
official website
)

BAHASA INDONESIA
Akhir-akhir ini aku gak nulis tentang kehidupan sehari-hari yah, hahaha... ;) Ya masalahnya soalnya nggak terlalu ada yang spesial yang terjadi sih soalnya hari-hariku di Bandung juga rasanya biasa saja. Satu update tentang saya adalah aku uda berapa hari ini sakit flu nih (batuk pilek), sial... :( Sekarang sudah mendingan sih tetapi masih belum benar-benar sembuh.
Ngomong2, akhirnya aku memutuskan bahwa besok aku akan balik ke Yogyakarta nih naik Kereta Ekspres Turangga. Rencana awalku sih sebenernya aku baru akan balik ke Yogyakarta hari Jumat besok. Namun, sore tadi kan aku ke Stasiun Kereta Bandung untuk mencari tiket namun semua tiket eksekutif untuk hari Jumat sudah habis!! Arrrrggghhhhh!!!! Jadi aku nanya kalo ada yang tersisa untuk besok (Kamis). Katanya sih masih sisa sedikit di Turangga dan ada 1 untuk Lodaya Malam. Aku trus memilih yang Turangga deh, hahaha... . Ya, sekarang memang lagi musim ramai (peak season) sih makanya nyari tiketnya juga jadi agak susah.
Kayaknya besok akan jadi hari yang panjang, hahaha... ;) Ada beberapa rapat di kampus dan tentu saja beberapa hal untuk diselesaikan sementara Kereta Turangga berangkat jam 7 malam. Minggu depan hari Kamis aku akan balik ke Bandung lagi sih...
O iya, minggu lalu aku kan beli novelnya Agatha Christie yang
The Big Four
karena review positif-
nya
tentang buku ini, hehehe... ;) Sayangnya aku belum ada waktu untuk membacanya sih, sial. Namun, kayanya besok bisa deh membacanya di atas kereta soalnya kemungkinan aku akan mengalami pengalaman yang sama seperti yang aku dapat
waktu ini
dimana aku nggak bisa tidur di kereta padahal aku udah capek banget lho, hahaha... ;)

Wimbledon 2008

Btw, bujug dah, masak Novak Djokovic uda kalah sih di ronde ke-2 Wimbledon 2008?? Waaaa...


Ngomong2, Ana Ivanovic mengalami game yang sulit tuh melawan Nathalie Dechy. Akhirnya Ivanovic menang sih dengan skor 6 - 7, 7 - 6, 10 - 8 (waaa!!!). Pertandingannya benar2 menarik untuk ditonton tuh