ENGLISH
Well, now I have finished reading Agatha Christie's
The Big Fou

r
.
Plot Summary:
Captain Hastings came to London to visit his old friend, Hercule Poirot, only to find him in the middle of his chase of a group called The Big Four. The Big Four was an underground group led by four people: Li Chang Yen (number one, known as the brain of the group), Abe Ryland (number two, identity was revealed later, a rich American businessman), Madame Olivier (number three, identity was revealed later, a genius Frenchwoman professor), and number four who was known as "the destroyer" (his identity was revealed later near the end of the book). Poirot and Hastings met some problems on his plan but managed to escape from dangers in the end. In the end, he was able to destroy The Big Four.
Well, I think this novel is a lot better than Death In The Clouds (my review can be read
here
). It's not like a common detective story, but more like Dan Brown's novels, hahaha... ;) I think that's why I like it even more than DITC. Plus, this novel also highlighted Poirot's weakness side: his arrogancy.
However, for me, there is a big weakness on this novel. The ending was not exciting enough. I thought: "

Well, that was it?

". I mean, Poirot seemed to destroy The Big Four in a relatively easy way comparing to the greatness of The Big Four as mentioned earlier on the novel. I'm pretty sure that the novel could have been much more interesting if in the end The Big Four defended themselves and gave any counter attack, not just surrendered like that.
Overall, I still think this is a good novel and still better than DITC... ;)



::: quick update about Euro 2008 ::: (Mon 30th June 2008; 3:40 AM)



Finally Spain won Euro 2oo8 after beating Germany 1 - 0. Yea, at first I thought Germany would win after pressing Spain but that only happened on the first like 10 - 15 minutes... . That's fine tho, I'm not on any side, hahaha.... ;)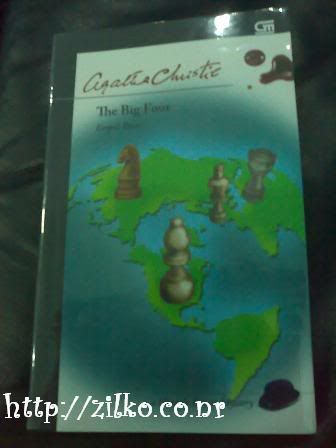 ::: Agatha Christie's "

The Big Four

" front cover
::: Agatha Christie's "

The Big Four

" back cover

BAHASA INDONESIA
Hmm, sekarang aku sudah selesai membaca novelnya Agatha Christie yang
The Big Four
.
Ringkasan Cerita:
Kapten Hastings pergi ke London untuk mengunjungi sahabat lamanya, Hercule Poirot, dan akhirnya menemukannya sedang di dalam pengejarannya terhadap sebuah grup bernama The Big Four (Empat Besar). The Big Four adalah grup bawah tanah yang dipimpin oleh: Li Chang Yen (nomor sati, yang juga otak dari grup ini), Abe Ryland (nomor dua, identitas dikuak kemudian, seorang usahawan kaya asal Amerika), Madame Olivier (nomor tiga, identitas dikuak kemudian, seorang profesor kimia jenis dari Prancis), dan nomor empat yang dikenal sebagai "si penghancur" (identitasnya dikuak kemudian dekat-dekat akhir dari novel). Poirot dan Hastings menemui beberapa masalah dalam rencananya tapi berhasil untuk menyelamatkan diri dari behaya pada akhirnya. Pada akhirnya mereka berhasil menghancurkan The Big Four.
Hmm, aku rasa novel ini jauh lebih baik loh daripada Death In The Clouds (review ku bisa dibaca
disini
). Nggak kayak cerita detektif biasa lainnya, novel yg ini lebih mirip ke tipe-tipe novelnya Dan Brown tuh, hahaha... ;) Kayanya itu lah alasan kenapa koq aku lebih suka novel ini daripada DITC. Plus, novel ini juga menggaris-bawahi sifat buruknya Poirot: kesombongannya.
Namun, untuk aku, ada kelemahan besar dah di dalam novel ini. Ending-nya nggak cukup menarik dan seru. Aku berpikir: "

Hah, gitu doang?

". Maksudku, Poirot koq dalam menghancurkan The Big Four kesannya cenderung relatif mudah yah dibandingkan dengan kehebatan The Big Four seperti yang disebutkan di awal novel. Aku cukup yakin koq novelnya bisa menjadi jauh lebih seru andaikata akhirnya The Big Four melindungi dirinya dan memberikan perlawanan pada serangannya Poirot, nggak menyerah seperti itu.
Secara keseluruhan, aku rasa ini adalah novel yang bagus koq dan masih lebih baik daripada DITC... ;)


::: apdet kilat tentang Euro 2008 ::: (Senin 30 Juni 2008; 3:40 pagi)

Akhirnya Spanyol memenangkan Euro 2008 setelah mengalahkan Jerman 1 - 0 di final. Ya, pertamanya kirain Jerman yang akan menguasai pertandingan soalnya mainnya menekan terus. Eh, kaya gitunya ternyata cuma sekitar 10 - 15 menit pertama doang... . Gpp sih, gak dukung siapa pun soalnya, hahaha... ;)