E
NGLISH
Well, these last 2 days have been pretty ordinary, haha... :) Yesterday I hanged out with my friend. We went to Ambarrukmo Plaza then Galeria Mall. In the afternoon we had lunch at Kiko Restaurant. O yea, at Galeria I bought a novel by
Agatha Christie
,
Death In The Clouds
. I actually was looking for her next novel,
The A.B.C. Murders
but the stock was zero, damn. Well, I am interested in it since I read it at Detective Conan. O yea, yesterday I bought my favorite bakso, Bakso Kornelan, hahaha....
Anyway, because
AirAsia
and
Malaysia Airlines
now operate non-stop flight from Kuala Lumpur to Yogyakarta, there are so many Malaysian Tourists now in Yogyakarta, hahaha... .
O yea, starting today J.Co opens its new branch at Malioboro Mall Yogyakarta (the first J.Co in Yogyakarta). As usual for its first day, so many people bought J.Co today causing a really long line of people queuing for donuts!! hahaha... :) At 7.45 PM the donuts were sold out and people gotta wait for about 30 minutes before it's ready to be back on service. Lucky I could order so I didn't have to stand in line, LOL
::: my meal at Kiko
::: Bakso Kornelan
::: Agatha Christie's "

Death In The Clouds

"
::: Bakso Kornelan I ate this morning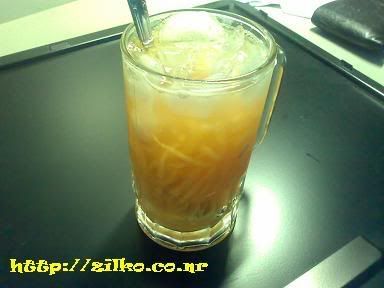 ::: es blewah
::: J.Co Donuts

BAHASA INDONESIA
Hmm, 2 hari belakangan ini menjadi hari yang biasa2 saja, haha... :) Kemarin aku jalan2 sama temen. Kita pergi ke Ambarrukmo Plaza trus Galeria Mall. Siangnya kita makan di Restoran Kiko. O iya, di Galeria Mall aku beli novel pembunuhan karangannya
Agatha Christie
,
Death In The Clouds / Maut di Udara
. Sebenarnya aku mencari novelnya yang selanjutnya,
The A.B.C. Murders / Pembunuhan A.B.C
tapi stok-nya kaga ada, siyal. Hmm, aku tertarik soalnya baca di komik Detektif Conan sih. O iya, kemarin aku beli bakso favorit saya loh, Bakso Kornelan, hahaha... .
Ngomong2, karena
AirAsia
dan
Malaysia Airlines
sekarang mengoperasikan penerbangan langsung dari Kuala Lumpur ke Yogyakarta, sekarang ada banyak turis Malaysia loh di Yogyakarta sini, hahaha... .
O iya, mulai hari ini kan J.Co membuka cabangnya yg baru tu disini di Malioboro Mall Yogyakarta (J.Co pertama di Yogyakarta). Seperti biasa kan di hari pertama tuh ramee banget ada banyak yang mau beli donat sampe menyebabkan antrian yang sangat panjang sekali!! hahaha... :) Jam 7.45 sore semua donatnya uda habis dan orang harus nunggu setengah jam sampe siap lagi. Untungnya aku bisa pesen jadi kan kaga harus ngantri, LOL