ENGLISH
As you can read at my previous entry, last night I went back to Yogyakarta, hehehe... ;) O yea, since I have spent more time in Bandung than I expected before while I actually downgraded my internet connection last month (so I can only surf the net in Bandung only for 32 hours on June), yesterday I didn't surf the net that much. My credit was only 9 minutes remaining for yesterday. Damn!! But of course I still had to surf the net eventho I couldn't do blogwaking or so. Guess what?? By the end of the day, finally this month I can save credit for next month for:

3 SECONDS

!! Wkwkwkwkwkw.... LOL
Okay, so yesterday after having a loong day I went to Bandung Railway Station. Learning from my experience
this time
where it was so hard to get a taxi (I didn't specify that on the entry tho, hehehe... :D) and lucky my friend could drop me, I already ordered a taxi on the morning so I didn't have to order one when it was the time to go to the station, hahaha... ;) The traffic was so jammed, a usual sight on Bandung during holiday time. I arrived at 6 PM and had dinner at Hoka-Hoka Bento first, hehehe
At 7 PM, Turangga Express departed from platform 1. Okay, so I executed my plan. I read my Agatha Christie's
The Big Four
. Of course it was so tiring and not good for my eyes reading on a train since it was a bit shaky. So what I did is that I took a break after reading some paragraphs, hahaha... ;) In the end, I managed to read 15 chapters before the train arrived at Yogyakarta Railway Station (I didn't sleep on board). Thus far, I think the novel is great, a lot better than
Death In The Clouds
I read
this time
.
O yea, the train sucked last night! It stopped a lot more frequently than it was supposed to. Daaammmnnn!!!! Of course, resulting it arrived late. It was scheduled to arrive at 2.10 AM but in fact it arrived at 2.50 AM!! Grrr.... . So far, it was the worst train ride I have had this year on term of schedule... :(
Then, when I went back home I planned to post an entry but I was surprised after finding that my computer is now being serviced!! Arrrggghhh!!! Okay, so now I use my laptop to surf the net...
::: my dinner at Hokben yesterday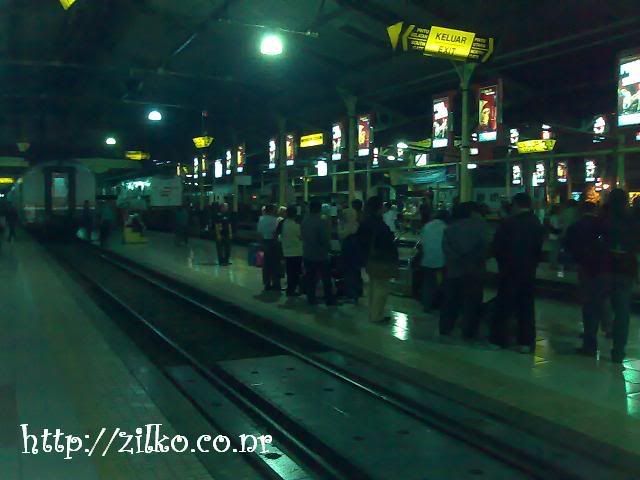 ::: one spot at Bandung Railway Station
::: Turangga Express was ready on Platform 1

BAHASA INDONESIA
Seperti yg bisa dibaca pada postingku sebelumnya, kemarin malam aku balik lagi ke Yogyakarta, hehehe... ;) O ya, karena kan aku sudah menghabiskan waktu di Bandung jauh lebih lama dari yang aku perkirakan sementara aku sudah menurunkan koneksi internetku bulan lalu (jadinya aku cuma bisa internetan selama 32 jam di Bandung bulan ini), kemarin aku nggak bisa internetan lama2. Sisa yang bisa kepake sampe kemarin pagi cuma 9 menit. Sial!! Tapi tentu saja dong aku nggak bisa nggak internetan tapi ya tetep nggak bisa blogwalking deh. Dan bagaimana? Sampai akhir hari kemarin akhirnya aku bisa menabung untuk bulan depan sebanyak:

3 DETIK

!! Wkwkwkwkwkw.... LOL
Oke, jadi kemarin habis mengalami hari yang panjaang, sorenya aku ke Stasiun Kereta Bandung. Belajar dari pengalamanku pada
waktu ini
dimana kan susah banget tu untuk dapet taksinya (aku nggak menuliskannya di situ sih, hehehe... :D) dan untungnya waktu itu temenku bisa nganter, makanya kemarin aku memesan taksi udah dari paginya jadi kan kaga perlu pesen lagi tu malamnya waktu sudah saatnya berangkat ke stasiun, hahaha... ;) Lalu lintasnya macet, seperti biasanya deh kalo Bandung lagi liburan mah. Aku sampe jam 6 sore dan makan malam di Hoka-Hoka Bento dulu deh, hehehe
Jam 7 malam, Kereta Turangga berangkat dari jalur 1. Oke, kemudian aku menjalankan rencanaku. Aku membaca novelnya Agatha Christie yang
The Big Four
. Tentu saja melelahkan dan nggak bagus untuk mata waktu membaca di kereta soalnya kan goyang2 melulu. Jadinya aku ya istirahat aja setelah membaca setiap beberapa paragraf gitu, hahaha... :) Akhirnya, kemarin aku sudah membaca 15 bab deh sebelum keretanya sampai di Stasiun Kereta Yogyakarta (yup, aku nggak tidur di kereta). Sejauh ini novelya bagus banget loh, jauh lebih bagus daripada
Death In The Clouds
yang aku baca
waktu ini
.
O iya, keretanya menyebalkan sekali semalam! Keretanya berhenti sering banget daripada seharusnya. Siaaalll!!!! Tentu saja hal ini kan mengakibatkan sampenya juga telat. Jadwalnya sih harusnya keretanya udah nyampe jam 2.10 subuh tapi nyatanya baru nyampe jam 2.50 subuh!! Grrr... . Sejauh ini, semalam adalah naik kereta yang paling buruk deh bagi saya setahun ini dalam hal jadwal... :(
Trus, waktu aku balik ke rumah kan rencananya mau posting tu tapi aku terkejut waktu tau bahwa komputerku ternyata lagi diservis!! Arrrggghhh!!! Ya jadinya sekarang aku pake laptopku lagi deh untuk internetan...