ENGLISH
Well, today I had my first exam, Numerical Method. Yesterday I made some guesses about some questions and apparently my feeling was right about the questions. It was including theoretical thingy, lucky yesterday I felt it was coming and prepared myself, hahaha... :) Overall I think I did pretty well.
Anyway, as you can read
here
, I have prepared some things for my 'Raker'. Finally today we had the 'Raker' at Lembang. Overall I think it went well. For the next one year I think it's gonnabe pretty busy. It's gonnabe alright tho if we delegate the tasks correctly, hmmm... .
Anyway, after the Raker, some friends and I bought a 'ketan bakar' at Lembang. Since I was hungry, I also had dinner at Brebes Fried Chicken, hahaha.... :)
Tomorrow I'm having a Mathematical Statistics Exam. Wish Me Luck!! hehehe... :)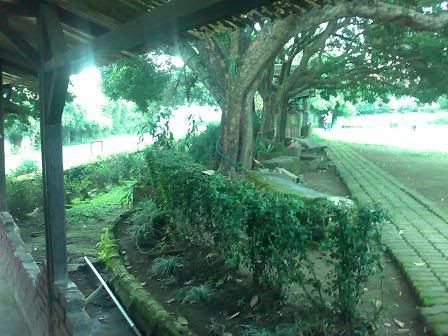 ::: one spot at Sumur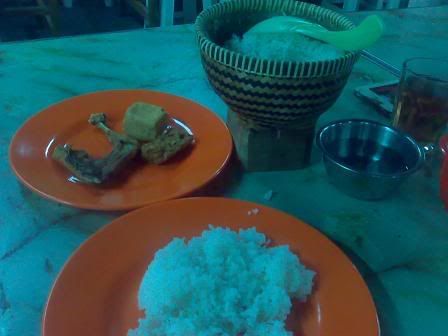 ::: my meal at Brebes Fried Chicken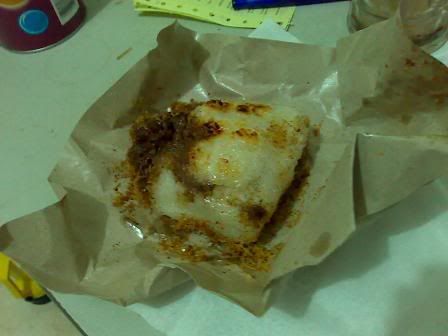 ::: "ketan bakar"

BAHASA INDONESIA
Hmm, hari ini ujian pertama neh, Metoda Numerik. Kemarin aku nebak2 sih kira2 soalnya bakalan kaya apa, dan ternyata feeling-ku bener lho tentang soalnya. Ternyata memang akan ada soal teoretis, dan untungnya kemarin aku merasa akan demikian jadi sudah mempersiapkan diri deh, hahaha... :) Overall I think I did pretty well.
Ngomong2, seperti yang bisa dibaca
disini
, aku kan udah mempersiapkan beberapa hal tuh untuk 'Raker'-ku. Akhirnya hari ini 'Raker' deh di Lembang. Secara keseluruhan sih berjalan cukup lancar. Untuk setahun ke depan kayanya akan menjadi tahun yang cukup sibuk. Nggak papa sih asalkan tugasnya dibagi dengan benar, hmmm... .
Trus, habis Raker, beberapa temen dan saya beli 'ketan bakar' di Lembang. Karena lapar sekalian aja deh aku makan malam di Ayam Goreng Brebes, hahaha.... :)
Besok aku akan ujian Statistika Matematik neh. Doakan saya yah!! hehehe... :)