ENGLISH
Well, if you read my
previous entry
, by now I should have been in Pangandaran. However, because of one or two reasons, our trip to Pangandaran was canceled. Hmmm... . Maybe I'll write something about it later. Anyway, because of that my friends and I planned to go to a cellular operator office to do a negotiation for our '

Kompetisi Matematika 2008

' next November this afternoon, haha... :)
Well, my weekend has been okay. Yeaahh, finally UAS this semester = history!! Hahahaha.... . I think I did 'Stochastic Process' final exam really well.
O yea, last Saturday I read an article at Kompas Bandung saying that there are some Bakmi Jawa restaurants in Bandung. Wah, I become a bit curious and suddenly that article made me to want Bakmi Jawa, haha... :) So yesterday I went to one of them and well, it was apparently okay. The noodle was small. Its "Mie Kuah" is better than its "Mie Goreng", beside, it's pretty espensive, arrrggghhh.... . I still prefer the real Bakmi Jawa at Jogja.
Anyway, yesterday I cleaned my room. It was EXHAUSTING!! It took me 1.5 hours to finish it (yea, because I gotta do everything, tidying up all books and papers, cleaning the table, etc). Waaa, moral of the day:

"
Never Be Lazy to Clean Our Place or one day we will regret about it and gotta do everything at one time
"

LOL
Here are some pictures of my meal over last week (yea, week, NOT weekend, I'm not that crazy-eater, hahaha...):
::: pizza and lasagna I bout last week (for 2 days)
::: Suniaraja Fried Chicken
::: Bakso Malang Enggal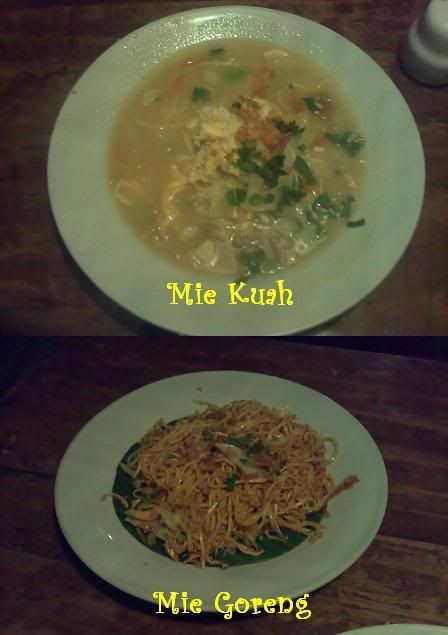 :::
Mie Kuah
and
Mie Goreng
I ate last night. They were just okay for me.

BAHASA INDONESIA
Hmm, jika dibaca pada
posting sebelumnya
, harusnya sekarang ini aku kan udah ada di Pangandaran. Namun, karena satu dua alasan, perjalanan ke Pangandaran dibatalkan. Hmmm... . Mungkin aku akan nulis tentang ini kapan2 sih. Ngomong2, karenanya aku sama temen2ku jadi ngerencanain untuk pergi ke kantornya sebuah operator hape deh hari ini untuk negosiasi masalah acara '

Kompetisi Matematika 2008

' besok November siang nanti, haha... :)
Hmm, wiken saya biasa-biasa saja. Yeeaaahh, akhirnya UAS semester ini = sejarah!! Hahahaha.... . Aku rasa aku mengerjakan UAS 'Proses Stokastik' dengan lumayan baik dah.
O iya, kemarin Sabtu kan saya baca artikel di Kompas Bandung katanya ada beberapa restoran Bakmi Jawa di Bandung. Nah tu artikel bikin saya jadi pengen makan Bakmi jawa deh, haha... :) Jadi kemarin aku pergi ke salah satunya dan ternyata rasanya biasa saja. Bakminya kecil-kecil. "Mie Kuah"-nya lebih mending daripada "Mie Goreng" nya, di samping itu, mahal juga harganya, arrrggghhh.... . Lebih enak Bakmi Jawa yang di Jogja deh
Ngomong2, kemarin saya membersihkan ruangan saya loh. Dan ternyata itu MELELAHKAN SEKALI!! Membutuhkan waktu 1,5 jam tuh sampai saya menyelesaikan semuanya (iya, soale kan aku harus melakukan semuanya, membereskan buku-buku dan kertas-kertas berkas, membersihkan meja, nyapu, ngepel, dll). Pesan moral untuk sehari kemarin:

"
Jangan pernah malas untuk membersikan ruangan kita atau kita akan menyesalinya kemudian karena harus melakukan semuanya sekaligus
"

LOL
Btw, di atas adalah foto2 makanan yang saya konsumsi seminggu kemarin (seminggu lho, bukan se-wiken, saya kan makannya kaga sekalap itu, LOL).