ENGLISH
Okay, today is Wednesday. This morning I had a meeting to talk about this year's OSPEK which will take place next August. We still haven't had a deal yet with the university's councils and we are still working on it. Because of that, I think tomorrow is gonnabe a looong day.
Anyway, finally I come to a decision. Next Friday (30 th May) I'm going back to Yogyakarta catching Argo Wilis Express (Damn Merpati, they still haven't reactivated to Bandung - Yogyakarta vv flight yet). However, this morning I found out that apparently, next 8-10th June 2008 I must be in Bandung to attend a 'Rapat Kerja' for all programs within one year. Not like
this time
where I conducted an internal 'Rapat Kerja'. This time, The Rapat Kerja will not be an internal one, it's gonnabe more formal and wider (between all departments). Therefore, next week I gotta go back to Bandung again at 7th June. Then at 10 or 11 June I think I will go back to Yogyakarta. Well then, on 16th June I must also be in Bandung for the new student councils inauguration. Sigh, I really have to go back and forth between Yogyakarta and Bandung this time. LOL...
Tomorrow is gonnabe a loong day. Tomorrow morning I gotta take a TOEFL Test at my campus as a mandatory requirement to complete this semester. Wish me Luck!! hehehe... :) Then later in the afternoon I gotta attend an internal OSPEK meeting (as a result of this afternoon's meeting). Wah!! Tiring!! hahaha
Anyway, this evening I went to IP. I had dinner (at Hokben) there and I bought a pizza (because of the picture I took last week which I posted
here
. That picture made me really want a pizza, shoot, waa...)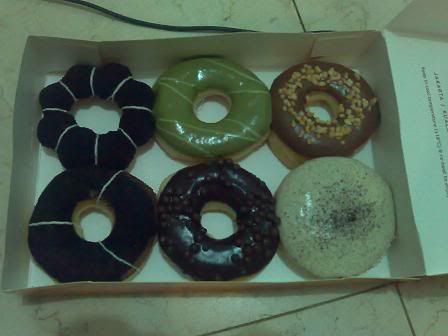 ::: J-Co donuts I bought yesterday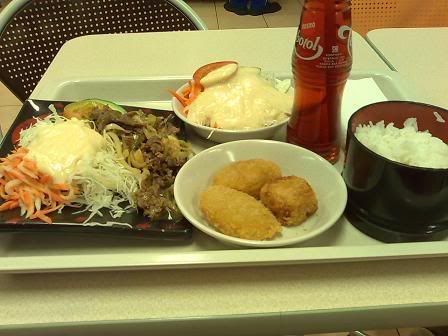 ::: my dinner at Hoka-Hoka Bento this evening
::: My Argo Wilis tickets

BAHASA INDONESIA
Oke, hari ini adalah hari Rabu. Pagi tadi ada rapat ngomongin tentang masalah OSPEK tahun ini yang akan berlangsung Agustus nanti. Kami masih belum ada kesepakatan dengan pihak universitas sih dan masih diusahakan. Karenanya, besok akan menjadi hari yang panjang.
Ngomong2 akhirnya aku bisa memutuskan nih. Besok Jumat (30 Mei) aku akan balik ke Yogyakarta naik Kereta Api Ekspres Argo Wilis (Merpati sialan, mereka masih belum mengaktifkan kembali penerbangan Bandung - Yogyakarta pp nih). Namun, pagi tadi aku dikasi tau bahwa besok tanggal 8-10 Juni 2008 aku harus ada di Bandung untuk menghadiri 'Rapat Kerja' untuk semua program selama setahun mendatang. Tidak seperti
yang satu in
i
dimana aku mengadakan 'Rapat Kerja' internal, yang kali ini akan lebih formal dan lebih luas (bersama2 jurusan lain). Makanya minggu depan ni tanggal 7 Juni aku mesti balik ke Bandung lagi. Trus tanggal 10 ato 11 Juni aku rasa aku akan balik ke Yogyakarta lagi. Namun kemudian, tanggal 16 Juni aku harus ada di Bandung lagi untuk pelantikan pengurus lembaga kemahasiswaan yang baru. Hhh, beneran harus bolak-balik Bandung - Yogyakarta terus nih di liburan kali ini. LOL...
Besok akan menjadi hari yang panjang. Besok pagi aku akan mengikuti tes TOEFL di kampus sebagai persyaratan wajib yang harus dipenuhi semester ini. Doakan saya yah!! hehehe... :) Trus siangnya aku harus menghadiri rapat OSPEK internal (sebagai kelanjutan dari rapat tadi siang). Wah!! Melelahkan tu!! hahaha
Ngomong2 sore tadi saya pergi ke IP. Aku makan disana (di Hokben) dan beli pizza (gara2 gambar yang aku ambil minggu lalu yang aku posting
disini
nih. Gambarnya membuat saya pingin pizza lagi, sial, waa...)