ENGLISH
Well, nothing really special happened on my weekend. It has just been another weekend, hmmm... . I just enjoy this last weekend before UAS, hahaha (anyway, my first exam will be on Tuesday so tomorrow (Monday) I'm free, YEAAHH!! hahaha... :D).
Anyway, lately I have also been working on designing a proposal for
Kassaya
. I think it's pretty fun, hehe, a bit refreshing.
Because of that I need to print a lot and unfortunately I was running out of printer ink this afternoon. So, today I gotta go to BEC to get my ink refilled. Also at BEC I also bought Sim City 4. Then, I had dinner at Suniaraja Fried Chicken. Well, I saw the ad that the restaurant is now sold. Wah, whatta pity. Actually I think it's delicious, but yes, there's no innovation nor effort to attract people to stop by. No wonder it's not doing really well, hmmm...
::: my own-made meal. A fried noodle + an omelet + cornet + meatballs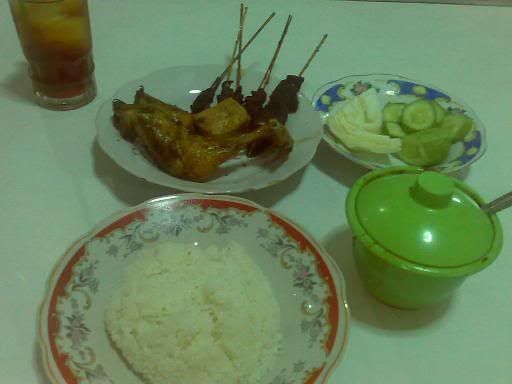 ::: my meal at Suniaraja Fried Chicken

BAHASA INDONESIA
Hmm, nggak ada yang spesial2 amat terjadi wiken ini. Cuma salah satu wiken yang lain saja, hmmm... . Yah, aku cuma menikmati wiken terakhir sebelum UAS ini sih, hahaha (ngomong2, ujian pertama saya kan haru Selasa jadi besok (Senin) saya bebas loh, YEAAHH!! hahaha... :D).
Ngomong2 akhir2 ini saya juga men-desain proposal untuk
Kassaya
. Aku rasa lumayan mengasyikkan juga loh, hehe, agak menyegarkan.
Karenanya kan saya jadi butuh untuk nge-print cukup banyak dan sayangnya saya kehabisan tinta neh siang tadi. Makanya hari ini aku mesti ke BEC untuk mengisi ulang tinta saya. Sekalian ke BEC aku juga beli game Sim City 4, hehe... :) Trus sekalian juga aku makan malam di Ayam Goreng Suniaraja. Hmm, aku liat tu iklannya kalo restorannya sekarang dijual. Wah, sayang banget deh. Menurutku masakannya enak loh, cuma ya itu, nggak ada inovasi maupun usaha apa pun untuk menarik orang untuk mampir. Nggak heran juga sih kaga begitu rame, hmmm...