ENGLISH
Yesterday I had my second exam, Mathematical Statistics. I think I did really well, not like last midterm where I thought I was having a low point (but then I managed to still get 87, wkwkwkwkwkw... LOL). I did all the questions with no problem at all.
Anyway, actually yesterday I planned to go to Istana Plaza to submit
Kassaya
's proposal. (O yea, finally the proposal is done, you can see the picture below). But I dunno why but yesterday I was not feeling really fit, hmm... . I was not sick, I was 85% healthy but I just felt not like in my 100% condition. Hmmm... . So I decided to take a rest all day long (this week and the upcoming week are final exams weeks and I just can't gamble on my health for these 2 weeks, rite?? ;) )
So, today I executed all my original plan for yesterday. I went to my campus to buy the summary for tomorrow's exam. I met my lecturer and he said that the result of the exam last Tuesday had been published. Wah!! Okay, so I checked at the computer and yes. BOTH exams had been checked. I got 96 on both Numerical Methods and Statistical Math. YEAAHHH!!!! Resulting the final score of A on both subjects. Cool!! ;)
Then, this afternoon I went to Istana Plaza. Well, there was a pretty funny thing, hmmm... . I think I can't write it here tho, hehehe...
Anyway, this week is the top three week of American Idol. Well, I have written pretty long now so I am just summarizing what I think. Overall I think David Cook was the best this week. Syesha and David Archuleta were a bit neck to neck (I really like David Cook's "
I Don't Wanna Miss A Thing
" and Syesha's "
If I Ain't Got You
"). I thought the one who got voted off this week would either be David A or Syesha (based on the performances). HOWEVER, looking at the reality that David A has the teenagers powers behind him (and a bigger fanbase), I gotta feeling that Syesha would end her journey this week.
Then, my thought came true. After 56 millions of votes Syesha got voted off leaving us with "
The Battle of The Davids
" for the finale. Anyway, this season is also the first season where the top 2 contestants have never been in the bottom three or two before.
Anyway, this Friday and Saturday I will have 2 MKUs final exams, wish me luck!! :)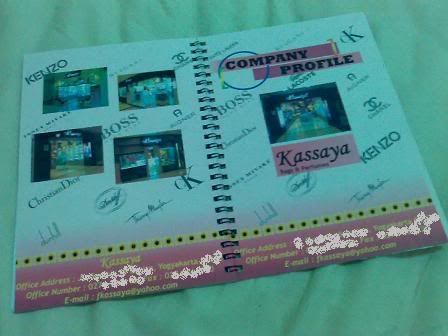 ::: proposal for
Kassaya
.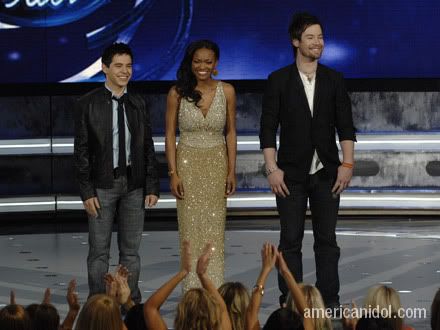 ::: Top Three American Idol season 7 : David Archuleta, Syesha Mercado, and David Cook.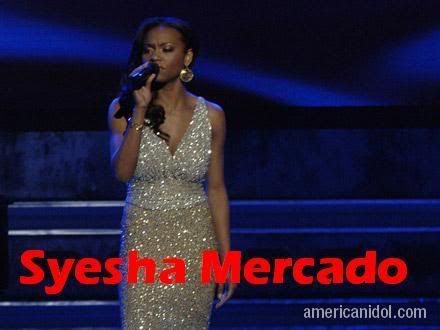 ::: Syesha Mercado who got voted off this week.

BAHASA INDONESIA
Kemarin aku menghadapi ujian kedua, Statistika Matematika. Aku rasa aku mengerjakannya dengan sangat baik ga kaya waktu UTS kemarin dimana aku merasa kalo aku lagi menghadapi titik terendah (walau akhirnya tetep bisa beruntung mendapat nilai 87 sih, wkwkwkwkwkw... LOL). Aku mengerjakannya dengan tanoa hambatan deh.
Ngomong2, sebenernya kemarin sih rencananya aku mau ke Istana Plaza buat ngajuin proposalnya
Kassaya
tuh. (O iya akhirnya proposalnya jadi juga loh, bisa dilihat gambarnya deh). Tapi gatau kenapa koq kemarin aku gak gitu enak badan yah, hmm... . Aku nggak sakit sih malah merasa sekitar 85% sehat tapi ya ngerasa nggak dalam kondisi 100% gitu. Hmmm... . Jadi ya aku mutusin buat istirahat aja dah seharian (minggu ini dan minggu depan adalah minggu ujian akhir dan aku tidak setolol itu untuk mempertaruhkan kesehatan saya minggu ini, ya kan?? ;) )
Jadi, hari ini aku melakukan semua rencana awalku yg harusnya untuk kemarin. Aku ke kampus untuk beli kisi-kisi ujian besok. Aku ketemu dosenku dan katanya hasil ujian Selasa kemarin uda keluar. Wah!! Oke, jadi aku trus melihat deh di komputer nilaiku, dan yap. SEMUA ujian yg uda lewat uda ada hasilnya. Aku dapet 96 loh di kedua ujian Metoda Numerik dan Statistika Mat. YEAAHHH!!!! Menghasilkan nilai A untuk kedua mata kuliah. Asiik!! ;)
Trus siang tadi aku ke Istana Plaza. Ada hal yang cukup lucu, hmm... . Untuk sementara rasanya belum layak aku tulis disini deh, hehehe...
Ngomong2 minggu ini adalah tiga besar American Idol. Hmm, berhubung aku uda nulis ni posting cukup panjang ya udah deh inti2nya saja. Secara keseluruhan aku rasa David Cook adalah yang terbaik minggu ini. Syesha dan David Archuleta agak ketat menurutku (aku bener2 suka penampilannya David Cook yang "
I Don't Wanna Miss A Thing
" sama Syesha yang "
If I Ain't Got You
" nih). Aku rasa yang akan tereliminasi minggu ini berdasar penampilannya adalah salah satu antara David A atau Syesha. NAMUN, melihat kenyataan bahwa David A memiliki banyak banget pendukung remaja di belakangnya (dan fanbase yang besar), aku punya feeling Syesha yang akan tereliminasi minggu ini.
Trus, perkiraan saya beneran jadi kenyataan dah. Setelah 56 juta suara yang masuk, Syesha tereliminasi dan kita mendapatkan "
Pertarungan Antar David
" di final. Ngomong2 berarti season ini adalah season pertama loh dimana 2 besarnya dua-duanya belum pernah masuk bottom three atau bottom two sebelumnya.
Ngomong2 Jumat sama Sabtu ini aku akan ujian 2 MKU neh, doakan saia yah!! :)