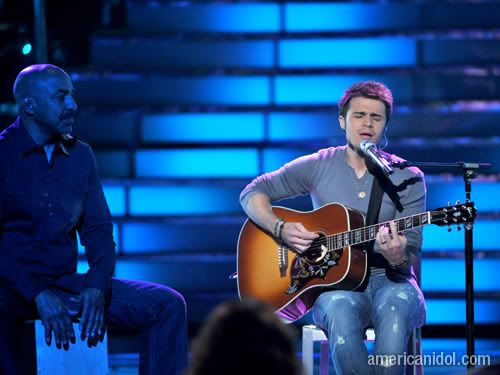 Kris Allen

ENGLISH
Continuing my tradition of dedicating an entry to congratulate the winner of American Idol each year, like
four years ago for Carrie Underwood
,
three years ago for Taylor Hicks
,
two years ago for Jordin Sparks
, and
last year for David Cook
, this time I'm gonna dedicate this entry for the winner of American Idol 2009: Kris Allen!!
Kris Allen has been the dark horse this season, performing in the shadow of Adam Lambert (runner up) and Danny Gokey (third place).
Fourteen weeks ago
when I first saw him on the second group of top 36's performance, I had a feeling he could do well and last long in the competition, but NOT winning the show. At that time, Danny Gokey and Adam Lambert were still too 'dominating', haha....
However, as the show rolled, his performances were peaking. Some of his performances were in the same league with Adam's and Danny's, sometimes even outperformed theirs, in my opinion. Well, the strengths of Kris Allen were his artistry and his humbleness. True that his voice isn't as big as Adam's or Danny's, but his artistry could make every performance touching and interesting. That's why I think he is strong in his own way. His humbleness is the strength and charisma. Adam Lambert is also very strong, no doubt about it, but not in the same way as Kris is. Both should be the winners (because of the differences) but only one can be. That's why this year it's interesting to see who the winner is.
Actually this morning I planned to watch the result show LIVE, just like last year and two years ago. However, I didn't get up early as I planned, damnit!! haha...
Anyway, congratulations Kris Allen for winning this season after nearly 100 million votes, another record!! Congratulations also for Adam Lambert. I'm sure they both will success, of course in their own ways, hehe...

BAHASA INDONESIA
Melanjutkan tradisi mempersembahkan sebuah posting untuk menyelamati pemenang American Idol setiap tahun, seperti
empat tahun lalu untuk Carrie Underwood
,
tiga tahun lalu untuk Taylor Hicks
,
dua tahun lalu untuk Jordin Sparks
, dan
tahun lalu untuk
David Cook
, kali ini aku akan menyelamati pemenang American Idol 2009: Kris Allen!!
Kris Allen benar2 kuda hitam musim ini, tampil dalam bayang-bayang Adam Lambert (runner up) dan Danny Gokey (posisi ketiga).
Empat belas minggu yang lalu
ketika aku pertama melihatnya di
performance
top 36 grup 2, aku ada
feeling
dia akan bertahan lama di kompetisi ini, tapi TIDAK memenangkan
show
-nya. Waktu itu sih, Danny Gokey dan Adam Lambert masih mendominasi, haha...
Namun, dengan mengalirnya pertunjukkan, penampilannya dia terus meningkat. Beberapa penampilannya jadi selevel dengan penampilannya Adam dan Danny, bahkan kadang menurutku lebih bagus dari mereka lho. Hmm, kekuatannya Kris Allen ada pada keartisannya dan kerendah-hatiannya. Benar bahwa suaranya tidak setinggi atau sebesar Adam dan Danny, tapi keartisannya mampu membuat tiap penampilan menyentuh dan menarik. Makanya aku rasa dia itu kuat dengan caranya sendiri. Kerendah-hatiannya adalah kekuatan sekaligus karismanya. Adam Lambert juga kuat tuh, nggak ada sanggahan, tetapi dengan cara yang berbeda dengan Kris. Keduanya harusnya menang sih (karena perbedaan itu) tetapi ya memang cuma harus ada 1 sih yang menang. Makanya menarik untuk melihat siapa yang menang tahun ini.
Sebenernya pagi ini aku berencana nonton finalnya LANGSUNG lagi, kaya tahun lalu dan dua tahun lalu. Sayang, aku gak bangun pagi kaya yang direncanakan, sial!! haha...
Ngomong2, selamat untuk Kris Allen yang sudah memenangkan season ini setelah hampir 100 juta suara yang masuk, rekor lagi tuh!! Selamat juga untuk Adam Lambert. Yakin deh mereka berdua akan sukses, dengan cara mereka masing-masing, hehe...

Adam Lambert