ENGLISH
Well, this weekend has been filled with some damn stuffs. Last Sunday, the whole day, this internet cafe was closed, I think it was because of maintenance. Damnit, I was internet-free the whole day (well, not 100% internet-free tho since I could still access it using my cellphone, but I didn't browse all the webs since it costs pretty expensive, haha... . Therefore I just accessed mainly
Facebook
).
Today (and tomorrow) I participate on one math competition. Well, honestly, on this one, I'm not really setting a high target since I also have some considerations about the aftermath, hmmm... . Because of my participation, I have to miss two final exams this Monday and Tuesday. Well, of course because I participate on this competition on behalf of my university, of course I get the exemption and can take the tests later.
Today I also got a bad news saying the apparently the service of my laptop will take more time than I expected. They (the service center) ordered a spare part from their main office in Jakarta last week, and apparently, after it was being installed, the new spare part itself had a trouble. So, they had to reordered another spare part from Jakarta, damnit!! I really hope it's done soon!!
Anyway, today I watched the season finale of
The Amazing Race 14
. All teams left Beijing, China to Maui, Hawaii. I am very happy with the result where Tammy and Victor won the race with Cara & Jaime in the second place and Margie & Luke in the third place. This season really has been one of the best season ever!! I enjoy this season so much!! :)
::: Cara & Jaime executing one task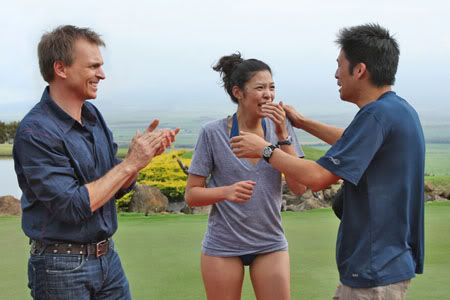 ::: Tammy & Victor won TAR 14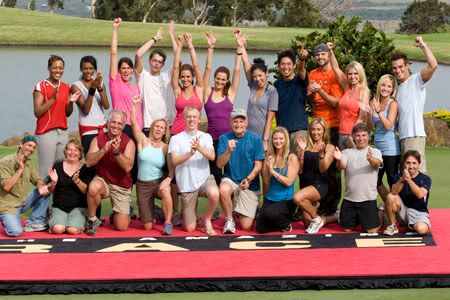 ::: all teams of TAR 14 with Phil Keoghan, the host
note : all photos of TAR 14 are taken from the official website, linked on the body of the entry

BAHASA INDONESIA
Hmm, wiken ini terisi dengan beberapa hal menyebalkan neh. Minggu kemarin, sepanjang hari, ni warnet tutup, kayanya sih karena perawatan komputer. Sial, makanya kemarin seharian hidupku tanpa internet deh (ya nggak 100% tanpa internet sih, setidaknya aku masih bisa akses pake hp, tp kan tetep aja gabisa browse semua karena mahal, haha... . Makana kemarin sh terutama akses
Facebook
saja).
Hari ini (dan besok) aku berpartisipasi di sebuah kompetisi matematika. Hmm, jujur, untuk ang satu ini, aku tidak menargetkan tinggi-tinggi karena aku juga memiliki pertimbangan ke depannya sendiri, hmmm... . Karena partisipasiku ini aku jadi nggak bisa ikutan dua ujian akhir yang diadain Senin ini dan Selasa besok. Ya tentu saja karena aku mewakili universitas dalam kompetisi ini, aku mendapat pengecualian dan berhak ikut ujian susulan nanti.
Hari ini aku juga mendapat berita tak terlalu baik ternyata servis laptopku akan membutuhkan waktu lebih alam dari perkiraanku. Mereka (pusat servisnya) memesan spare part kan dari kantor pusat mereka di Jakarta minggu lalu, dan ternyata setelah spare part nya diinstal, spare part baru itu bermasalah. Sial. Makanya mareka harus mengorder ulang spare part dari Jakarta lagi, sial!! Mudah2an selesai segera neh!!
Ngomong2, hari ini aku menonton final dari
The Amazing Race 14
. Semua tim meninggalkan Beijing, Cina menuju Maui, Hawaii. Aku sangat senang dengan hasilnya dimana Tammy & Victor menang dengan Cara & Jaime di posisi kedua dan Margie & Luke di posisi ketiga. Musim ini beneran merupakan salah satu musim terkeren!! Ak benar2 menikmati musim ini!! :)