ENGLISH
This Friday has been really tiring. Well, last Thursday night I was afraid the same thing would happen again: I didn't get up as early as I planned. Why? Because on Friday morning I had an early exam, at 8 AM, which was Complex Function. It would be silly if I missed it because I got up late, haha... . Therefore, to avoid it to happen again, I set two alarms: my cellphone and my TV to ring at around 6.45 AM. Another problem came up as I had an insomnia on Thursday night, damnit! That's what made me even more paranoid, haha. However, I woke up at 6 AM, I DIDN'T NEED THE ALARMS Friday morning!!!
It's kinda funny tho, two years ago and last year I was able to get up early at 7 AM to catch the live telecast of American Idol while both times I was actually gonna have final exam in the afternoon of those days. However, last Thursday, which was a holiday, I wasn't able to get up early!
Anyway, so on Friday morning I had the exam. It went really well I guess. I only took 25 minutes to finish it! Hopefully the score is maximum, hehe. After that I had to wait until 10 AM to ask my final score (which apparently had already been processed) for Linear Control. I took the exam earlier this week. This one, I get an A with final score of 98, wahahaha....
Friday afternoon, my friends and I sealed all the deal with the travel agent for our trip to Jakarta next Monday. After that, after dealing with all the stresses these last few weeks, we went karaokeing, haha. It had been a while tho since we last went karaokeing. Then, it was dinner time, I had been craving for seafood, especially oysters, LOL. So we had dinner at a warung seafood at DU. I was looking for plain fried oyster, but there was none. Okay, so we ordered butter sauced oyster and flour fried calamari, plus water spinach, haha. Then we went to a cafe, which was pretty comfortable and affordable until 8 PM, and went back home.
That's pretty much my Friday this week....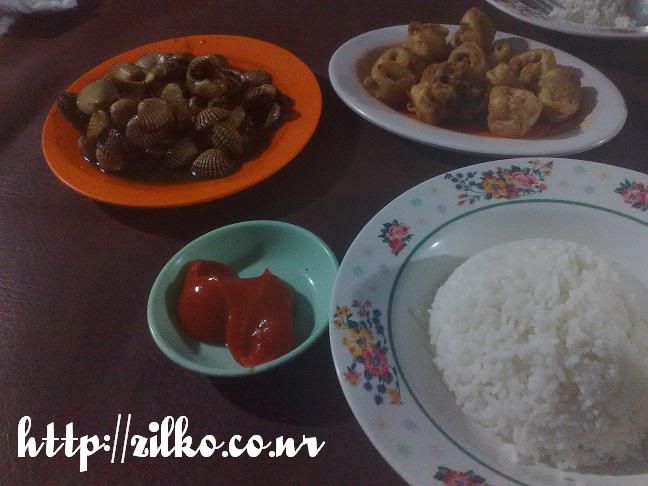 ::: oyster and calamari I had this Friday

BAHASA INDONESIA
Jumat ini benar2 melelahkan. Yah, Kamis malam aku takut
hal yang sama
akan terjadi lagi: aku gak bangun pagi sesuai rencana. Mengapa? Karena di Jumat pagi aku akan mengikuti ujian pagi hari, jam 8 pagi, yaitu ujian Fungsi Kompleks. Kan konyol aja gitu kalo aku melewatkannya karena nggak bangun, haha... . Makanya untuk mencegah itu terjadi, aku memasang dua alarm: hapeku dan TV-ku untuk berdering sekitar jam 6.45 pagi. Masalahnya lagi, Kamis malam aku malah terkena insomnia, sial!! Itulah yang membuat aku makin parno, haha. Namun, akhirnya aku bangun jam 6 pagi, dan AKU TIDAK MEMBUTUHKAN ALARM untuk bangun Jumat paginya!!
Lucu juga sih, dua tahun lalu dan tahun lalu aku bisa lho bangun jam 7 pagi untuk nonton
telecast
langsung American Idol padahal di kedua waktu itu aku akan menghadapi ujian akhir siangnya. Namun, Kamis kemarin, yang merupakan tanggal merah, malah aku gabisa bangun pagi!
Ngomong2, jadinya Jumat pagi aku ikut ujiannya. Rasanya berjalan lancar sih. Bahkan cuma membutuhkan waktu 25 menit untuk menyelesaikannya! Mudah2an sih nilainya maksimum juga, hehe. Setelahnya aku harus menunggu sampe jam 10 pagi tuh untuk tanya nilai akhir (yang ternyata telah diolah) untuk Kontrol Linear. Aku ngambil ujiannya awal minggu ini. Untuk yang satu ini, aku dapet A dengan nilai final 98, wahahaha...
Jumat siang, aku dan temen2ku memastikan
deal
dengan agen
travel
tentang perjalanan kita ke Jakarta Senin depan. Setelahnya, habis bergelut dengan stress yang banyak terjadi akhir2 ini, kita karaokean deh, haha. Sudah lumayan lama juga sejak terakhir kita karaoekan. Setelahnya adalah waktu makan malam, aku lagi pengen bangen
seafood
neh tadi, terutama kerang, LOL. Makanya kita trus makan malam di DU di sebuah warung
seafood
. Sebenernya aku nyari kerang goreng biasa tapi ternyata nggak ada. Ya udah deh akhirnya pesan kerang goreng saus mentega dan cumi goreng tepung serta kangkung tentu saja, haha. Kemudian kita ke sebuah kafe yang tempatnya ternyata nyaman juga dan harganya terjangkau tuh sampai jam 8 malam. Setelahnya balik deh.
Kurang lebih itulah hari Jumatku minggu ini....