ENGLISH
So, yesterday I went to a theme park, Dunia Fantasi (Dufan), in Jakarta. We departed at 6.30 AM from Bandung and arrived at Ancol at about 10.10 AM. There, we had lunch at Simpang Raya first and after that we went to Dufan.
Dufan opened at 11 AM and it was way more crowded than we expected. It was Monday so we thought it wouldn't be that crowded but it was! Anyway, in there we of course played some games. We first rode a small roller coaster first as a warming up. It was kinda unfair because the turn before us got four laps while we only got three laps!! hahaha.... . Then, my friends wanted to ride Tornado. I didn't want to play that one since it was super extreme for me.
Then we played log flume, which was really fun. Right after that we played arung jeram (river raft) which made us really wet. After playing arung jeram twice, we gotta changed our clothes. After that we headed to Extreme Log and queued. The line was insane, so many people were queuing. Somehow, when we were waiting, probably because of the crowdedness and the heat of Jakarta's atmosphere, I felt so dizzy and I felt that myself was nearly passed out. So, I gave up my position, left the line, took a rest, bought a cup noodle and ate it. After that, I was in a better condition but still not 100% fit.
Time flew by as we rode more attractions. When we rode bianglala (ferris wheel) at 5.30 PM (I think it was the best time because it wasn't hot anymore), my friend was freaked out because of the height but I found it really funny, haha. Then we rode carousel as our last ride.
At 6.30 PM we left Ancol and went back to Bandung. We took a rest at one rest area on the highway and had dinner there. Then we arrived at Bandung at 11 PM.
Well, apparently my dizziness was a lot more serious. I had a diarrhea all night long. Of course I couldn't sleep well since every one hour I gotta get up, go to the toilet, and finished the 'business' there. Imagine it! I was so exhausted but yet I had to do that EVERY HOUR on my precious sleeping time! Damnit. This morning when I got up, I felt that I had cram on my shoulders. Now it's still aching! *Sigh* This made me think that probably I was also food poisoned! Damn!
Because of that, I canceled my plan this afternoon with my friends and took a rest instead. This evening my brother came to Bandung. Tomorrow I have exam at 10 AM. Sigh, whatta busy week T-T.
::: Marina Bay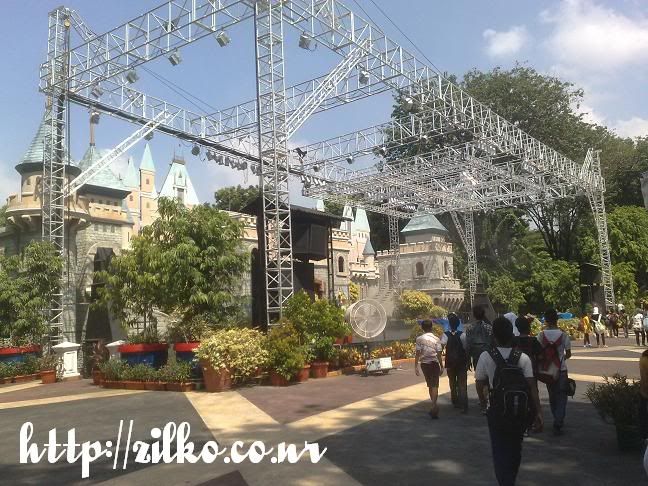 ::: a stage in Dufan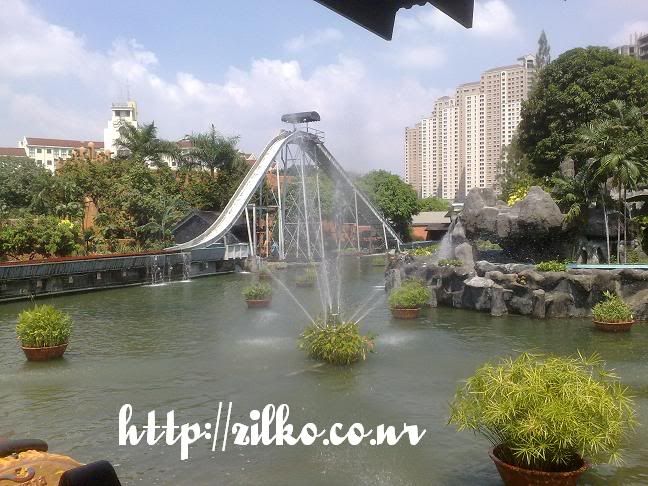 ::: log flume
::: my stamped hand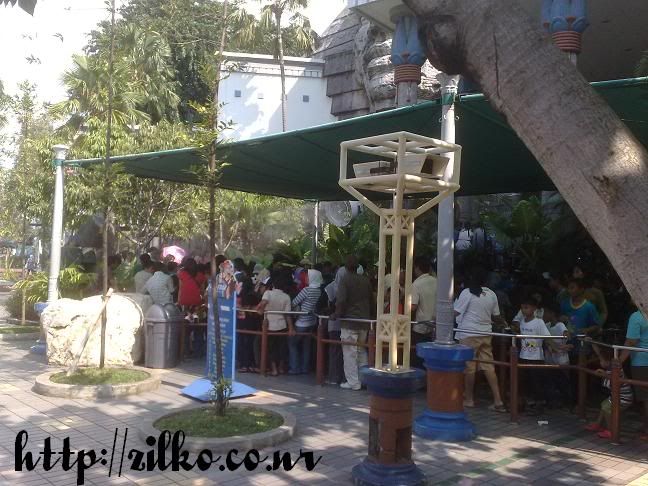 ::: a crazy line which made me dizzy
::: one spot at Dufan, a photo I took during resting
::: Puppet Castle (Istana Boneka)
::: inside Puppet Castle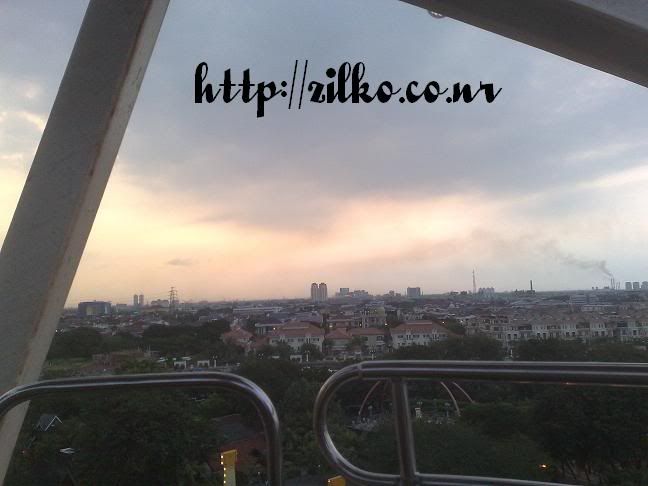 ::: afternoon Jakarta, taken from bianglala (ferris wheel)
::: my dinner, fuyunghai

BAHASA INDONESIA
Jadi, kemarin aku pergi ke taman rekreasi, Dunia Fantasi (Dufan), di Jakarta. Kami berangkat jam 6.30 pagi dari Bandung dan tiba di Ancol sekitar pukul 10.10 pagi. Disana, kami makan siang dulu di Simpang Raya baru kemudian pergi ke Dufan.
Dufan buka jam 11 pagi dan bener2 rame banget dah, jauh lebih rame dari perkiraan kami. Kemarin kan hari Senin dan kami kira nggak akan terlalu rame deh, tapi kenyataan tidak demikian! Ngomong2, disana tentu saja kami naik permainan2nya dong. Pertama2 kami main roller coaster yang kecil dulu untuk pemanasan. Agak nggak adil juga soalnya giliran sebelum kami mendapat empat putaran sementara giliran kami, kami hanya mendapat tiga putaran!! hahaha.... . Trus, temen2ku ada yang mau naik Tornado. Aku sih nggak naik soalnya itu agak terlalu ekstrim sih buat aku.
Trus, kami main log flume, yang emang menyenangkan. Habis itu main arung jeram yang bener2 bikin basah. Habis main arung jeram dua kali, kami harus ganti baju deh. Setelahnya kami menuju ke Extreme Log dan mengantri. Antriannya gila banget deh, buanyakk banget yang ngantri. Tiba2, ketika sedang mengantri, mungkin karena kesumpekan dan panasnya udara Jakarta, aku merasa pusing banget dan merasa kaya mau pingsan gitu. Makanya deh aku keluar saha dari antrian, istirahat, beli mie instan dan memakannya. Setelahnya jadi agak mendingan sih tapi tetap nggak fit 100%.
Waktu berlalu ketika kami naik permainan2 lain selanjutnya. Ketika kami naik bianglala jam 5.30 sore (yang aku rasa adalah waktu yang tepat karena udah nggak panas kan), temenku ketakutan karena ketinggian dan justru reaksinya itu lucu banget, haha. Trus kami naik carousel sebagai permainan terakhir kemarim.
Jam 6.30 sore kami meninggalkan Ancol dan balik ke Bandung. Kami istirahat di sebuah rest area di pinggir jalan tol dan makan malam disana. Trus kami tiba di Bandung sekktar jam 11 malam.
Hmm, ternyata pusingnya aku tuh lebih serius permasalahannya. Aku diare semalaman. Karenanya, aku jadi nggak bisa tidur nyenyak karena setiap satu jam aku harus bangun, pergi ke toilet, dan menyelesaikan "urusan" disana. Bayangkan! Aku lelah banget dan aku tidak bisa menikmati waktu tidurku yang berharga karenanya! Sialan! Malah pagi ini ketika aku bangun, malah aku merasa nyeri otot di bahu. Sampe sekarang masih agak sakit neh! *hhh*. Ini membuatku menduga mungkin aku juga keracunan makanan! Sial!
Karenanya, aku membatalkan rencana siang tadi dengan temen2ku dan mendingan beristirahat. Sore ini adikku datang ke Bandung. Besok aku akan ada sebuah ujian. Yah, benar2 minggu yang sibuk T-T.