ENGLISH
So, yesterday I went to Jakarta (and Bogor). Because we would departed at 4 AM, so I had to get up at 2.30 AM since I han an extra task to pick the breakfast and lunch meals first. I made myself busy all Sunday, mainly with the seminar's final project. However, when the time to sleep came, I couldn't sleep well, damnit!! Anyway, I then got up at 2.30 AM, haha...
Finally at 4.15 AM departed, after waiting for some late friends. Well, learning from last year's experience, I insisted that we had to depart earlier this time, 4.30 AM would be the latest. Departing after that could lead us to a nightmare since Jakarta was gonnabe very crowded, haha. Our prediction was right, it was so crowded, the traffic jam was super long extending from about Bekasi to the center to Jakarta. Finally, my plan worked. We arrived at 8.30 AM at IDX, not late, hehe... .
At 9 AM it started and finished kinda fast, at 11 AM. It was way different with what I thought it would be like. I thought it would be more interactive. Anyway, it was fun tho and I learnt some things. After that, we continued our trip to Bogor to Safari Park, haha... . I was so excited because the last time I entered Bogor Safari Park was 14 years ago. At 1 PM we arrived there and did the safari ride. Then we walked around the Safari area, and it was kinda exciting. I took a picture with a baby Sumatran tiger on my lap (my friends have the photos tho, I haven't got it until now, so I think the photo will be uploaded next time, haha). We also watched some animal shows. The most exciting one was the brid of preys. I thought it would be the most boring but it turned to be the exact opposite. It was so cool!! haha... . Anyway, then at 5 PM we left Safari Park and after some dinner, we went back to Bandung. There was a bit change on a plan where we stopped by at Sadang, Purwakarte first (a shocking one!) since some friends wanted to bring some gifts. In the end, at 10.30 PM we arrived at Bandung.
The damn thing was that my cellphone (and camera)'s battery was low, damnit!! I had to miss some good photo moments because of that (including my moment with the tiger, shoot!!)
That was my Monday, the first exciting day of this exciting week, haha...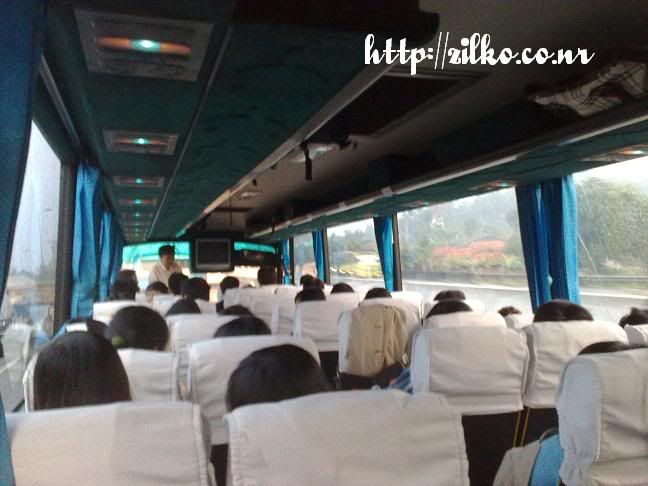 ::: in the bus to Jakarta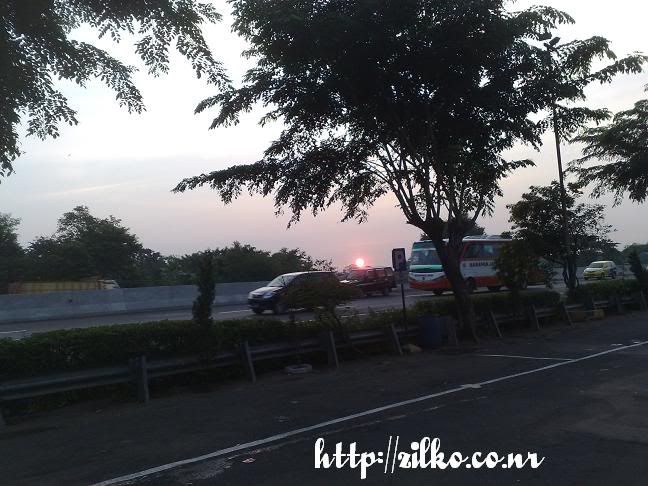 ::: a sunrise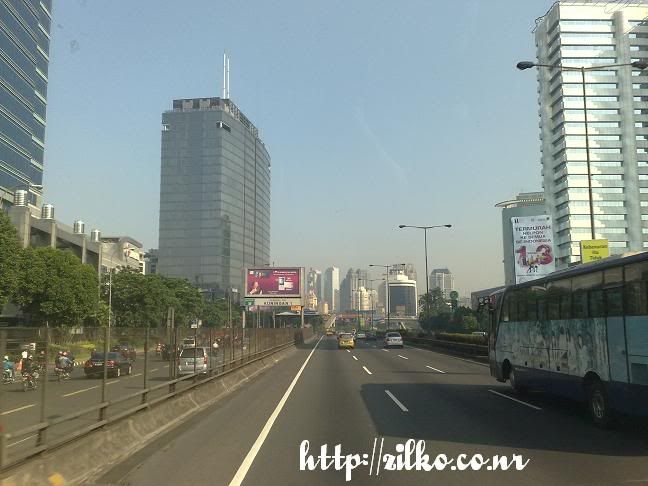 ::: Inner-Jakarta Highway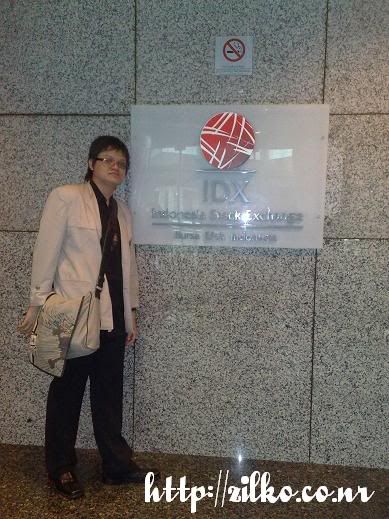 ::: at IDX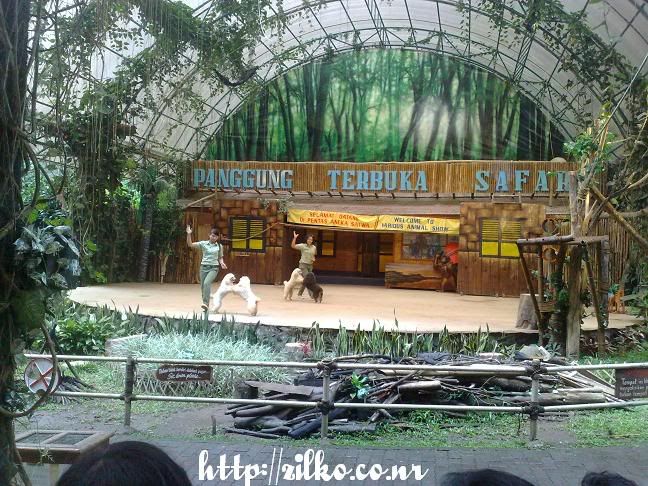 ::: a canine show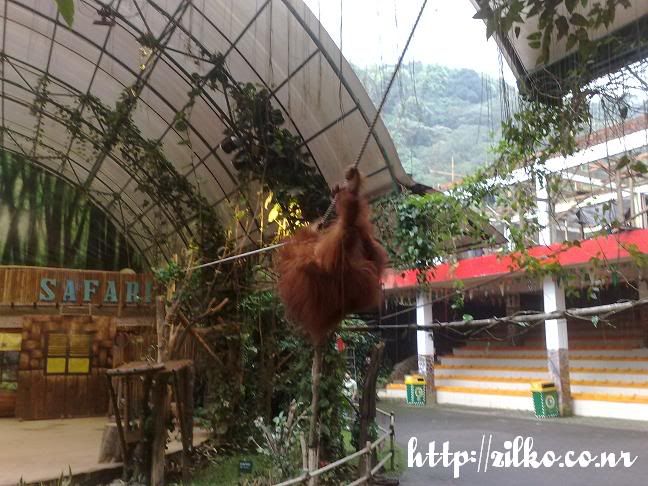 ::: an orangutan rappling down the rope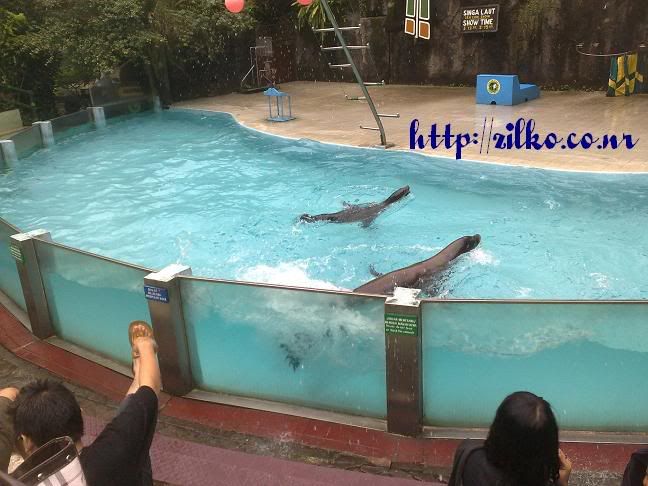 ::: seals show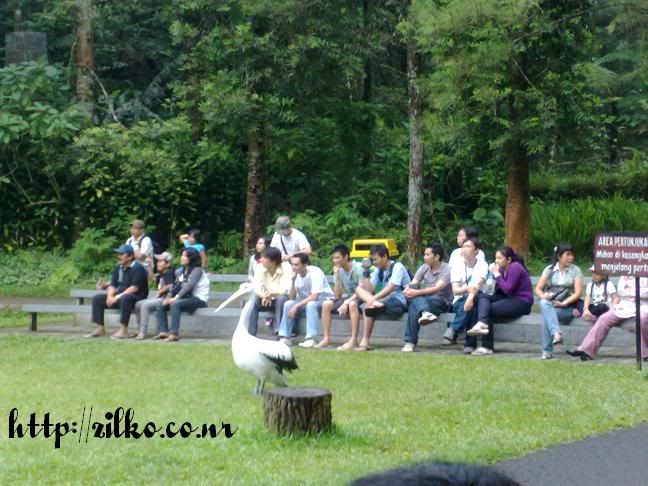 ::: an 'exist-wannabe' pelican walking around on the bird of prey's stage, where it didn't perform, wkwkwkww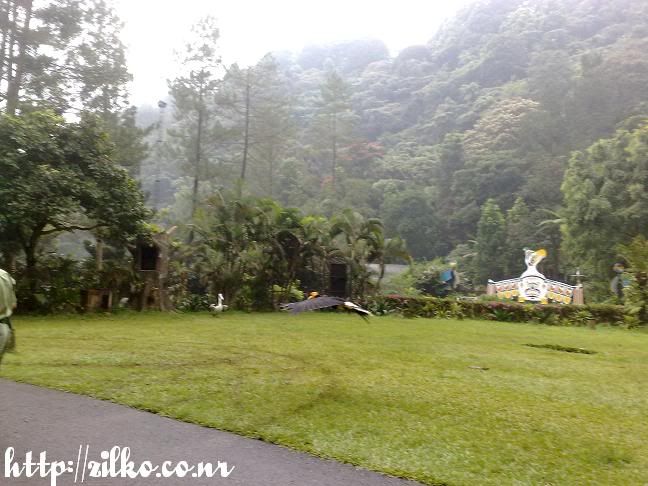 ::: a flying condor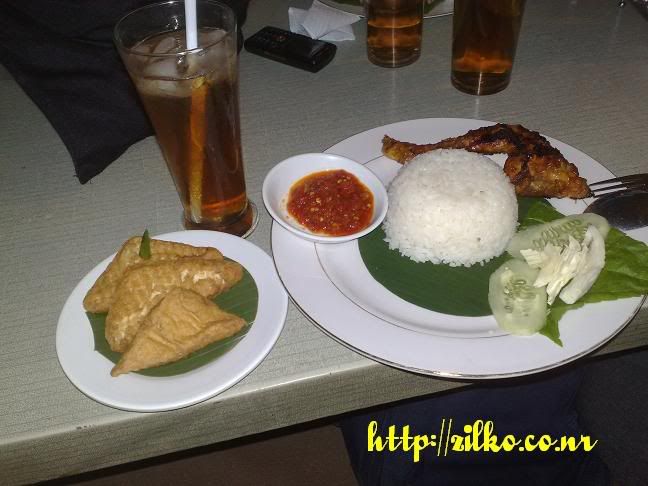 ::: my dinner, grilled chicken

BAHASA INDONESIA
Jadi, kemarin aku pergi ke Jakarta (dan Bogor sih). Karena akan berangkat jam 4 pagi, makanya aku harus bangun jam 2.30 pagi soalnya aku ada tugas untuk mengambil konsumsi makan pagi dan makan siang dulu. Aku menyibukkan diriku sepanjang Minggu, terutama dengan tugas akhir seminar. Namun, koq ketika waktu tidur tiba malah tiba2 jadi insomnia ya, sial!! Trus, akhirnya aku bangun jam 2.30 pagi, haha...
Akhirnya, jam 4.15 pagi kita berangkat, setelah menunggu beberapa teman yang terlambat. Hmm, belajar dari pengalaman tahun lalu, aku bersikeras untuk berangkat lebih pagi kali ini, 4.30 pagi paling siang deh. Jika setelahnya baru berangkat, akan berpotensi menghasilkan mimpi buruk karena Jakarta akan rame banget, haha. Prediksi kita tepat, bener2 rame dan macetnya parah banget deh memanjang dari Bekasi sampe pertengahan Jakarta. Yah, setidaknya rencanau berhasil sih, jam 8.30 pagi udah sampe di BEI, tak terlambat, hehe... .
Jam 9 pagi acaranya dimulai dan selesai agak cepat, jam 11 pagi. Bener2 berbeda dari bayanganku tentang seperti apa acaranya akan menjadi. Aku kira akan jadi lebih interaktif dari kemarin tuh. Yah, pokoknya lumayan lah dan aku belajar beberapa hal. Setelahnya, kita melanjutkan perjalanan ke Bogor untuk ke Taman Safari, haha... . Aku bersemangat karena terakhir kali aku masuk ke Taman Safari Bogor tuh 14 tahun yang lalu lho. Jam 1 siang kita tiba disana dan melakukan tur safari tentu saja. Setelahnya kita jalan2 di area Taman Safari, dan menarik juga tuh. Aku berfoto dengan bayi Harimau Sumatra di pangkuanku (temen2ku seh yang bawa fotonya dan sampe sekarang blum dapat filenya neh, kayanya tuh foto nanti saja ya, haha). Kita juga nongon beberapa pertunjukan binatang. Yang paling keren ternyata yang pertunjukan burung pemangsa. Kirain itu akan menjadi yang paling membosankan tapi ternyata malah jadi kebalikannya. Keren bgt!! haha... . Trus jam 5 sore kita meninggalkan Taman Safari dan setelah makan malam, kita balik ke Bandung. Ada sedikt perubahan rencana yaitu akhirnya tiba2 koq mampir di Sadang, Purwakarta (mengangetkan tuh!) gara2 ada temen yg pengen beli oleh2. Akhirnya, jam 10.30 malem tiba deh di Bandung.
Yang menyebalkan adalah batere hapeku (dan kamera) habis kemarin, sial!! Aku harus melewatkan beberapa momen fotoyang ok karenanya (termasuk momenku dengan harimau, sial!!)
Itulah hari Senin saya, hari menarik pertama dari minggu menarik ini, haha...