ENGLISH
Yeah, now I'm officially in my longest holiday of the year, the mid-year holiday which will stretch as long as 2.5 months, LOL. This is because yesterday I took my last exam, Real Analysis, haha... . Well, this holiday is so long simply because I don't take the Short Semester during that time. Probably this holiday is gonnabe similar with two years ago where I literally spent most of my time in holiday mode. Last year, when I had this 'holiday', it wasn't really a holiday since I had to go back and forth between Yogyakarta and Bandung to deal with many stuffs relating with student comitee. But since now I'm already 'retired' from it (LOL), this year I don't have to deal with them anymore.
Now I'm still in Bandung. Why do I stay in Bandung and not get back home to Yogyakarta? This is because last Tuesday my brother and his friends came to Bandung to have a vacation here. My brother, one of his friend, and I are planning to get back to Yogyakarta next Saturday. We are driving back home this Saturday, hmmm. It might be gonnabe a long trip, haha.
O yea, about my sickness. Thanks God now I am already fit 100%! I bought gel for my shoulder cram and it worked! Just after two or three hours after I used it, the pain was gone! haha...
Anyway, finally after craving it for years, last night I had dinner at Duck King and ate Peking Duck!! huahahaha... . Yea, it was tasty but I also loved the roasted duck.
::: bakso (literally) I had yesterday afternoon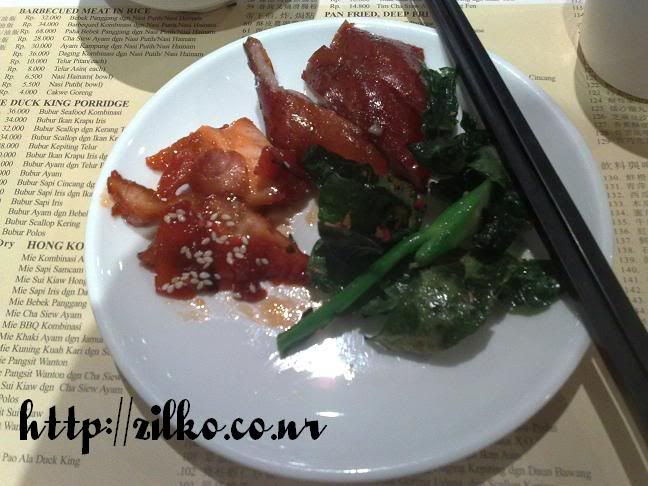 ::: roasted duck, baby kaylan, and duck I had at Duck King.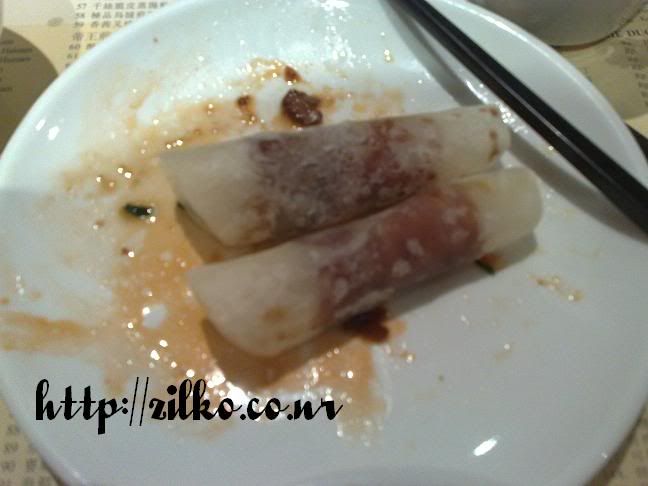 ::: two rolls of Peking Duck.
::: Hainam Rice I had this morning.
::: decafed cappucinno latte.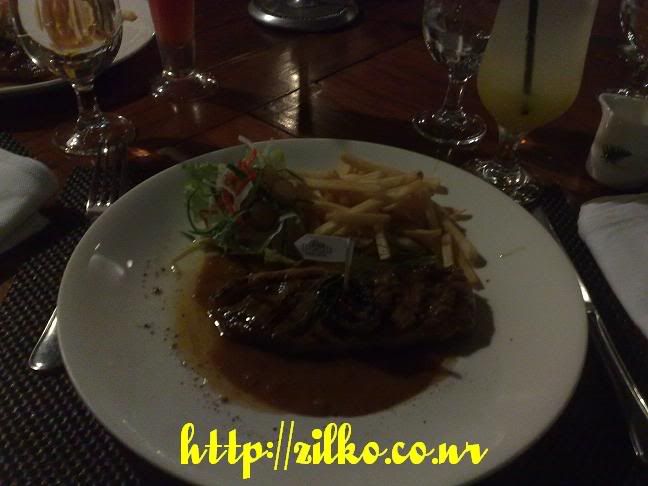 ::: Black Angus Sirloin steak I had at The Peak this evening.

BAHASA INDONESIA
Yeah, sekarang aku benar2 secara resmi berada pada liburan terpanjang dalam setahun, yaitu liburan selama 2,5 bulan, LOL. Yah, ini karena aku udah ujian akhir yang terakhir kemarin, Analisis Real, haha... . Hmm, liburan ini panjang sekali karena aku tidak mengambil Semester Pendek selama waktu itu. Mungkin liburan yang kali ini akan mirip dengan dua tahun lalu dimana aku benar-benar menghabiskan sebagian besar waktu dalam mode liburan. Tidak seperti tahun lalu dimana aku harus bolak-balik Bandung - Yogyakarta untuk mengurus banyak urusan yang berkaitan dengan himpunan mahasiswa. Karena kini aku sudah pensiun (LOL) darinya, aku jadi tidak perlu berurusan dengan itu lagi.
Sekarang aku sih masih di Bandung. Mengapa aku masih berada di Bandung dan nggak pulang ke Yogyakarta? Ya karena Selasa lalu adikku dan teman2nya datang ke Bandung untuk liburan disini. Rencananya, adikku, seorang temannya, dan aku akan balik ke Yogyakarta Sabtu besok. Nah, kita akan nyetir tuh nanti, hmmm. Mungkin akan menjadi perjalanan panjang, haha.
O iya, tentang sakitnya saya. Terima Kasih Tuhan sekarang sudah fit 100%! Aku juga beli balsem untuk nyeri otot bahu dan bener2 bekerja tuh! Setelah sekitar dua atau tiga jam lah setelah mengoleskan balsemnya, benar2 sembuh lho! haha...
Ngomong2, setelah ingin sekali selama bertahun-tahun, akhirnya semalam aku makan di Duck King dan makan Bebek Peking!! huahahahaha... . Yap, memang enak sekali sih dan aku juga sama sukanya sama bebek panggangnya.