ENGLISH
This afternoon at 3.45 PM my flight is gonna take off to Bandung, huhuhu, my 2 months holiday was really so quick.
Btw, yesterday I went to Solo, well, the same trip as I took
last month
to check and stocks
Kassaya
there. At 8.45 AM we departed from Jogjakarta. At about 10.10 AM we arrived at Solo Square. Well, not much different with the last time we went there. Two SPGs were on duty, Ika and Tuti. After about 1 hr 15 minutes, we left Solo Square, but on the way down to the parking lot, we met 2 execs of Solo Square. Haha, after some chats and complaint (Solo Square is a cosy and pretty luxurious mall and is the best mall in Solo BUT somehow it doesn't have many visitors (causing low (not up to par) omzet), that's actually a bit contradictional).
Then we went to Solo Grand Mall. Before we went down to Kassaya, we had lunch first. I had a Japanese Meal consist of 3 shrimp rolls and 3 chicken spicy rolls. We also met the exec of Solo Grand Mall (we had lunch together). After that we walked downstairs and met Erna and Dian were on duty (and a new trainee Sylvia came for the afternoon shift). At 2.30 PM we left SGM. We went to Orion Bakery first, then went to ALFA Solo Baru. There Melly with Murti (trainee) (morning shift) and Reissa (evening shift) were on duty. At 4.30 PM we went back to Jogja
Well, this morning I'm gonna hang out with my friend before I come back to Bandung, ha3... :) Story will be posted soon (possibly tomorrow evening, he3... :D)
:::

Kassaya Solo Square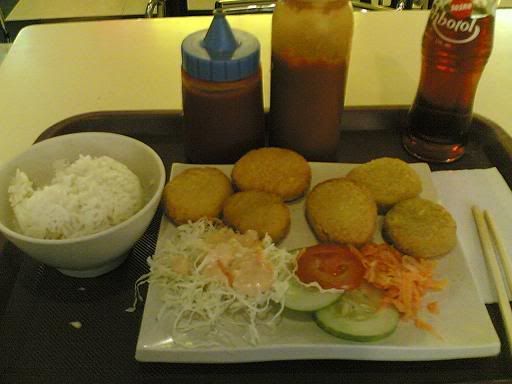 ::: my lunch for yesterday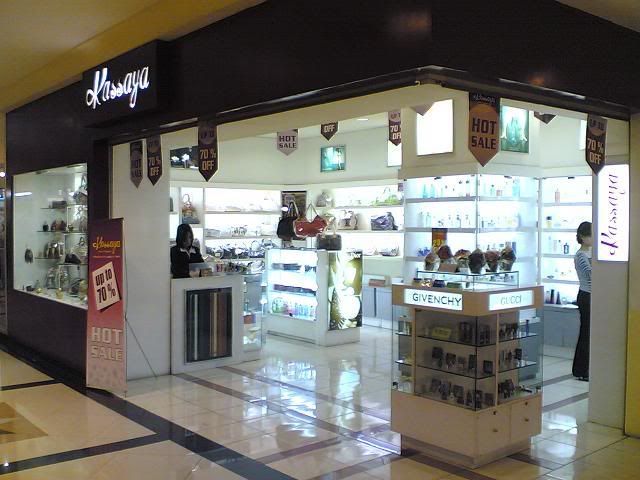 :::

Kassaya Solo Grand Mall
:::

Kassaya ALFA Solo Baru

BAHASA INDONESIA
Siang nanti jam 3.45 pesawatku akan
take off
nih menuju Bandung, huhuhu, liburan 2 bulan saya ternyata cuepet banget yah.
Btw, kemarin aku pergi ke Solo, hmm, perjalanan yang sama kayak
bulan lalu
sih untuk ngecek dan nyetok barang di
Kassaya
disana. Jam 8.45 pagi kita brangkat dari Jogjakarta. Sekitar jam 10.10an gitu kita sampe deh di Solo Square. Hmm, nggak begitu berbeda sama kali terakhir kesana sih. Dua SPG lagi bertugas, Ika dan Tuti. Habis 1 jam 15 menit kita meninggalkan Solo Square tapi dalam perjalanan ke tempat parkir kita ketemu 2 eksekutifnya Solo Square. Haha, habis ngobrol dan komplain (Solo Square itu mallnya nyaman dan lumayan mewah dan mungkin merupakan mall terbaik di Solo loh TAPI karena suatu hal nggak banyak pengunjungnya (menyebabkan omzet yang rendah (gak sesuai harapan)), dan itu kan agak kontradiktif).
Trus kita ke Solo Grand Mall. Sebelum turun ke Kassaya, kita makan siang dulu deh. Aku makan masakan Jepang yang terdiri dari 3 rol udang dan 3 rol ayam pedas. Kita jg ketemu sama eksekutidnya Solo Grand Mall (dan makan siang bersama). Habis itu kita jalan turun ke Kassaya dan ketemu Erna dan Dian yang lagi tugas (dan satu yang lg dilatih baru, Sylvia dateng untuk shift siang). Jam 2.30 gitu kita meninggalkan SGM. Kita pergi ke Bakery Orion dulu baru pergi ke ALFA Solo Baru. Disana Melly bersama Murti (dilatih) (shift pagi) dan Reissa (shift siang) lagi bertugas. Jam 4.30 gitu balik deh ke Jogja
Hmm, pagi nanti aku akan jalan2 ah sama temenku sebelum balik Bandung, ha3... :) Ceritanya aku posting kemudian deh (mungkin besok sore, he3... :D)