ENGLISH
Yesterday, 16th August 2007 was my bro's 16th birthday. Well, if I didn't have to help my friends preparing for the OSPEK next Sunday, I think I would still have been in Yogyakarta right now, ha3... :)
Yesterday, as my friend asked us to do, I went to my campus at 9 AM. I now think that it was actually a bit way too early (booo, I still deserved my good sleep at that time actually...). We started working at 11 AM. Then, at 12 PM the new mathematics students came to our department and we brought them to room 9120. After introduction session and giving out the new almametre jacket, we had lunch. At 1 PM, there was an introcution from the head of our department. It was supposed to end at 3 PM but since it was quick, at 2 PM the introduction had finished. Then, we gotta fill the 1 hour extra (up until 3 PM). Okay, so we taught them how to read schedule, ha3... :)
At 3 PM we gave them back to Osgab's Authority and we had quick meeting for the Osjur next Sunday (time to "revenge", wakakakakakaka... lol. Kidding). Huhuhu, preparing Osjur apopeared to be so tiring.
Btw, last night I watched the
fourteenth
week of
The Apprentice
. Synergy losed and Trump fired both
Allie
and
Roxanne
. Allie and Roxanne were best-friends and in the boardroom where Donald Trump would fire at least one of them, they started defending themselves. The reason Trump said on firing both of them was because they came in the boardroom as good friends but yet, in the end they attacked each other. Hmmm.... . Somehow I feel a bit strange about it.
Last season
, also on the top four where
Felisha
and
Alla
losed (Alla and Felisha were also good friends), Felisha didn't attack Alla cruelly yet Alla attacked Felisha cruelly. Trump said that Felisha wasn't strong enough for NY and stated Alla was so tough to lead. He also fired both Alla and Felisha.
I dunno but I feel those two firing weeks were a bit contradictionary. If Allie and Roxanne didn't defend themselves, I think Trump would state that they didn't know how cruel the business world is and asked for their passion to win The Apprentice. Hmmm... . I guess from the beginning it was planned to do a double-firing (losing team, all members would be fired). My theory was strengthened by the fact that it was the 13th week of all 15 weeks job-interview. Final would take 2 weeks, yet 4 candidates were left... :)
If I gotta fire one of them, I would have fired Allie. Allie was The PM, she directed too much on the designer who was more expert than she was, and she applied a wrong strategy on the task, that's why Synergy only got 25% of all votes. Looking on the history, Allie also did terrible job on week 9 where
Andrea
got fired. Yet, Roxanne did really good when she was the PM.

Btw, today is Indonesia's 62nd Birthday!! Happy Independence Day!! (no particular hopes since ever year, our hopes still remain the same, ha3... :D)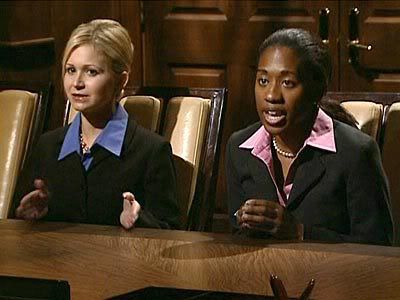 ::: "
Roxanne ... Allie, you are both, fired
"

BAHASA INDONESIA
Kemarin, tanggal 16 Agustus 2007 adalah hari ulang tahun ke 16 adik saya. Hmm, kalo misale aku gak harus bantu mempersiapkan OSPEK besok Minggu, yah, aku sih sekarang masih di Yogyakarta sebenernya, ha3... :)
Kemarin, seperti yang temenku minta kami lakukan, aku pergi ke kampus jam 9 pagi. Skarang aku rasa kemarin terlalu apgi deh (huuu, kan aku sebenere masih bisa menikmati tidur saya tuh...). Kita mulai kerja jam 11 pagi. Trus, jam 12 anak2 baru matematika datang ke jurusan dan kita bawa deh ke ruangan 9120. Habis sesi perkenalan dan membagikan jaket almameter, kita makan siang. Jam 1, ada sesi introduksi dari kepala jurusan. Seharusnya acaranya sih sampe jam 3 tapi karena cepet, makanya jam 2 gitu perkenalannya udah selesai. Trus kita musti ngisi 1 jam ekstra (sampe jam 3 itu). Oke, jadinya kita ngajarin mereka gimana baca jadwal, ha3... :)
Jam 3 sore kita balikin mereka ke bawah pengawasan Osgab dan kita ada rapat cepet tentang Osjur besok Minggu (waktu "balas dendam", wakakakakakaka... lol. Becanda). Huhuhu, nyiapin Osjur ternyata bikin capek yah.
Btw, semalem aku nonton episode
keempatbelas
dari
The Apprentice
. Synergy kalah dan Trump memecat
Allie
dan
Roxanne
. Allie dan Roxanne adalah temen baik dan di boardroom dimana Donald Trump akan memecat minimal 1 dari mereka, mereka mulai melindungi diri mereka. Alasan yang Trump kemukakan dengan memecat mereka semua adalah mereka masuk sebagai teman baik dan akhirnya mereka menyerang satu sama lain. Hmmm.... . Koq rasanya agak aneh yah.
Musim sebelumnya
, juga di 4 besar dimana
Felisha
dan
Alla
kalah (Alla dan Felisha adalah teman baik). Felisha nggak menyerang Alla dengan sadis, sementara Alla malah nyerang Felisha dengan sadis sekali. Trump merasa Felisha kurang kuat untuk NY dan Alla terlalu susah untuk dipimpin. Dia juga memecat kesemua Alla dan Felisha.
Gatau deh, tapi rasanya 2 minggu pemecatan di atas koq rada kontradiktif yah. Kalo Allie dan Roxanne nggak melindungi diri mereka, aku rasa Trump akan menyatakan kalo mereka gatau seberapa kejam dunia bisnis itu dan mempertanyakan hasrat mereka untuk memenangkan The Apprentice. Hmmm... . Aku rasa sih dari awal memang episode ini sudah direncanakan untuk pemecatan ganda (tim yg kalah, semua anggotanya dipecat). Teori saya diperkuat dengan fakta bahwa kemarin adalah minggu ke 13 dari total 15 minggu wawancara-kerja. Final butuh 2 minggu, sementara masih 4 kandidat yang tersisa... :)
Kalo aku musti memecat satu di antaranya, aku akan memecat Allie. Allie adalah PM-nya, dia malah mengarahkan desainer yang lebih ahli dari dia, dan dia menerapkan startegi yang salah dalam tugas, makanya Synergy cuma dapet 25% suara yang masuk. Melihat sejarah, Allie juga kerja dengan payah di minggu 9 dimana
Andrea
dipecat. Sementara, Roxanne bagus banget semasa dia jadi PM.

Btw, hari ini adalah Ulang Tahun Indonesia ke 62!! DIRGAHAYU Republik Indonesia!! (ga ada harapan khusus, habis tiap tahun harapannya sama terus sih, ha3... :D)