ENGLISH
Well, finally yesterday was the day when I gotta end my holiday in Yogyakarta. Since my flight was on 3.45 PM, so at 9.30 AM my friend and I hang out together, he3... :) Well, first we went to Bakpia 75 to buy some gifts for my friends here in Bandung. Then, we wandered pretty much aimlessly but then my friend wanted to take his membership card on an internet cafe. After that we went to Saphir Square. He asked me to play ice-skating but I didn't wanna (read my first and only (so far) experience
here
). So we just looked at the arena which was so small, ha3... :) Then, we went to Toga Mas Bookstore. There I just looked at some books. At 12.30 PM I brought him back home and I picked my brother up.
Then, at 2.05 PM my bro dropped me off at Adisutjipto Airport (my flight was at 3.45 PM, so at 2.45 PM I was supposed to check in and I arrived at 2.30 PM. I didn't want to take risk coming close to the deadline since I've read many enough complaints in papers). After checkin in I walked in to the waiting lounge (departure area). My original plan was reading Harry Potter, but I only read one chapter, ha3... :) Since the room wasn't conductive enough for me to enjoy reading it... :)
At about 3.10 PM there was an announcement that Merpati flight MZ 324 from Bandung was gonnabe late, as a result, my flight to Bandung was also delayed about 20 minutes. Arrrgggghhhh.... (but it was still better than my last experience with Garuda Indonesia
this time
). At 3.40 PM the Merpati plane landed at Adisutjipto Airport. I was so relieved it was a Boeing 737-200 aircraft (even though I hoped there was a change to Boeing 737-300 or Boeing 737-400, ha3... :D) but it was a lot better than the previous Jogja-Bandung CN-235 aircraft (turboprops). At 4.05 PM we were allowed to aboard the aircraft and at 4.11 PM it took off through runway 27 leaving Yogyakarta heading for Bandung, he3... :)
We cruised at 24,000 feet. Many people told me that landing in Bandung is scary since around Bandung, it was mountainous. Yea, it was mountainous but it was NOT scary!! It was even cool!! (similar with landing at KLIA, Kuala Lumpur, where before landing we would see hills on both side of the plane). Five minutes from Bandung, it was SOO COOLL!!! We flew so slow and I could see Unpar, Galeri Ciumbuleuit, Gedung Sate, etc from onboard. A different side of Bandung >> my strategy by choosing seat X-F (any number but F) worked, ha3... :) Btw, Husein Sastranegara Airport however was soo 'pathetic', Adisutjipto Airport was a lot better. It was probably the same as Adisumarmo Airport, Solo.
That was my trip back to Bandung. About my FRS will be posted soon, ha3... :)
::: Adisutjipto Airport's Check-In Area
::: my boarding-pass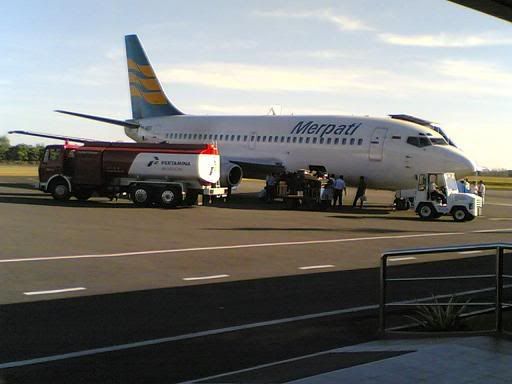 ::: Merpati's Boeing 737-200 PK-MDD getting refueled at Adisutjipto Airport
::: Merpati's Boeing 737-200 PK-MDD flight number MZ-325 ready to go back to Bandung

BAHASA INDONESIA
Hmm, akhirnya kemarin adalah hari dimana saya harus mengakhiri liburan di Yogyakarta. Karena penerbangan saya tu jam 3.45 sore, jadi jam 9.30 pagi saya sama temenku pergi jalan-jalan dulu deh, he3... :) Hmm, pertamanya kita ke Bakpia 75 untuk beli oleh2 buat temen2 di Bandung sih. Kemudian kita jalan2 tanpa tujuan trus temenku mau ngambil kartu anggota di sebuah warnet gitu. Habis itu ke Saphir Square. Dia ngajakin main ice-skating sih tapi aku nggak mau (baca deh pengalaman pertama dan satu2nya (sejauh ini) main ice-skating disini). Jadi kita liat2 aja arenanya yang ternyata kecil banget, ha3... :) habis itu kita pergi ke Toko Buku Toga Mas. Disana aku cuman liat2 buku aja sih. Trus jam 12.30 gitu aku nganterin dia balik dan aku menjemput adikku
Trus, jam 2.05 sore adikku nganter aku ke Bandara Adisutjipto (pesawatku jam 3.45 sore, jadinya jam 2.45 sore mesti check-in di airport dan aku sampe jam 2.30. Aku nggak mau ngambil resiko dengan dateng deket2 ke waktu akhirnya soale aku udah baca cukup banyak komplain deh di koran). Habis check-in aku masuk aja ke ruang tunggu (area keberangkatan). Rencana awalku sih aku mau baca Harry Potter tapi akhirnya cuma baca satu bab soale suasana ruangannya nggak konduktif sih buat menikmati baca... :)
Jam 3.10 gitu ada pengumuman kalo penerbangan Merpati MZ 324 dari Bandung akan terlambat, oleh karenanya, penerbanganku ke Bandung juga akan terlambat skitar 20 menit. Arrrgggghhhh.... (tapi masi lebih baik daripada pengalaman terakhir saya dengan Garuda
waktu ini
). Jam 3.40 sore pesawat Merpati mendarat di Bandara Adisutjipto. Aku lumayan lega pesawatnya Boeing 737-200 (walo sebenernya berharap ada pergantian jadi Boeing 737-300 ato Boeing 737-400 sih, ha3... :D) tapi udah jauh lebih baik koq daripada pesawat Jogja-Bandung sbelumnya CN-235 (baling2). Jam 4.05 sore kita boleh naik ke pesawat dan jam 4.11 sore kita take off dari landasan 27 meninggalkan Yogyakarta dan menuju Bandung, he3... :)
Kita terbang di ketinggian 24.000 kaki. Banyak orang bilang mendarat di Bandung itu menyeramkan soale di sekitar Bandung kan bergunung-gunung. Yup, memang bergunung-gunung tapi NGGAK menyeramkan loh!! Malah keren abis!! (mirip deh sama mendarat di KLIA, Kuala Lumpur, dimana sebelum mendarat kita akan melihat bukit di kedua sisi pesawat). Lima menit sebelum mendarat di Bandung, pemandangannya KEREN BGT!! Terbangnya rendah dan aku bisa liat Unpar, Galeri Ciumbuleuit, Gedung Sate, dll dari atas. Sisi yg lain deh untuk liat Bandung >> strategiku dengan milih kursi X-F (nomer berapapun yg penting F) berhasil, ha3... :) Btw, Bandara Husein Sastranegara koq 'menyedihkan' sekali yah tapinya, Bandara Adisutjipto masih jauh lebih baik. Mirip lah sama Bandara Adisumarmo, Solo.
Itulah cerita perjalanan saya balik ke Bandung,. Tentang FRS aku posting kapan2 deh, ha3... :)