ENGLISH
On Tuesday morning my friend accompanied me to go to Merpati's office to register myself on "

Easy-Flyer

" Program )similar with Garuda's GFF) because since Merpati re-operate Bandung - Jogjakarta route, I think I will fly with Merpati pretty much more frequent (I never used to, ha3... :D). There, surprisingly, the officer still remembered me!! Wow!! Probably because I was pissed at
this time
to her because of the tariff, ha3... :) Then we went to Toga Mas Bookstore (again, not buying anything) and had lunch at AW Ambarrukmo Plaza. Btw, Mozza Burger at AW was so tasty!! Try it!! Ha3... :) Then we went back home and he gave me some mini-games, he3... :)
This morning the electricity went out in Jogja for 4.5 hrs until 10 AM!! Then at 11 AM I went to Superindo and Bakpia 75 to buy some gifts, he3... :) At 2.25 PM my brother brought me to Adisutjipto Airport. At 3.30 PM, Merpati's Boeing 737-217/adv arrived from Bandung. At 3.55 PM we were allowed to board the plane. At 4 PM we took off through runway 27 at Adisutjipto Airport heading to Bandung. Again, my strategy by choosing seat 8F worked, ha3... :) The scenery was perfect, but a bit unluckily the window wasn't so clear... :( At 4.40 PM my plane landed pretty smoothly at Husein Sastranegara Bandung through runway 29. The airport was wet, so I guess it was raining... . Weirdly, in Central Bandung it wasn't even wet!! hmm....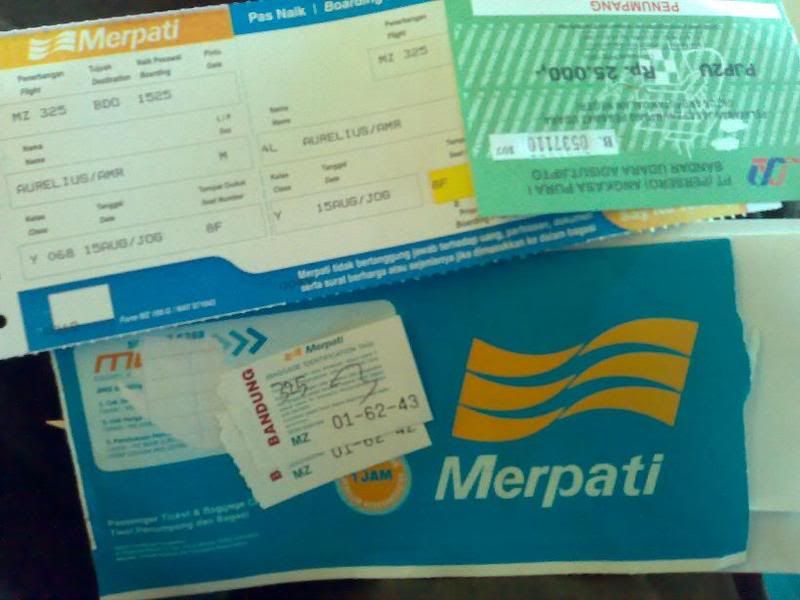 ::: my boarding pass and ticket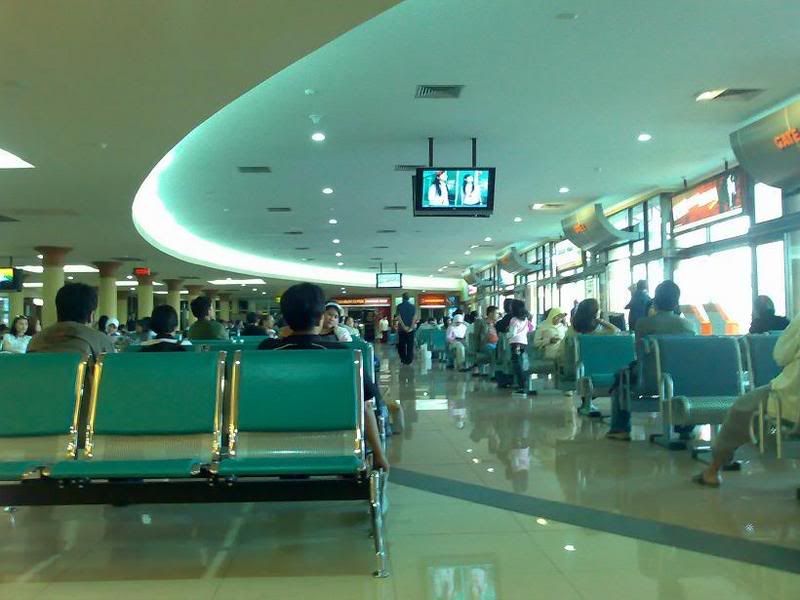 ::: Adisutjipto Airport's Departure Lounge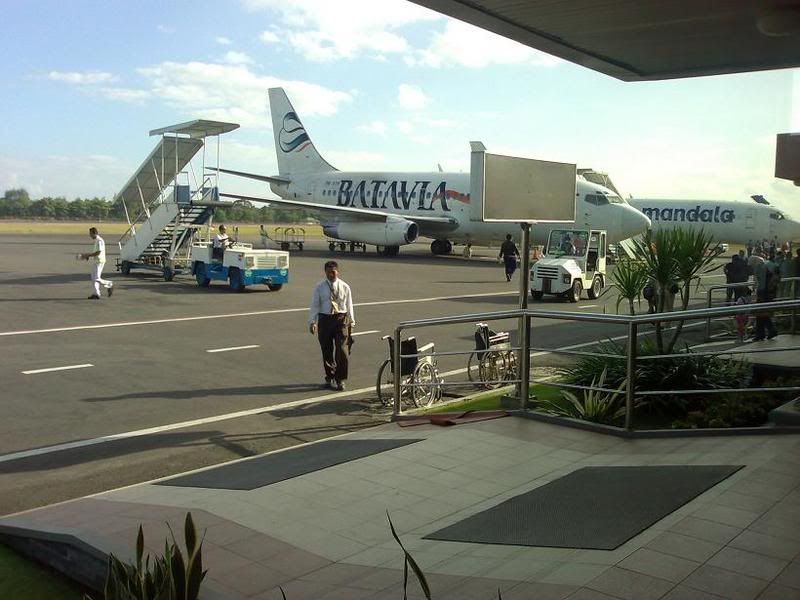 ::: Batavia's Boeing 737-2T5/adv PK-YTF was ready to go to Balikpapan, and Mandala's Boeing 737-400 PK-RIT was ready to go to Banjarmasin. Both were at Adisutjipto Airport.
::: Merpati's Boeing 737-217/adv PK-MBQ at Adisutjipto Airport which brought me back to Bandung.
::: Welcome onboard on Merpati's Boeing 737-217/adv PK-MBQ flight number MZ-325 heading for Bandung.

BAHASA INDONESIA
Selasa pagi temenku menemani aku pergi ke kantornya Merpati untuk mendaftarkan diri saya di Program "

Easy-Flyer

"-nya Merpati (mirip lah sama GFF-nya Garuda) soale kan sejak Merpati mengoperasikan kembali rute Bandung - Jogjakarta, aku rasa aku akan naik Merpati jauh lebih sering deh (biasanya kan gak pernah, ha3... :D). Disana, mengagetkan jg, ternyata petugasnya masih ingat saya!! Wow!! Mungkin karena aku marah sama dia pada waktu ini gara-gara tarif, ha3... :) Trus kita kergi ke Toko Buku Toga Mas (dan lagi, ga beli apa2) dan makan siang di AW Ambarrukmo Plaza. Btw, Mozza Burger-nya AW enak loh!! Coba deh!! Ha3... :) Trus kita balik deh, dan teman saya ngasih beberapa mini game, he3... :)
Pagi ini mati lampu di Jogja selama 4,5 jam sampe jam 10 tuh!! Trus jam 11 aku pergi ke Superindo dan Bakpia 75 buat beli oleh2, he3... :) Jam 2.25 sore adikku nganterin aku ke Bandara Adisutjipto. Jam 3.30 sore, pesawat Merpati Boeing 737-217/adv mendarat dari Bandung. Jam 3.55 sore kita boleh naik ke pesawat. Nah, jam 4 gitu kita take-off deh melalui runway 27 menuju Bandung. Skali lagi, strategi saya milih kursi 8F berhasil, ha3... :) Pemandangannya bagus, tapi sayangnya jendelanya rada burem deh... :( Jam 4.40 sore kita mendarat dengan lumayan mulus di Bandara Husein Sastranegara Bandung melalui runway 29. Bandaranya basah, kayanya sih baru aja hujan tuh... . Anehnya di Bandung tengah gak basah sama skali loh!! hmm....