ENGLISH
First of all, this is entry number 500!! It was
this time
it reached the number 400 (about 6.5 months ago). It means in average there were about 15.38 entries per-month, ha3... . Then, this morning the number of visitors of my blog reached 70,000!! Wah!! It was
this time
when it reached 60,000 (4 months ago). So, in average there were 2,500 visitors per month. Thanks for the support (I will write a similar entry when the number reached 80,000), huehehehe... :D
Yeah, finally yesterday officially my midterm ended!! Yeeaaahhh!!! :)
Anyway, yesterday I watched the top 11 show of American Idol. The theme was again, The Beatles. I think this is weird and corny since now we had 2 consecutive weeks with the same theme!! Wah... . I prefer different theme tho, hmmm... . Anyway, finally, David Archuleta was back!! Hehe... . My top two: David Archuleta and Syesha Mercado. Many other were just okay. My bottom three: Amanda Overmyer, Kristy Lee Cook, and Chikezie.
Now I just watched the Result Show and guess what?? The bottom three were: Carly Smithson (WHAT??? Yea, she was okay this week, but not that bad to be in the bottom three, hmmm...), Kristy Lee Cook (no surprise... T.T), and Amanda Overmyer. First, Ryan saved Carly (good choice). Then, he said: "Kristy, you are safe for another week!". Yeaah, my Kristy is now on the top 10, wkwkwkw... . That means, Amanda got voted off this week. Hmmm, I personally never really like Amanda Overmyer and her elimination is not a big deal for me...
Anyway, this morning I went back to Jogjakarta catching Argo Wilis Express. It departed at 7 AM and was scheduled to arrive at 2 PM. This morning I wanted to have breakfast at Hoka-Hoka Bento but it hadn't opened yet when I was there, dang!! :( So, I gotta deal with my hunger during the trip, haha... (I didn't really wanna buy food on train, hmmm). Then, the train arrived at Jogjakarta Tugu Railway Station at 1.45 PM!! Wah, it was 15 minutes earlier than the schedule!! Wah!! Nice Job!! hehehe.... ;)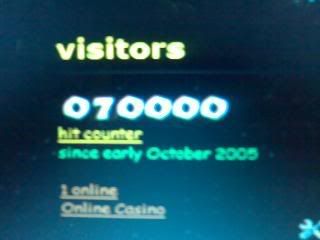 ::: 70,000!!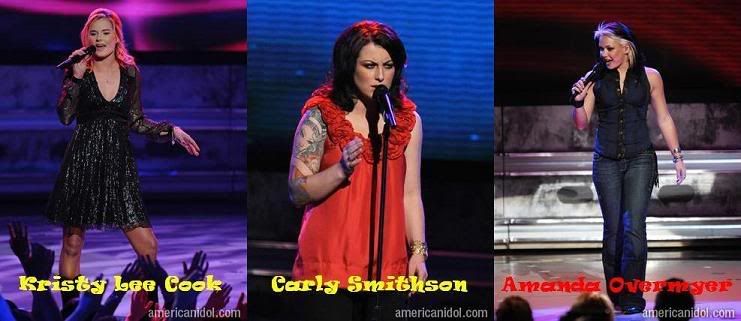 ::: Bottom Three this week: Kristy Lee Cook, Carly Smithson, and Amanda Overmyer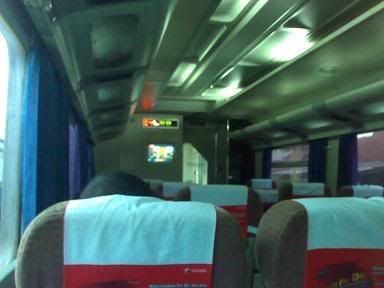 ::: Inside Argo Wilis Executive 4 Cart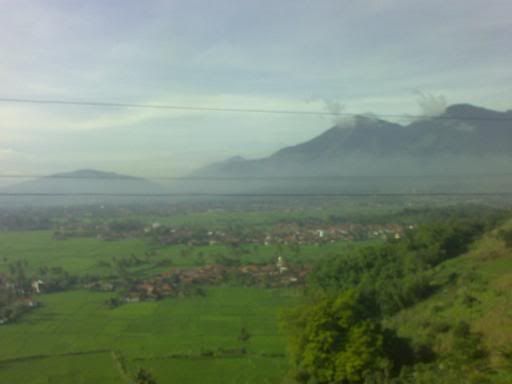 ::: A fascinating scenery about 1 hour after we left Bandung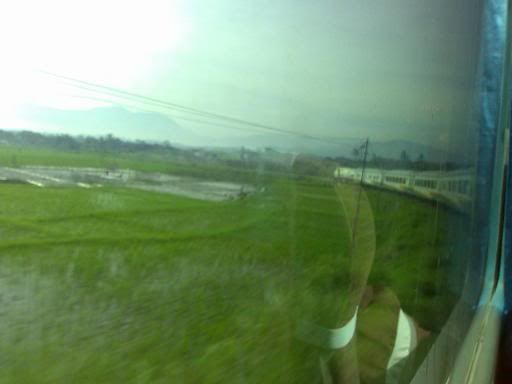 ::: Argo Wilis Express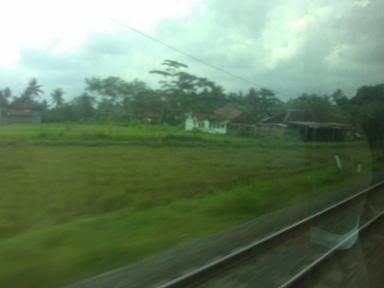 ::: Soto Sawah, 5 minutes before Jogjakarta

BAHASA INDONESIA
Pertama-tama, ini adalah posting nomor 500!! Padahal pada
waktu ini
nih nomernya mencapai angka 400 (sekitar 6,5 bulan yang lalu). Berarti secara rata-rata dalam sebulan ada 15,38 postingan deh, haha... . Trus, pagi tadi jumlah pengunjung blogku mencapai 70.000!! Wah!! Terakhir tuh
waktu ini
ketika jumlahnya mencapai angka 60.000 (4 bulan yang lalu). Jadi di rata-rata ada 2.500 pengunjung deh tiap bulan. Thanks yah atas dukungannya (aku bakal nulis hal yg mirip lagi deh waktu jumlahnya mencapai 80.000), huehehehe... :D
Yeah, akhirnya kemarin secara resmi UTS-ku selesai!! Yeeaaahhh!!! :)
Ngomong2, kemarin aku nonton show 11 besar dari American Idol. Temanya sekali lagi, The Beatles. Aku rasa ini aneh dan norak lah kita punya 2 minggu berturutan temanya sama!! Wah... . Aku sih lebih suka kalo temanya berbeda, hmmm... . Ngomong2, akhirnya David Archuleta balik lagi tuh!! Hehe... . Dua teratasku: David Archuleta dan Syesha Mercado. Kebanyakan lainnya biasa-biasa saja nanyinya. Tiga terbawahku: Amanda Overmyer, Kristy Lee Cook, dan Chikezie.
Sekarang baru aja nih nonton Result Show-nya dan bagaimana?? Tiga terbawahnya adalah: Carly Smithson (APA?? Yea, dia biasa saja minggu ini, tapi gak separah itu dah untuk masuk tiga terbawah, hmmm...), Kristy Lee Cook (nggak kaget... T.T), dan Amanda Overmyer. Pertama2 Ryan menyelamatkan Carly (pilihan bagus). Trus dia bilang: "Kristy, kamu aman untuk maju ke minggu depan (Kristy, you are safe for another week)!". Yeaah, Kristy-ku masuk 10 besar, wkwkwkw... . Itu berarti, Amanda tereliminasi minggu ini. Hmm, kalo aku pribadi sih, aku gak gitu suka sama Amanda Overmyer deh makanya tereliminasinya dia bukan suatu masalah untuk saya...
Ngomong2, pagi tadi aku balik ke Jogjakarta loh naik Kereta Cepat Argo Wilis. Berangkatnya jam 7 pagi dan jadwalnya sih sampe di Jogja jam 2 siang. Pagi tadi rencananya mau makan pagi di Hoka-Hoka Bento Stasiun tapi ternyata pas sampe sana belum buka ey, sial!! :( Jadi, aku harus berurusan dengan perasaan lapar dah selama perjalanan, haha... (aku ga gitu tertarik deh beli makanan di kereta, hmmm). Trus keretanya sampe di Stasiun Kereta Api Tugu Jogjakarta jam 1.45 siang!! Wah, kecepeten 15 menit tuh dari jadwal!! Wah!! Bagus deh tapinya!! hehehe... ;)