ENGLISH
Finally this is entry number 400!! He3... :) It was
this time
it reached the number 300 (almost 6 months ago). It means in average there had been about 16.67 entries per-month, ha3
Btw, now I'm pissed!! The technician who gotta put all internet stuffs in my room still hasn't showed up yet!! Arrrggghhhh... . Now it's 6.17 PM and the appointment was 2 PM!! Arrrgggghhhhh.... . My friend already warned me though that they were ALWAYS late, but 4 hrs sucks!! If until tonight he doesn't come then I must go to the office tomorrow... . I already tried to contact the office but nobody answered my call. Well, my friend also said it could be days until he really works!! Arrgghhh... . This brings my mood down therefore I don't write anything longer, ha3...
Anyway, last Saturday my department held a national mathematics seminar. It was primarily held on the 8th floor of Building Number 9. There are not much I can say about it though, ha3... :)
Aha, let me write a commercial break... . Starting last 31st August 2007,

QUA-LI Semarang

started to operate!! It's in DP-MALL (new mall in Semarang). Stop by, okay, he3... :)



::: quick update ::: (Tue, 4th Sep 07; 11.40 AM)



Yaay!! Finally this morning the technicians came and after 1.5 hours working on it, now my room is connected with internet!! ha3... :) Full story will be posted in next entry... :)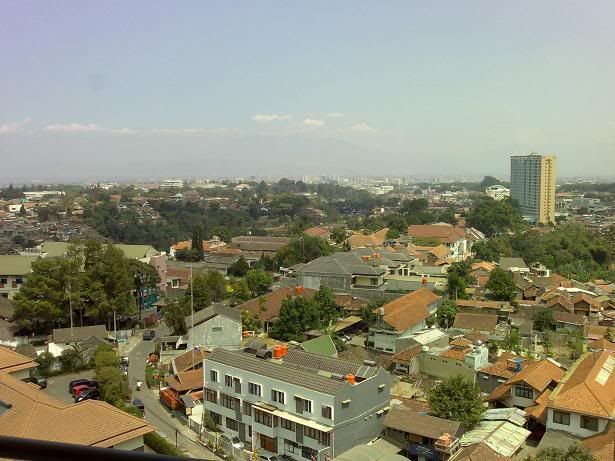 ::: the City of Bandung, taken from the 8th floor of Building Number 9.
::: Qua-Li Semarang

BAHASA INDONESIA
Akhirnya ini adalah posting nomer 400!! He3... :) Adalah pada
waktu ini
nomernya mencapai angka 300 (hampir 6 bulan yang lalu). Artinya, dalam rata2 ada 16,67 posting per-bulan, ha3
Btw, skarang emosi neh!! Teknisi yang harusnya masang kabel2 internet di kamarku masih blom dateng!! Arrrggghhhh... . Skarang jam 6.17 sore dan perjanjiannya tuh jam 2 siang tadi!! Arrrgggghhhhh.... . Temenku uda ngomongi aku sih kalo mereka SELALU terlambat, tapi 4 jam kan bikin jengkel jg!! Kalo sampe ntar mereka ga muncul besok aku terpaksa ke kantornya deh. Aku udah mencoba mengontak kantornya tapi ga ada yang ngangkat telpon saya.
Hmm, temenku jg bilang kalo bisa loh sampe berhari-hari nundanya!! Arrgghhh... .
Hal ini bikin mood saya turun dan makanya aku ga nulis lebih panjang, ha3...
Udahlah, Sabtu kemarin jurusanku mengadakan seminar matematika nasional loh. Acara utamanya diadakan di lantai 8 Gedung 9. Nggak banyak yang bisa aku tulis sih tentangnya, ha3... :)
Oya, iklan komersial aja ah... . Mulai tanggal 31 Agustus 2007 kemarin

QUA-LI Semarang

udah buka loh!! lokasinya ada di DP-Mall (mall baru di Semarang). Mampir yah, he3... :)




::: apdet cepet ::: (Sls, 4 Sept 07; 11.40 pagi)



Yaay!! Akhirnya pagi ini teknisinya dateng dan habis mengerjakannya selama 1,5 jam, skarang akhirnya kamar saya terhubung dengan internet!! ha3... :) Cerita lengkapnya akan aku posting di posting selanjutnya deh... :)