ENGLISH
Well, because my lecturer is going to Australia next week, then 2 mid-terms which are supposed to be held 3 weeks later are held this Saturday and Monday. Arrrggghhhh... . This morning at 7 AM I had my first mid-term which was Advanced Calculus. There were 7 questions, and the first one's score was the lowest (10 pts and the rest were all 15 pts). I finished question number 1 in 25 minutes and that freaked me out since that question was only scored 10, I still had 6 questions to go and the time was only 95 minutes left!! But then, the rest were not very hard, wuakakakaka... lol. I thought I did perfectly well and at 8.45 AM I left the room.
Outside, after discussing with my friends, I found out that (AGAIN) I just made another stupid small mistake!! ARRRGGGHHHHHH... . I counted the integral of 2t dt as integral of 2t-square dt!! Sh*t!! Well, it's apparent that at time I wasn't that focused since I realized that I made that mistake because I got 2t from (2t-square+1)/t. The 2t-square interfered!! Arrrggghhhh.... . As a result, I "only" got 97 for this test while I actually could get 100!! Arrrrrgggggghhhhhh..... (looking at the positive side, at least I could be relieved since most of my friends got around 50-60, ha3... :D)
Anyway, lucky at
this time
I already reserved a ticket for 11 October flight. This morning I called Merpati and the officer said the flight had already been full-booked!! Whoaa!! So, this afternoon I went to Merpati and took the Rp 585,000.oo ticket before it's expired, ha3... :) So now it's confirmed that I'm going back to Jogja at 11th October catching Merpati MZ 854 and will be back to Bandung at 21st October catching Merpati MZ 855.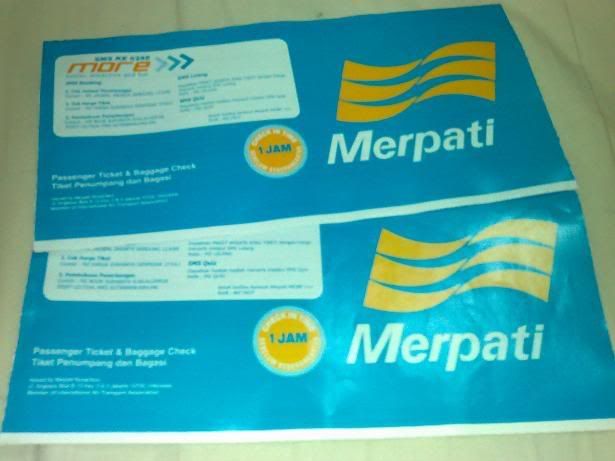 ::: My Merpati tickets
::: 97. Arrrrgggggghhhhhhh........

BAHASA INDONESIA
Hmm, karena dosenku ada yang mau ke Australia minggu depan, makanya 2 Ujian Tengah Semester (UTS) yang harusnya diadakan 3 minggu lagi jadi diadakan Sabtu dan Senin ini. Arrrggghhhh... . Pagi tadi jam 7 aku ada UTS-ku yang pertama, yaitu Kalkulus Lanjut. Ada 7 pertanyaan, dan skor soal pertama tu yang paling rendah (10 poin dan sisanya masing-masing 15 poin). Aku selesai soal nomer 1 dalam waktu 25 menit dan itu menakutkan saya soale soal itu kan skornya cuma 10, padahal aku masih ada 6 soal lagi yang poinnya masing2 15 dan waktunya tinggal tersisa 95 menit tuh!! Tapi sisanya gak susah2 amat ternyata, wuakakakaka... lol. Aku rasa aku mengerjakan dengan baik skali makanya jam 8.45 aku keluar ruangan.
Di luar, setelah berdiskusi sama temen, aku sadar aku (LAGI-LAGI) membuat kesalahan bodoh dan kecil!! ARRRGGGHHHHHH... . Aku menghitung integral dari 2t dt sebagai integral dari 2t-kuadrat dt!! Sialan!! Jelas neh aku gak fokus waktu ngerjain soale aku skarang sadar aku bikin kesalahan itu gara2 aku dapet 2t kan dari (2t-kuadrat + 1)/t. Nah, 2t-kuadratnya mengganggu tuh!! Arrrggghhhh.... . Sebagai hasilnya aku jadi "cuma" dapet nilai 97 deh untuk tes ini sementara aku tahu aku harusnya bisa dapet skor 100 tuh!! Arrrrrgggggghhhhhh..... (liat sisi positifnya ah, paling nggak aku bisa lega soale kan kebanyakan yang lain skornya kayanya di sekitar 50-60 tuh, ha3... :D).
Ngomong2, untung bgt loh
waktu ini
aku udah mesen tiket untuk tanggal 11 Oktober tuh. Pagi tadi kan aku nelpon Merpati dan katanya tuh penerbangan 11 Oktober udah
full-booked
!! Whoaa!! Makanya dah siang tadi aku pergi ke Merpati dan ngambil tiket Rp 585.000,oo-nya sebelum hangus, ha3... :) Skarang udah pasti deh aku bakal balik Jogja tanggal 11 Oktober naik Merpati MZ 854 dan balik Bandung lagi tanggal 21 Oktober naik Merpati MZ 855.