ENGLISH
Waaah, time flies!! Today is Monday, tomorrow I'm going back to Bandung via Jakarta, catching Garuda Indonesia GA 209 flight. Btw. I just found out (my mom told me) that actually Garuda has one '

unpublished

' sub-class, the lowest one!! Waaa!! Up till now I always thought sub-class V (promotional sub-class which I often buy) is the lowest sub-class. Apparently, there's one lower sub-class than V, which is X. But if we take the X sub-class, we gotta really be sure with our traveling date and flight, otherwise we will be charged much higher (than if we buy V sub-class ticket and we want to change flight) and it's almost the same with buying another new ticket.
Anyway, yesterday morning my family and I went to the church, to celebrate Easter. The liturgy was so long, 1.5 hours!! Wah!! Then, we had breakfast at Soto Pak Parman at Kridosono. Then, I continued my sleep (at that time I had slept for only 4 hours... T-T ). In the evening, we had dinner at Tojoyo. While we were eating, there was a black out!! Wah!! It was about 15 minutes I think, pretty long. Then we went to Malioboro Mall. Later that evening I completed my assignment from campus.
This morning I got up at 9.30 AM. We had breakfast at Soto Gondolayu (across McD Soedirman Jogjakarta). Then, later that afternoon I accompanied my dad to try a warung soto and soup at Jalan Solo (pretty far, about 10 km from Jogja). One unique thing I was curious about (I learnt from the newspaper) was that they serve soup in coconut shells. Wah!! That's interesting. Then, we found it. Well, I think twas just okay, not that special, haha... . Because we were still pretty hungry so we went to Sabar Menanti Restaurant which is famous for its '

pecel lele

' (catfish pecel). It was SOO hot and spicy!! Damn. I'm anti super-hot-and-spicy food, but actually twas tasty, hehehe... :) We also ordered dawet there. Then we went back home. Later this evening we went to Malioboro Mall and had dinner at a Japanese Restaurant there.
Btw, at Malioboro Mall, there was a black out today!! Waa!! hahaha, pretty silli since we encountered a black out at a mall. That was my second experience having a black out at a mall. The first one was at
this time
, 1.5 years ago, at Istana Plaza, Bandung. There was also a black out. Today the black out was about 1 - 2 minutes. Btw, by the time the electricity went out, actually at my store(
Kassaya Malioboro Mall
) there was a customer who was about to pay using Credit Card. Because of the black out, of course the card machine wasn't on. Lucky the customer was fine to wait for 1 minute, hahaha... . If she wasn't, wah, that's a bit sad since she bought a pretty expensive fragrance, hahaha...
::: martabak I bought yesterday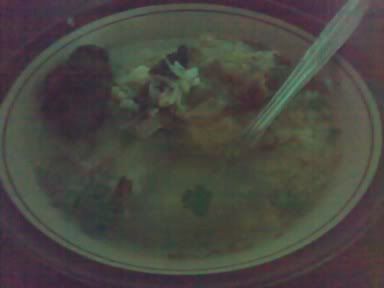 ::: Soto Gondolayu (sorry, poor lighting)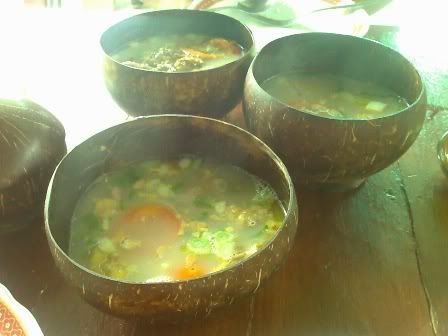 ::: ribs soup served in coconut shells
::: my meal at Sabar Menanti, '

pecel lele

' (catfish pecel) and dawet
::: my meal at Malioboro Mall this evening
::: Kue Bandung I bought this evening

BAHASA INDONESIA
Waaah, waktu beneran terbang deh!! Hari ini adalah Senin, dan besok aku akan balik ke Bandung via Jakarta naik penerbangan Garuda Indonesia GA 209. Btw, aku baru tau loh (dikasi tau mamaku sih) kalo ternyata Garuda memiliki satu kelas yang '

nggak dipublikasikan

', yaitu yang paling rendah!! Waaa!! Sampe tadi sih aku kira sub-kelas V (subkelas promosi yang biasanya aku beli) tuh yang paling murah. Ternyata ada 1 sub-kelas lagi yang lebih rendah dari V, yakni sub kelas X. Tapi kalo kita ngambil sub kelas X, kita harus yakin sama tanggal keberangkatan dan penerbangan kita sih, soale kalo nggak nanti kita harus bayar lebih mahal lagi (daripada kalo kita beli yang sub kelas V dan kita mau ganti penerbangan) dan itu hampir sama aja kalo kita beli tiket baru lagi.
Ngomong2, kemarin pagi aku sekeluarga pergi ke gereja, buat merayakan Paskah. Misa nya panjang juga tuh, 1,5 jam!! Wah!! Trus kita makan pagi di Soto Pak Parman di Kridosono. Trus, aku melanjutkan tidur saya (waktu itu aku uda tidur baru selama 4 jam... T-T). Sorenya, kita makan di Tojoyo. Sewaktu makan, lampunya mati!! Wah!! Selama 15 menit tuh kayanya, cukup lama koq. Trus kita pergi ke Malioboro Mall. Malemnya aku nyelesein tugas dari kampus.
Pagi tadi aku bangun jam 9.30. Kita makan pagi di Soto Gondolayu (seberangnya McD Soedirman Jogjakarta). Trus, siangnya aku nemeni papaku mencoba warung soto dan sop di Jalan Solo (lumayan jauh tuh, sekitar 10 km deh dari Jogja). Satu hal unik yang aku penasaran adalah (aku tau dari koran sih) mereka menyajikan sop-nya pake tempurung kelapa tuh. Wah!! Cukup menarik deh. Trus, tempatnya ketemu. Hmm, aku rasa biasa aja dah masakannya, nggak spesial, haha... . Karena masih lapar trus kita pergi ke Restoran Sabar Menanti yang terkenal dengan 'pecel lele'-nya. Masakannya BENERAN pedas banget dah!! Sialan. Aku kan nggak suka masakan yang pedas-pedas, tapi sebenernya masakannya enak loh, hehehe... :) Kita juga pesen dawet disana. Trus balik deh. Malemnya kita ke Malioboro Mall dan makan malam di sebuah Restoran Jepang.
Btw, di Malioboro Mall tadi mati lampu!! Waa!! Hahaha, lucu juga neh di mall mati lampu. Ini pengalaman kedua ku lho mengalami mati lampu di mall. Yang pertama tu
waktu ini
, 1,5 tahun lalu, di Istana Plaza di Bandung. Mati lampu juga tu. Mati lampunya sekitar 1 - 2 menit dah tadi. Btw, tadi pas mati lampu padahal di toko (
Kassaya Malioboro Mall
) lagi ada yang mau bayar pake Credit Card tuh. Gara2 mati lampu mesinnya kan mati. Untung pelanggan-nya mau nunggu bentar, hahaha... . Kalo ga kan sayang tu, dia beli parfum yg lumayan mahal soale, hahaha...