ENGLISH
Wah, this week I got the result of some midterms. Well, one of them is a bit shocking. I think I was having a
low point
at that time
and I'm not really confident with my answer. One detail about my answer (that I didn't write at that entry) is that it was a bit messy. I mean, I had written something then I realized it was wrong so I crossed it and then wrote the seemingly correct in a new part of the paper, and so on. So it was a bit messy, hahaha... . Guess what? I got 87 (eighty-seven) for that exam!! Waaaaa!!!! wkwkwkwkw... lol. It is exceeding my expectation. Thanks God!! haha...
Anyway, yesterday I watched the Result Show of American Idol top 10. The final bottom three: Chikezie, Syesha Mercado, and Jason Castro. Wah, I think this bottom three is correct, eventho I still think Syesha could be replaced by Ramiele. First, Ryan saved Jason (well, many people must like it but I don't, haha... . I NEVER like Jason Castro, I dunno why). Then, Ryan said Syesha was safe, so Chikezie is going home this week. Well, I think it's a good result, hahaha.... . Well, next week there will be a mentor and the mentor is Dolly Parton. So many guess it will be a country week, hmmm.... . Good for Kristy, hehehe
Anyway, Star World now airs a gameshow called '

Are You Smarter Than a 5th Grader?

'. I think it's so interesting, hehe... ;) Eventho it's not really applicable for Indonesian watcher (since what Indonesian got in elementary school is different with what American got, hehe... :D). Tonight a new game show called '

Unan1mous

' is gonnabe premiered. I'm interested on its ad so we will see...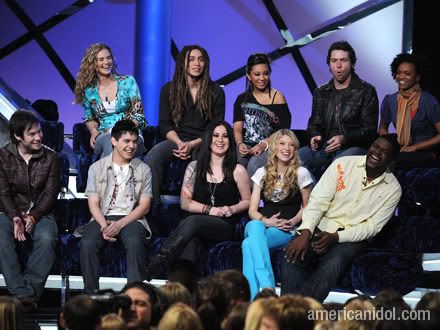 ::: American Idol 2008 Top 10. Up Row, left to right:

Kristy Lee Cook, Jason Castro, Ramiele Malubay, Michael Johns, and Syesha Mercado

. Bottom Row, left to right:

David Cook, David Archuleta, Carly Smithson, Brooke White, and Chikezie
::: Bottom Three this week: Chikezie, Syesha Mercado, and Jason Castro.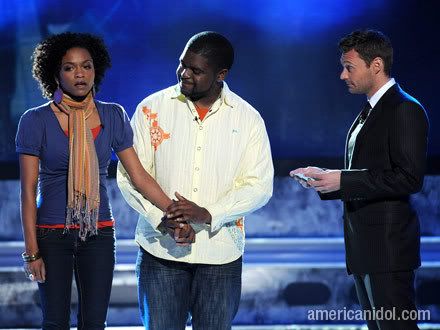 ::: "

Syesha, you are safe

"

BAHASA INDONESIA
Wah, minggu ini kan aku dapet beberapa hasil dari UTS tuh. Hmm, salah satunya bener2 mengejutkan deh. Aku rasa kan aku mengalami suatu
low point (titik terendah)
pada waktu ini
dan aku nggak gitu yakin sama jawaban saya. Satu detail tentang jawabanku (yang nggak aku tulis di posting itu) adalah kalo berantakan deh. Maksudnya tuh, misalnya aku uda nulis sesuatu tapi aku trus sadar kalo itu salah, ya udah trus aku coret aja dan nulis lagi yg kayanya bener di bagian lain kertas jawabannya, dan selanjutnya. Makanya jadi rada berantakan dah, hahaha... . Dan bagaimana? Ternyata aku dapat 87 (delapan puluh tujuh) tuh untuk ujian itu!! Waaaaaa!!!!! wkwkwkwkw... lol. Bener2 melebihi perkiraanku dah. Terima Kasih Tuhan!! haha...
Ngomong2, kemarin aku nonton Result Show dari American Idol 10 besar. Tiga terbawahnya: Chikezie, Syesha Mercado, dan Jason Castro. Wah, aku rasa tiga terbawah ini bener koq, walau aku masih berpikir Syesha bisa ditukar dengan Ramiele. Pertama2 Ryan menyelamatkan Jason (hmm, banyak orang pasti senang tapi aku nggak, haha... . Aku NGGAK PERNAH suka Jason Castro, gatau deh napa). Trus Ryan bilang Syesha aman jadinya Chikezie pulang minggu ini. Hmm, aku rasa ini hasil yang ok, hahaha.... . Hmm, minggu depan akan ada mentor dan mentornya itu Dolly Parton. Makanya banyak yang menduga tema minggu depan adalah country, hmmm.... . Bagus deh untuk Kristy, hehehe
Ngomong2, Star World kan sekarang menayangkan kuis berjudul '

Are You Smarter Than a 5th Grader?

' tuh. Aku rasa kuis ini lumayan menarik dah, hehe... ;) Walau rada nggak aplikatif kalo diterapkan untuk penonton Indonesia (lha kan orang Indonesia tu pelajaran yang didapat di SD berbeda dengan apa yang didapat oleh orang Amerika kan, hehe... :D). Malam ini akan ada kuis lagi tu yang mulai dimainin judulnya '

Unan1mous

'. Hmmm, aku lumayan tertarik sama iklannya tuh jadi lihat nanti deh...