ENGLISH
Today is definitely one low-point for me, hahaha... ;) I actually got a lecture at 7 AM. So I set my alarm to ring at 6.44 AM this morning. Then, since yesterday was so exhausting, so I started to sleep a bit early, at 11 PM. I dunno, probably because my sleep was too 'good', I didn't wake up when my alarm rang!! Arrrggghhhhh... . Probably unconsciously I turned it off and continued to sleep!! Dang It!! When I opened my eyes this morning, I realized it was too bright to be 6.30 AM (I thought my alarm hadn't run yet and it was still around 6.30 AM). But since I believed that my alarm hadn't rung, so I continued sleeping. Fifteen minutes later, I started to think rationally, it was way too bright to be before 7 AM. So I checked my watch and it's 8 AM!! ARRRGGGGHHHHHH... . I dunno what happened to me this morning, but I'm a bit disappointed of myself, haha....
That's weird, since usually if I slept a bit late (at around 1 AM), I could get up at 6.15 AM. But last night, I started to sleep at 11 PM (earlier) and I couldn't get up at 6.45 AM this morning?? I dunno what happened, so it gottabe a low point for me, hehe...
So I was absent at my first lecture this morning. Anyway, there's one good news, now a class (2 PM - 5 PM) is cancelled!! hahaha... . Since it's a low point for me I'm feeling a bit lazy today to attend on that class since I dun really fit the lecturer. But then it's canceled!! Wow!! hahaha...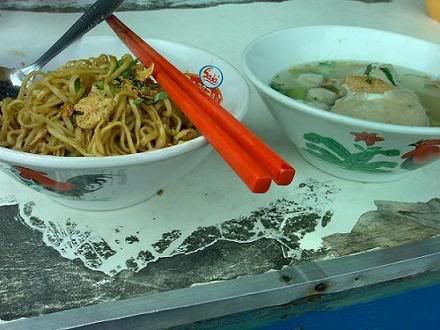 :::

Yamin Bakso

I ate this afternoon at "

Kantin FISIP

", hehe... ;)

BAHASA INDONESIA
Hari ini beneran dah merupakan titik rendah buat saya, hahaha... ;) Aku kan sebenernya ada kuliah tu jam 7 pagi. Jadinya aku nyetel alarmku buat bunyi jam 6.44 pagi. Nah, karena kemarin tu aku cuapek banget, makanya aku tidur rada awal dikit gitu, jam 11 malem. Gatau kenapa, mungkin karena tidurnya kenyenyakan kali ya, aku nggak bangun loh waktu alarmku bunyi!! Arrrggghhhhh... . Mungkin nggak sadar aku mattin alarmnya kali ya trus melanjutkan tidurku lagi!! Sialan!! Waktu aku membuka mata pagi tadi aku sadar kalo itu terlalu terang untuk jam 6.30 pagi (aku kira alarmku blom bunyi tuh dan masih sekitar jam 6.30an lah). Nah, karena aku percaya kalo alarmku blom bunyi, ya udah aku tidur aja lagi. Limabelas menit kemudian aku mulai berpikir dengan jernih, dan itu memang benar2 terlalu terang untuk keadaan sebelum jam 7 pagi. Nah, aku ngecek jam ku, dan ternyata udah jam 8 pagi!! ARRRGGGGHHHHHH... . Nggak tau apa yg terjadi dengan saya pagi tadi, tapi aku rada kecewa neh sama diri saya tadi, haha....
Aneh banget ya, kalo biasanya aku tidur rada maleman (jam 1an pagi gitu), aku bisa loh bangun jam 6.15 pagi. Tapi semalem aku mulai tidurnya jam 11 malem (awal kan tuh) dan aku gak bisa bangun jam 6.45 pagi tadi?? Gatau apa yang terjadi neh, makanya pasti memang lagi di titik rendah, hehe...
Jadi ya udah, aku gak masuk deh di kuliah pagi tadi. Ngomong2, ada berita baik, sekarang satu kelas (jam 2 siang sampe jam 5 sore) dibatalkan!! hahaha... . Karena skarang adalah titik rendah saya, aku ngerasa males bgt neh mau masuk tuh kuliah, lha aku juga gak gitu cocok lah sama dosennya. Tapi kemudian kelasnya dibatalkan!! Wow!! hahaha...