Note: Again, this entry will only be posted in English.... :)

Haha, this month is really amazing, after last Thursday there was a Racers Revealed of
The Amazing Race Asia 2
, today AXN started to air the brand new
The Amazing Race 12
. The first leg has been aired, I'm not gonna write the synopsis as usual, but I'll write my thought about each team, according to the order they finished the first leg, hehe. Here we go: (
note: I will put an exclusive picture of each teams that I like... ;)
)
::: TAR 12 Intro
1. Azaria & Hendekea (Brother&Sister)
I think this team is so kind. They were good people. Since they shared experience with Ronald&Christina, they ordered Ronald&Christina a cab also, haha... . I hope they did well...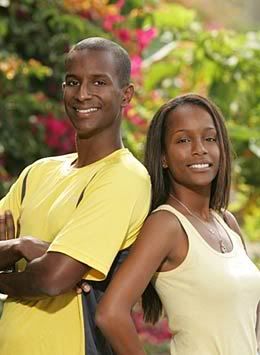 ::: Azaria & Hendekea
2. Kynt & Vyxsin (Dating Goths)
Wow, this team IS my most favorite so far!! I like them. They are very unique and distinctive, hahaha... . I wonder how they kept that make-up every single time...
::: Kynt & Vyxsin
3. Rachel & TK (Newly Dating)
I dunno much to say. I dun dislike them, but they are not my favorite as well. For me, so far, they were pretty standard on there
4. Lorena & Jason (Dating)
This team might be very interesting on the show. Lorena with her vulnerable emotion could bring a lot of spices on the show. It's gonnabe exciting to see how Jason would react after that...
5. Nicolas & Donald (Grandson - Grandfather)
Well, a good combination. I think the fact that Donald was 68 (during the filming) could be a big disadvantage for this team, no matter how well Nicolas did. I dunno, just a feeling
6. Shana & Jennifer (Friends)
Okay, I like this team. I hope they were as competitive as Dustin & Kandice on TAR 10 and TAR All-Stars. On the first leg they really treated their donkey really well and they jumped from last place to #6!! That was amazing!! haha...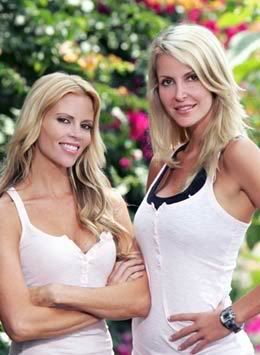 ::: Shana & Jennifer
7. Ronald & Christina (Father - Daughter)
This Asian team is very interesting since eventhough Ronald is Christina's father, he didn't really know her well since he was absence when Christina grew up. Haha, that's pretty touching... .

Note 4 Dian:

They are from Tacoma, WA, hahaha...
::: Ronald & Christina
8. Kate & Pat (Married Ministers)
Well, they were the first lesbian team to be on the race. It's kinda weird since they were
ministers
and they were married?? C'Mon, haha....
9. Mariana & Julia (sisters)
They were just like other all-female team. So far, nothing was really interesting, but we will see, hehe....
10. Nathan & Jennifer (Dating)
No comment, even though conflicts between them could possibly caused something to be interesting, he3.... ;) But so far I dun really like this team... :(
11. Ari & Staella (Bestfriends)
~ELIMINATED~
I HATE THIS TEAM!! Hahahaha... . Karma beat them in the ass. Once they arrived at Shannon, Ireland, they stole Ronald & Christina's cab. Then they treated their donkey really badly, and they got eliminated. How sweet is that?? hahaha....
::: All Teams of TAR 12 (

from top far left, clockwise: Azaria & Hendekea, Nathan & Jennifer, Kynt & Vyxsin, Kate & Pat, Lorena & Jason, Donald & Nicolas, TK & Rachel, Shana & Jennifer, Ari & Staella, Mariana & Julia, and Ronald & Christina

)