Note: this entry will only be written in English... :D

Okay, tonight there was a "
Racers Revealed
" of
The Amazing Race Asia 2
. It was sort of an introduction of all 10 teams which competed on the second season of the race. Here is my short opinion about them:
1. Brett & Kinaryosih (Dating, Indonesia)
okay, so far as I see, they were the only team which was not really race for the money. This could be interesting... . Even though I actually prefer Indonesia is represented by 'not-famous' team (Kinaryosih is an actress, and I actually prefer the Indonesian team is represented by common people, hehe...). But anyway, I support them, hehehe... . I hope they did better than MnM this season (last season MnM were so great by achieving #4, hehe.... :D)
2. Paula & Natasha (Childhood Friends, Thailand)
they are so attractive, I think they could be this season's Aubrey&Jacqueline. But I hope they did better than Aubrey&Jaq, hehe....
3. Collin & Adrian (Gym-Buddies, Singapore)
The most interesting thing about this team is that Adrian is deaf, and they communicate through sign-language. This could be an advantage for them that other teams wouldn't understand what they were speaking... . They are somehow like Charla&Mirna, but I still prefer Charla&Mirna, I dunno why for now...
4. Sophie & Aurelia (ex-housemates, Hong Kong)
okay, they are attractive and seemed not to have a 'peaceful' relationship, haha....
5. Henry & Terri (married 13 years, Philippines)
Wow, they attracted me, not like what I thought at first when I saw her pic or read their profile. I think they would do well.
Don't judge a book by its cover
...
6. Daichi & Sawaka (Brother-Sister, Japan)
Okay, this team is VERY interesting. Sawaka (the elder) is over-protective and decisive. Daichi made a shock in his family by not telling his family that he got married (what!?!?!?), hahaha... .
7. Pamela & Vannesa (sisters, Malaysia)
Hmmm, I dun really have much to say...
8. Marc & Rovilson (Best-Buddies, Philippines)
I'm sure many people (especially woman) would root for this team, haha... . Every woman would like to see Marc there.
9. Ann & Diane (dancing mums, Malaysia)
This team is really interesting. They called themselves Desperate Housewives. This is interesting because they are housewives who were travelling around the world, what a really different world, hehe
10. Edwin & Monica (Dating 10 Years, Hong Kong)
Okay, Edwin is really really arrogant and he was kinda exagerrating what he said. While Monica said they were like Rob&Amber from the original version of TAR, he said they were better than Rob&Amber, hmmm... . Prove ur words Edwin, if u didn't, hahahaha.... . We would laugh... . (but if they really proved it, I will like them, hehe...)
Anyway, so far 5 teams attracted me, huahahaha....
1. Brett & Kinaryosih (of course, they represented Indonesia... :D)
2. Daichi & Sawaka
3. Ann & Diane
4. Paula & Natasha
5. Henry & Terri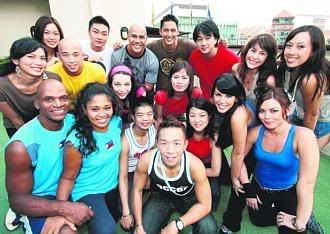 ::: Teams of TARA 2, minus the
dancing mums
we will see, I heard the premierre will be on 22nd November, arrrggghhhh... . That's still a loooonnnggg time from now... :( But the good news is that next Monday TAR 12 will start, hehehe... :)
Anyway, I think there are too-many eye candies this season, i dunno. It's just too many I think.