ENGLISH
If last Friday I didn't have anything to write, now I have a story to tell, hehehe.... :) This morning I accompanied my friends to do a survey for a villa to hold a TA next January, hehehe.... :) (yea, it's another TA, this year TA was held at
this time
). So, at 11 AM we departed and went to a place near Lembang. I dun really remember the exact address tho, hehe.. . It's a nice villa I think. But the only problem is a rule about no activity after 9 PM. Apparently, it was because of the neighbor who used to complain about that, haha...
Then, because it's still 12 PM and my friend got an info about a nice villa at Cipanas, so we went to Cipanas right after that. FYI, Cipanas is near Puncak, so from Bandung it's after Cianjur and before Puncak Pass (look at the map below). It's about 70 km from Bandung, but we normally spend about 2 hrs to go there because of the hilly road. Guess what?? Bandung was soo congested!! It took about 45 minutes just to get out of Bandung thru the Pasteur Toll-Gate.
It was raining mostly on the way to Cipanas. At about 3.15 PM we finally arrived at Cipanas and found the villa. Guess what?? Arrrggghhh, it was SO disappointing. It's very very different with our original thought. We thought it was A LOT better than the actual. Okay, after that we headed back to Bandung. Btw, while we left the villa, it was SOO foggy, the visibility was probably only about 3 meters. Dang It. Then, we had lunch at "Cianjur Fried Chicken". It sucked!! It was soo expensive... :( Btw, getting back to Bandung was a lot faster than the departure, hehe... :) At 6 PM we already arrived at Pasteur.
Because of the disappointment after having meal at the Fried Chicken Restaurant, we then had dinner at "Bakso Malang Cipaganti", hehe... :) It's a lot better... :)
::: The Tree, The Hen, and The Chickens... :)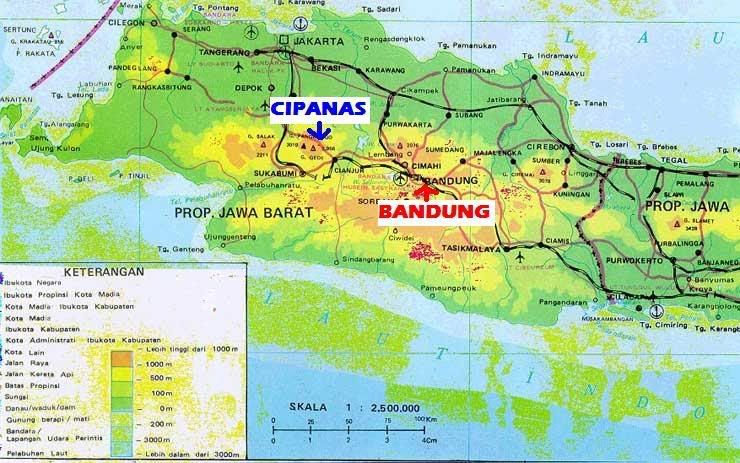 ::: Map
::: expensive Fried Chicken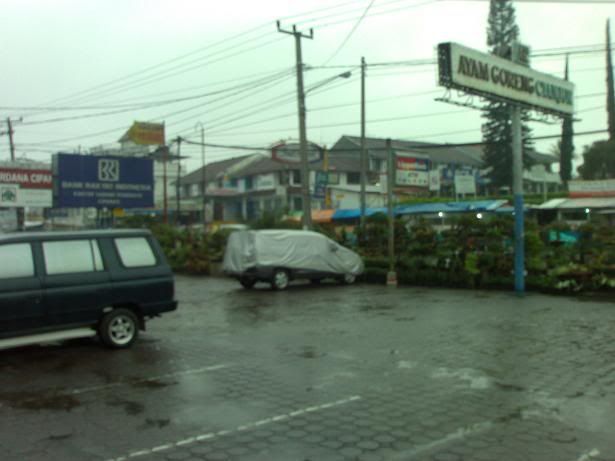 ::: The Town of Cipanas
::: "

Bakso Malang Cipaganti

"

BAHASA INDONESIA
Kalo Jumat kemarin aku nggak punya bahan buat ditulis, sekarang ada nih, hehehe....:) Pagi ini aku nemenin temenku buat survey villa tuh buat ngadain TA (Temu Akrab) Januari besok, hehehe... :) (iya, ini TA lagi, TA tahun ini kan diadain pada
waktu ini
). Jadi, jam 11 pagi kita berangkat dan pergi ke suatu tempat di deket Lembang. Nggak inget nih alamat pastinya, hehe.. . Villanya bagus lah menurutku. Cuma satu2nya masalah ya peraturan kalo ga boleh ada kegiatan setelah jam 9 malem. Ternyata, itu karena tetangga yang pernah komplain tuh tentangnya, haha...
Trus, karena masih jam 12 siang dan temenku dapet info ada villa bagus di Cipanas, ya udah deh, habis itu kita langsung ke Cipanas. FYI, Cipanas itu di deketnya Puncak, jadinya dari Bandung tuh setelah Cianjur dan sebelum Puncak Pass (liat deh peta di atas). Jaraknya sekitar 70km-an lah dari Bandung, tapi biasanya ya sekitar 2 jam buat kesana soale jalannya kan nanjak. Dan gimana?? Bandung macet buanget!! Masa tadi butuh sekitar 45 menit cuma buat keluar dari Bandung lewat Gerbang Tol Pasteur sih.
Nah, tadi tu seringnya ujan deh sepanjang jalan ke Cipanas. Sekitar jam 3.15an akhirnya sampe deh disana. Dan gimana?? Arrrggghhh, ternyata mengecewakan banget. Beda banget dah sama bayangan awal kita akan tempat itu. Kita pikir JAUH lebih baik daripada itu tuh. Oke deh, habis itu balik deh ke Bandung. Btw, waktu keluar dari villanya berkabut banget tuh, jarak pandangnya paling cuma 3 meter-an. Sialan. Trus, kita makan siang di "Ayam Goreng Cianjur". Menyebalkan banget!! Mahal ey... :( Btw, waktu balik Bandung lebih cepet loh daripada berangkatnya, hehe... :) Jam 6an sore akhirnya kita sampe deh di Pasteur.
Nah, karena kekecewaan habis makan di Restoran Ayam Goreng itu, trus kita makan malem deh di "Bakso Malang Cipaganti", hehe... :) Lumayan lah... :)