ENGLISH
Anyway, yesterday I wacthed the fourth episode of
TAR 12
in Burkina Faso. A new twist on the race was introduced, which is a "U-Turn". A U-Turn is a tool which gives power to a team to force the other team to do another

Detour

that other team didn't do (so the U-Turned Team gotta complete both the

Detour

Task). A U-Turn is placed after a

Detour

. Haha, so U-Turn is even more evil than a Yield. On this leg, Shana & Jennifer U-Turned Lorena & Jason because Shannifer thought Lorena & Jason were right behind them (and actually it was TK & Rachel who were right behind them since Lorena & Jason were still so far behind). Of course, this caused the elimination of Lorena & Jason. Anyway, for the third time, Azaria & Hendekea won the leg!! haha, they are smart people and they raced smartly, great job...
Anyway, today my friends and I went to Paris van Java and we wacthed
Enchanted
. It was a comedy-fantasy-musical film, and of course it's

not

'very me', hahaha... :) Anyway, I could enjoy it eventho I don't love it. My full review can be read
here
. Btw, there was a funny experience. When I watched the movie, it was (accidentally) cut on the middle!! wakakakaka.... :)) I never had such an experience like that before!! haha
Arrrggghhh, tomorrow I have 2 quizes and 1 homework to be completed!! Dang It!! :(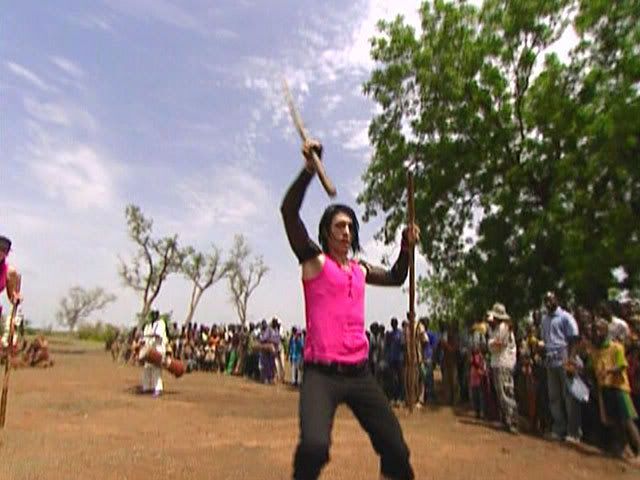 ::: Kynt doing the "

Shake Your Booty

"

Detour
::: U-Turned Lorena & Jason
::: Marianna & Julia (left) and Lorena & Jason (right), the third and fourth team to be eliminated
::: Enchanted

BAHASA INDONESIA
Ngomong2, kemarin aku nonton episode keempat dari
TAR 12
di Burkina Faso. Sebuah 'alat' baru diperkenalkan di episode ini, yaitu "U-Turn" (putar balik). U-Turn adalah alat yang bisa memberikan kuasa kepada satu tim untuk memaksa tim lain melakukan tugas

Detour

yang belum dilakukan tim yang di-u-turn itu (jadi tim yang di-U-turn mesti melakukan semua tugas

Detour

). U-Turn ditempatkan setelah

Detour

. Haha, jadinya U-Turn tu lebih kejam daripada Yield yah. Di babak ini, Shana & Jennifer me-u-turn Lorena & Jason soale Shannifer ngira Lorena & Jason ada tepat di belakang mereka (padahal yg tepat di belakang mereka sih TK& Rachel tuh soale Lorena & Jason masih jauh di belakang mereka). Makanya, ini jelas mengakibatkan tereliminasinya Lorena & Jason. Ngomong2, untuk ketiga kalinya, Azaria & Hendekea juara satu!! haha, mereka orang pintar dan mereka ikutan lombanya juga pintar tuh, hebat...
Ngomong2, tadi aku sama temen2ku pergi ke Paris van Java buat nonton
Enchanted
. Ini adalah film musikan-fantasi-komedi, dan tentu saja

nggak

'aku banget', hahaha... :) Ngomong2, bisa aku nikmati sih walau gak bener2 suka sama tipe filmnya. Review lengkap saya bisa dibaca
disini
.
Btw, ada pengalaman lucu. Waktu lagi nonton, masak ya di tengah-tengah, filmnya (gak sengaja) kepotong!! wakakakaka.... :)) Aku gak pernah mengalami pengalaman kaya gitu sebelumnya!! haha
Arrrggghhh, besok akan ada 2 kuis dan 1 PR nih untuk diselesaikan!! Sialan!! :(