ENGLISH
Haha, finally The Math Competition is over today, hehe.... :) Since it seems that many people don't understand, here I wanna say that
I was the official of the competition
. So, we held the competition, not joining it, hahaha.... :) The competition is for Elementary and Midschool (JHS + SHS) students. I created some of the questions.
Overall, the competition ran really well. Our teamwork was great (especially on day 2 (Friday)) and I am really glad, haha... . It was so exhausting tho, we worked from 6.30 AM up until 9 PM. On Thursday my main job was supervising the elementary level competition, scoring, and determining the winner. On Friday my main job was checking the quarter-final answers (for JHS level), handling the semifinal round for SHS level, and also accompanying the judges (lecturers) in scoring the semifinal answer (and an additional task: delivering the bad and good news to all contestants after the result was out). On Saturday, my main job was handling the presentation room where the final for SHS level was held (I actually a bit disagree with the judges' decision in ranking the final 6, one contestant was so nervous and was shaking during the presentation, plus a bit weird voice, and also a bit off course in answering the question, but he got #3? hmm... . my own opinion tho).
Anyway, I'm so glad it all went really really well. It doesn't mean there was no problem, there were some, but we were pretty solid so it was not affecting so much, phiuhh, hehe... ;)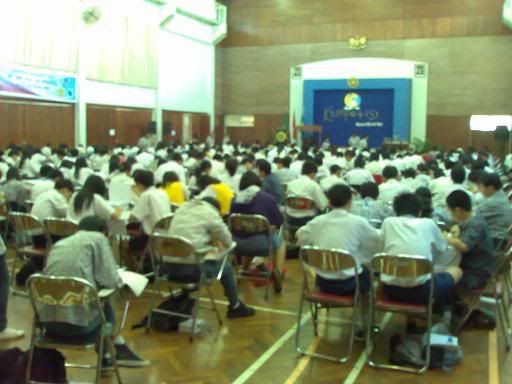 ::: Quarter-Final Round
::: All the winners

BAHASA INDONESIA
Haha, akhirnya Kompetisi Matematika selesai hari ini, hehe... :) Nah, karena kayanya banyak yang gak mengerti, disini mau aku tulis bahwa
saya itu adalah panitia dari kompetisinya
. Jadi, kita yang mengadakan kompetisi, bukan ikutan lomba, hahaha.... :) Kompetisinya tuh buat tingkat SD dan Sekolah Menengah (SMP dan SMA) tuh. Aku yang bikin beberapa soalnya loh.
Secara keseluruhan, kompetisinya berjalan dengan baik. Kerjasama timnya bagus banget (terutama hari ke-2 (Jumat)) dan aku sangat lega sekali, haha.... . Sangat melelahkan sih, soale kan kerjanya dari sekitar jam 6.30 pagi sampe jam 9 malem tuh. Di hari Kamis, kerjaan utamaku ya mengawasi jalannya kompetisi tingkat SD, ngasi skor, dan menentukan pemenangnya. Di hari Jumat tugas utamaku mengecek jawaban babak perempat final (SMP), memegang babak semifinal buat SMA, dan juga menemani juri (para dosen) menilai jawaban babak semifinal (dan juga tugas tambahan sih: memberikan berita baik dan buruk ke peserta habis hasilnya keluar). Di hari Sabtu, tugas utamaku tuh memegang ruang presentasi dimana babak final buat SMA diadakan (aku agak dikit gak setuju sih sama keputusannya juri waktu babak 6 besar, satu peserta tu gugup banget dan gemeteran waktu presentasi, suaranya aneh, dan rada agak keluar jalur lah, tapi dia jadi juara 3? hmmm, menurutku pribadi sih).
Udahlah, yang penting aku sih lega banget semuanya lancar2 saja. Nggak berarti nggak ada masalah sih, ada beberapa, tapi karena kita lumayan solid, makanya masalah itu gak begitu berpengaruh, fiuhh, hehe... ;)