ENGLISH
This week is really a busy week for me, I got a lot of things to be done. Now I'm left with a few more, hehehe.... ;) Anyway, I dunno why but sometimes when I read a Horoscope in
Friendster
, it's true!! Hmmm..... . Just like yesterday when it said I gotta watch my wallet, and that's SO TRUE!! Hahaha, I'm definitely a bit 'royal' alias over my budget this month.... :( I usually dun like reading Horoscope, but I dunno why, FS' one is good I think, and it's also wise, not straight-forward to the point.
Btw, this evening I watched the second leg of
TARA 2
. All teams stayed in The Philippines. On the

Road-Block

, one team member gotta plough a rice field. On The

Detour

, they gotta choose between Heels of Wheels. The choice of

Detour

is a lot better than the previous leg (I would have chosen Heels since I'm terribly bad on mechanical things, hehe... :D). Edwin was so hard on Monica, poor Monica, hmm, probably because he was so stressed. They were the bottom two and they were marked for elimination, hmm... . Anyway, the final placing: 1. Marc & Rovilson (no surprise); 2. Paula & Natasha; 3. Ann & Diane; 4. Pamela & Vanessa; 5. Adrian & Collin; 6. Brett & Kinaryosih; 7. Sophie & Aurelia; 8. Daichi & Sawaka; 9. Henry & Terri; 10. Edwin & Monica (ELIMINATED). Anyway, the good news is that apparently Edwin & Monice had broken up (after 10 years of relationship), huahahaha, good for Monica... ;)
I dunno, after some things that happened on The Forum, I begin to lose my respect to one team. In other hands, I start to like another team (Sophie & Aurelia), hahaha... ;)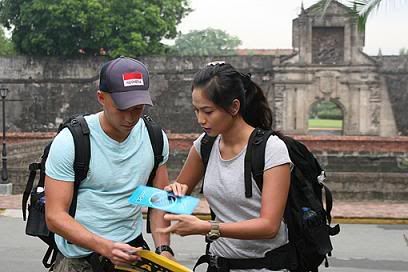 ::: Brett & Kinaryosih ripping off the first clue at the pitstart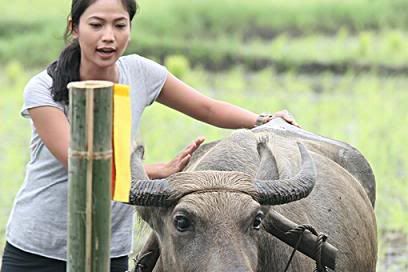 ::: Kinaryosih at The

Road-Block

. She was so hilarious by trying to RIDE the carabou while actually she gotta plow the rice-field with that carabou!! hahaha....
::: Edwin & Monica arriving last at the pitstop. Poor Monica (but

NOT

Edwin)
::: Edwin & Monica, the first team to be eliminated

BAHASA INDONESIA
Minggu ini bener2 sibuk buat saya, aku ada banyak hal yang musti diselesaikan. Skarang sih dah tersisa sedikit lagi sih, hehehe.... ;) Ngomong2, gatau kenapa tapi kalo baca Horoskop di
Friendster
, koq bener yah!! Hmmm..... . Misalnya nih kemarin gitu katanya aku mesti memperhatikan dompet dan itu BENAR SEKALI!! Hahaha, aku bener2 'royal' alias melebihi budget dah bulan ini.... :( Biasanya aku nggak suka baca Horoskop, tapi gatau kenapa yang di FS adalah yang bagus menurutku, dan itu juga nggak langsung tepat sasaran gitu kata2nya.
Btw, malem tadi aku nonton babak kedua dari
TARA 2
. Semua tim tetap tinggal di Filipina. Di

Road-Block

, satu anggota mesti membajak sawah. Di

Detour

, mereka mesti milih satu di antara Heels atau Wheels. Pilihan

Detour

-nya lebih bagus daripada minggu lalu menurut saya (kalo aku sih bakal milih Heels soale aku bener2 parah dalam urusan mekanik, hehe... :D). Edwin keras banget sama Monica, kasian Monica, hmm, mungkin karena dia stress kali yah. Mereka ada di 2 terendah dan mereka ditandai akan eliminasi, hmm... . Akhirnya, urutan terakhirnya: 1. Marc & Rovilson (nggak kaget ah); 2. Paula & Natasha; 3. Ann & Diane; 4. Pamela & Vanessa; 5. Adrian & Collin; 6. Brett & Kinaryosih; 7. Sophie & Aurelia; 8. Daichi & Sawaka; 9. Henry & Terri; 10. Edwin & Monica (TERELIMINASI). Ngomong2, berita bagusnya ternyata sekarang Edwin & Monica udah putus loh (setelah pacaran selama 10 tahun), huahahaha, bagus deh buat Monica... ;)
Gatau kenapa habis satu dua hal yang terjadi di forum, aku mulai nggak respek sama salah satu tim. Di sisi lain, aku mulai suka sama satu tim lagi (Sophie & Aurelia), hahaha... ;)