ENGLISH
Hello all, as you can read at
my previous entry
, I spent this weekend with my fellas at a villa for a TA (Temu Akrab). Well, I didn't really explain what TA is at my previous entry, so probably some of you don't really understand. Well, "TA" is an abbreviation of "Temu Akrab", it's an informal program held by my major where some mathematics students from any classes would meet and spend one night together. Just like its name (Temu Akrab), the main purpose of this program is to especially introduce the youngest class (now it's my class, 2006) to the seniors, so we (hopefully) will get along really nicely and become closer as friends (well, for some not only as 'friends' actually, lol) in one major.
Day 1 (Saturday, 27th January 2007)
This year, TA was held by the 2004 class. They decided this TA would take place at Istana Bunga Villa. So yesterday, according to the schedule, we should have departed at 2 PM. But because I live in a country named "Indonesia", the fact was that yesterday we departed at 2.45 PM. Arrrggghhhh.... (well, I always come on time... :D). At 4 PM we arrived at the villa. At 5 PM we got a game to do and we were separated into 4 groups and I was in the group 4. We were given a plastic of straws and 2 eggs plus a tape. We should do something to the eggs with the straws and tape so the eggs wouldn't be cracked or destroyed when we fell it to the ground. After the game was finished, we then had dinner. The dinner was also a farewell party for one of our young lecturer who will study for his doctoral degree at Netherlands starting next month... :)
After the dinner there was a 'treasure-hunting' game. We gotta find a hidden 'treasure' by collecting 4 clues first. Well, we didn't get the 'treasure', but other team did... :( After that, we (as a class) had to perform a show (whatever show) in front of all. My class chose an easy one, singing... lol (2005 was drama, 2004 was 'star-stage'). Then, we had a cards competition (kinda bridge), since only 4 persons per-class were allowed to join the competition, so the other created another competition... :D Then, we had a barbeque (corn and banana) stuff and we were suggested to sleep since the next day we would go on hiking. But we DIDN'T!!
Day 2 (Sunday, 28th January 2007)
After midnight, my class took a walk around the villa area (and unfortunately a dog barked to us really loudly... :( ), then we went back to our villa and played a game. Three of my seniors, three of my friends and I played monopoly board game, where the other played cards again... :) At 2 AM, another senior aksed us to sleep, so at 2.15 AM we ended the game. Some friends were sitting and chatting at the porch and I joined them for several minutes, then I went to bed (the room was so small and limited, and luckily one place was still empty, so I slept there... :) I guess I started to sleep at 3.30 AM.
At 6 AM, I woke up (arrrggghhhh, so I slept only for about 2.5 hrs). And I had breakfast only a slice of toast. Our plan this morning was 'hiking', and I was on the team number 4, and we would be the second to depart at 7.30 AM (schedule). Well, late once again, we departed at 8 AM. The hiking stuff was SOOO tiring. We took the longer track (it's not only longer but also pretty dangerous since twas SO slippery, inclining, declining, etc) Our destination was a small 'curug' (waterfall) with a small pond underneath it. There, we played a game. Easy to guess, it had something to do with water. We had 2.5 minutes to fulfil a basket with many leaks. Most of us (including me) got extremely wet because of this... :( :( :( The track back home was not so much different, it was another track but twas SOOO long and exhausting. I was damn exhausted today. After arriving at the villa, we had lunch and took a bath. At 2 PM, we went back to Bandung. Btw, because of the hiking stuff, I got sunburnt on my neck!! Now it's still pretty hurt... :( :(


::: Sunset Scenery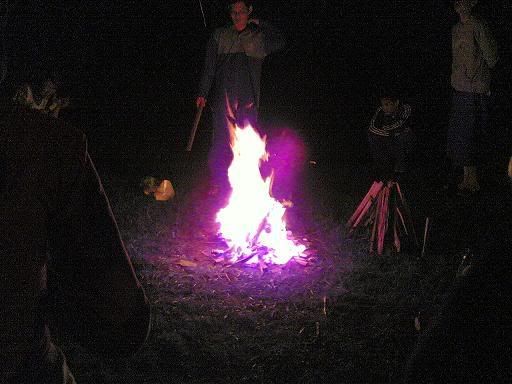 ::: Bonfire


::: Sunrise Scenery


::: Otw to the 'curug'


::: Our destination from on top of the hill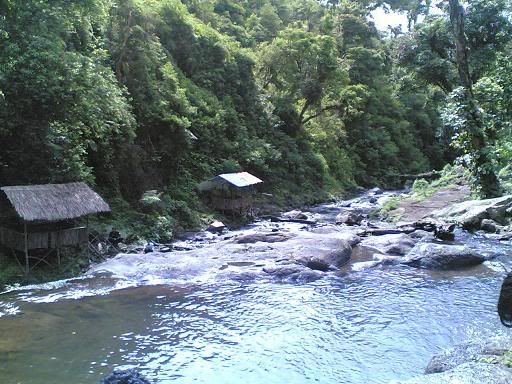 ::: Small river flowing from the 'curug'


::: My sunburnt Neck (newest pic, just taken 5 minutes ago (Monday, 10.55 AM), you can see my sunbrunt skin IS still red and hurt)... :(

BAHASA INDONESIA
Halo semua, seperti yang bisa dibaca pada
postingan saya sebelumnya
, saya menggunakan waktu akhir minggu kali ini sama temen-temenku di sebuah villa untuk sebuah TA (Temu Akrab). Aku nggak terlalu menjelaskan apa itu TA pada postingan sebelumnya, jadi mungkin beberapa masih pada bingung ya apa itu TA. Hmm, "TA" adalah singkatan dari "Temu Akrab", yakni sebuah acara informal yang diadakan oleh jurusan saya dimana beberapa anak jurusan matematika dari angkatan berapapun ngumpul dan nginep bareng. Seperti namanya (Temu Akrab) bertujuan khususnya mengenalkan angkatan termuda (dalam hal ini angkatan saya, 2006) ke kaka angkatan, jadi kita (harapannya) akan berhubungan dengan sangat baik dan menjadi dekat sebagai temen (beberapa nggak cuma sebagai 'teman' sih, lol) dalam satu jurusan.
Hari 1 (Sabtu, 27 Januari 2007)
Tahun ini, TA dipegang sama anak angkatan 2004. Mereka memutuskan bahwa TA kali ini akan diadakan di villa Istana Bunga. Jadi kemarin, berdasarkan jadwal, seharusnya kita kan dah berangkat jam 2 siang. Tetapi karena saya tinggal di sebuah negara bernama "Indonesia", kenyataannya kemarin baru berangkat jam 2.45 siang. Arrrggghhhh.... (saya kan selalu tepat waktu... :D) . Jam 4 sore kita sampai di villa-nya. Jam 5 sore kita ada sebuah game dan kita dibagi menjadi 4 grup dan aku berada di kelompok ke-4. Kita diberi sebungkus plastik berisi sedotan, 2 buah telur, dan sebuah selotip. Nah, kita harus melakukan sesuatu pada telurnya dengan menggunakan sedotan dan selotip itu sehingga telurnya nggak akan retak ataupun rusak saat kita jatuhkan ke tanah. Habis game selesai, kita trus makan malam. Makan malamnya juga merupakan pesta perpisahan dengan seorang dosen muda kita yang akan pergi melanjutkan studi S3 (doktor) di Belanda mulai bulan depan.
Habis makan malam, kita ada game 'berburu harta karun'. Kita harus menemukan 'harta karun' tersembunyi dengan mengumpulkan 4 petunjuk dulu pertamanya. Yah, kelompokku nggak dapet hartanya soale keduluan sama kelompok lain sih... :( Habis itu, kita (sebagai satu angkatan) harus mempersembahkan sebuah pertunjukan (pertunjukannya bebas) di depan semuanya. Angkatan saya milih yang gampang aja, nyanyi... lol (2005 drama dan 2004 'panggung bintang'). Trus kita ada kompetisi main kartu (cap sa / 13), dan karena cuma 4 orang dari 1 angkatan yang boleh main, yang lainnya juga membuat kompetisi sendiri... :D Trus, kita ada acara barbeque (jagung dan pisang) dan kemudian kita dianjurkan untuk tidur soale kan hari berikutnya bakalan ada hiking. Tapi kita ENGGAK!!
Hari 2 (Minggu, 28 Januari 2007)
Habis tengah malam, angkatan saya jalan-jalan bentar di sekitar villanya (dan sayangnya seekor anjing sialan menggonggong ke kita keras banget... :( ), trus kita balik ke villa dan main game deh. Aku sama 3 senior dan 3 temenku main monopoli dan temen2 yg lain main kartu lagi... :) Jam 2 pagi kita lagi-lagi disuru tidur, makanya jam 2.15 kita mengakhiri permainan. Beberapa temen lagi duduk-duduk di teras dan ngobrol dan aku ikutan bentar deh beberapa menit, trus bobok deh saya (kamarnya kan kecil dan terbatas, untung banget tuh ada 1 tempat yang kosong, saya kan jadi bisa tidur... :) Aku rasa aku mulai tidur jam 3.30 pagi deh.
Jam 6 pagi, saya terbangun (arrrggghhhh, jadi saya tidur cuma sekitar 2,5 jam). Dan aku makan pagi cuma sepotong roti bakar saja. Rencananya pagi tadi kita akan 'hiking', dan aku ada di tim nomer 4 yang akan berangkat kemudian pada jam 7.30 pagi (jadwal). Hmm, telat sekali lagi, kita berangkat jam 8 pagi. Hikingnya bikin SANGAATTT capek loh. Kita ngambil jalur yang lebih panjang (dan lumayan berbahaya soale licin bgt, mendaki sekali, dan turunnya juga lumayan curam, dll).Tujuan kita adalah sebuah ;curug' (air terjun) kecil yang ada kolam kecil di bawahnya. Disana kita main game. Mudah ditebak, gamenya berhubungan dengan air. Kita disuru masukin air sebanyak2nya ke emper berlubang banyak selama 2,5 menit. Kebanyakan dari kita (termasuk saya) jadi basah sekali tuh karena ini... :( :( :( Perjalanan balik juga nggak beda-beda amat, merupakan jalur lain yang berbeda yang juga SANGATT jauh dan melelahkan. Aku capek bener nih hari ini. Habis sampe di villa, kita makan siang dan mandi. Jam 2 siang kita balik lagi ke Bandung, Btw, gara-gara hiking tadi, leher saya jadi terbakar matahari nih!! Skarang masih rada-rada perih juga... :( :(