ENGLISH

Previously on
My Year-End Vacation (Part 1: Malang)
, Zilko and fam went on vacation to East Java. The first destination was Malang. After spending 2 days in Malang, they finally left that city and headed for Surabaya.

Day 3 (Saturday, 30th December 2006)

North of Malang, there was a bridge reconstruction, and as a result there happened a hectic traffic jam. Getting this info, we thought we needed to find another way to avoid this traffic jam. And finally, we took a lil' further way. We headed for Batu, and otw we turned right passing the town Karangploso and met the Surabaya - Malang Road at Karanglo. The traffic was SO nice all the way from Malang to Gempol. Due to the Sidoarjo Mud Flow, the highway from Gempol to Surabaya was closed and the only remaining direct way was the normal road passing to town Porong and Sidoarjo. There, we couldn't really drive so fast in day time since there were so many vehicles passing, and the road itself has been so close to the mud. Since after Gempol seemingly the traffic was so crowded and cruel on the normal road, so we took alternative way to go to Surabaya. We turned left at Gempol heading for Mojosari, and at Mojosari we turned right heading for Krian. After arriving at Krian, we met the country-road to Surabaya. At 2 PM, we finally arrived at Surabaya. There, we had lunch first at a Warung "Kupang" (kupang is like small oysters).

Then, since my parents' friend (and their fam) from Semarang also came to Surabaya and they took flight from Semarang to Surabaya, we planned to lend our car to them and we borrowed another car from my father's bestfriend there (my father was born in Surabaya... :D And I have many relatives living there). After borrowing and lending cars, we checked in at our hotel, JW. Marriott Surabaya. That evening, we went to my father's sister's house and at 9.30 PM, we went back to our hotel. Then, we had dinner with my parents' friends from Semarang at Rawon Setan (Devil Rawon) and Mie Kapasan (Kapasan Noodle). Both were tasty!! :)

Day 4 (Sunday, 31st December 2006)

We got up at around 9 AM in the morning. Since we only had 2 breakfast coupons each day, so my brother and I took the breakfast. It was pretty unusual there, since it was SO crowded, the hotel restaurant was so full of people (probably it's full of them who wanted to celebrate New Year Eve also, he3... :D).

That day, we went to Galaxy Mall II (new mall connected to the former Galaxy Mall) and met my parents' friends from Semarang there. It was still not really crowded, probably because many outlets still had not operated yet. Then, we went to Tunjungan Plaza Mall, Surabaya or also known as "TP". There, we tried "Dapur Penang" and "XO suki". Some people recommended XO Suki so we thought it must be tasty. XO Suki was full at that time and we also had to queue for our turn!! Wow... . Then, the eating time came, it was not that delicious actually (at least for me). We ordered Shabu-Shabu, and just like other Shabu-Shabu-s at other restaurants, it was just like that, probably it's just me who doesn't like Shabu-Shabu... :) After finishing having lunch, we walked around Tunjungan Plaza, and passed one Qua-Li Restaurant there... :) Then, we went back to our hotel

That evening, we went nowhere since there was a party at our hotel. The theme of the party was "Pirates of The Caribbean". At 8 PM, since we were also starving, so we had dinner at Rawon Setan one more time. It was so close to our hotel, we just needed to cross the street... :) At 9 PM, we went back to our hotel, we took a rest first at our room, and at 10.30 PM we went to the lobby to join the party. The party was okay, the MC was Captain-Jack-Sparrow-wannabe (btw, he really looked like him if we saw from the distant, lol). There were game, dance-show, band on the party. And finally, the 2007 was so close, and after singing the classic song: "Auld Lang Syne", we started to count down. 30, 29, ... FF ..., 3, 2, 1!!! HAPPY NEW YEAR!!! After celebrating the new year, they drew the final doorprize (Cathay Pacific tickets for 2 from Surabaya to Hong Kong), but we didn't get it. Actually we ALMOST got several prizes. Our number was 0192, and one number which won one prize was 0193 (arrrggghhh....), and the lucky number which won to final doorprize was

192

5!! Arrrggghhhh.... . Then, the party was almost over and we went to bed

to be continued...........
Coming Up Next:


- Pakuwon Supermal and having lunch at Qua-Li Surabaya (new menus!! :D)
- family reunion
- pilgrimage
- rushing to get back home
::: Kupang


::: Mie Kapasan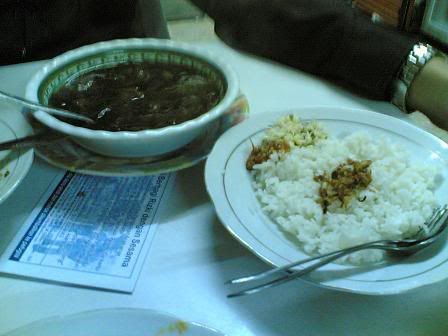 ::: Rawon Setan (Devil Rawon)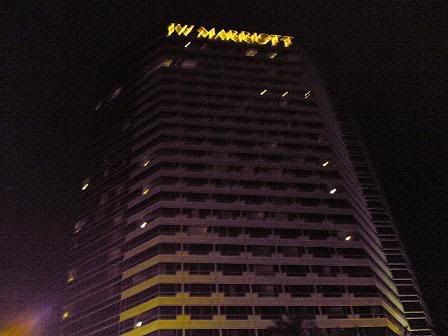 ::: JW. Marriott Hotel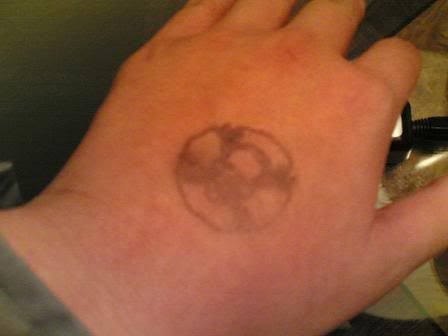 ::: My hand got 'marked'... :)


::: The Hotel Party (game) at New Year Eve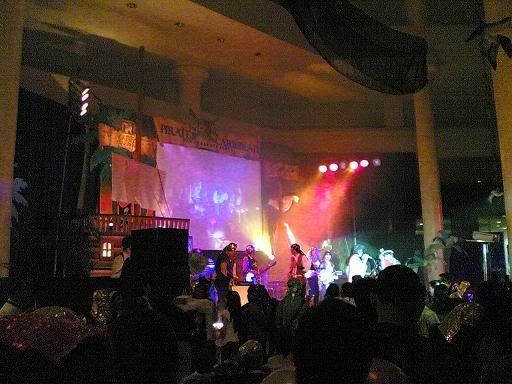 ::: The New Year Celebration



BAHASA INDONESIA

Cerita sebelumnya pada
My Year-End Vacation (Part 1: Malang)
, Zilko sekeluarga pergi liburan ke Jawa Timur. Kota pertama yang dituju adalah Kota Malang. Habis menghabiskan waktu 2 hari di Malang, mereka akhirnya meninggalkan kota tersebut dan menuju ke Surabaya.

Hari 3 (Sabtu, 30 Desember 2006)

Di utara Malang, lagi ada perbaikan jembatan, dan sebagai hasilnya terjadi kemacetan yang parah di sekitar sana. Habis mendapatkan informasi ini, kita berpikir kalo kita harus menemukan jalan lain untuk menghindari kemacetan ini. Dan akhirnya, kita mengambil jalan yang agak jauh sedikit. Kita mengambil jalan menuju Batu, dan di tengah-tengahnya kita belok kanan melewati kota kecil Karangploso dan bertemu jalan utama Surabaya - Malang di Karanglo. Lalulintas waktu itu lagi lancar banget dari Malang ke Gempol. Trus karena Lumpur Panas di Sidoarjo, jalan tol dari Gempol ke Surabaya kan ditutup dan jalan langsung yang tersisa ya tinggal jalan normal melewati kota Porong dan Sidoarjo. Disana, kita juga nggak bakalan bisa cepet di siang hari soalnya kan ada banyak kendaraan yang lewat, dan jalannya sendiri dah deket banget tuh sama lumpur panasnya. Karena setelah Gempol kayanya lalulintasnya macet dan ramai banget di jalan biasanya, jadi kita ngambil jalur alternatif untuk pergi ke Surabaya. Kita belok kiri di Gempol menuju ke Mojosari, dan di Mojosari belok kanan menuju ke Krian. Habis sampe di Krian, kita ketemu deh sama jalan negara menuju Surabaya. Jam 2 siang, akhirnya kita sampai di Surabaya. Disana, kita pertama-tama makan siang dulu di Warung "Kupang" (kupang tuh kayak kerang yang kecil-kecil).

Trus, karena temennya ortuku (dan keluarganya) dari Semarang juga dateng ke Surabaya dan mereka naik pesawat dari Semarang ke Surabaya, makanya kita rencana mau meminjamkan mobil kita ke mereka dan kita sendiri pinjem mobil sama temen baiknya papaku di Surabaya (papaku lahir di Surabaya sih... :D Dan aku punya banyak kerabat di Surabata sebenernya). Habis meminjam dan meminjamkan mobil, kita check in di hotel, JW. Marriott Surabaya. Sorenya, kita pergi ke tempat sudaranya papaku dan jam 9.30 malem balik ke hotel deh. Trus, kita makan malem sama temennya ortuku yang dari Semarang itu di Rawon Setan dan Mie Kapasan. Dua-duanya enak loh!! :)

Hari 4 (Minggu, 31 Desember 2006)

Kita bangun sekitar jam 9 pagi. Karena kita cuma dapet kupon makan pagi 2 biji tiap harinya, jadinya aku sama adikku deh yang makan pagi di hotel. Agak nggak biasa sih, soale RAMAI banget tuh, restoran hotelnya aja sampe penuh (mungkin penuh oleh mereka yang mau merayakan Malam Tahun Baru juga, he3... :D).

Hari itu, kita pergi ke Galaxy Mall II (mal baru yang terhubung dengan Galaxy Mall yang lama) dan ketemu temennya ortuku yang dari Semarang disana. Masih nggak rame-rame amat sih, mungkin karena masih banyak toko yang belum beroperasi. Trus, kita pergi ke Tunjungan Plaza Mall, Surabaya atau yang juga dikenal dengan nama "TP". Disana, kita mencoba "Dapur Penang" dan "XO suki". Beberapa orang merekomendasikan XO Suki, jadinya ya kita mikir itu enak kan. That XO Suki lagi penuh waktu itu dan kita juga harus ngantri untuk makan!! Wow... . Trus, habis waktu makannya tiba, ternyata nggak seenak itu deh (menurutku sih). Kita pesen Shabu-Shabu, dan kaya Shabu-Shabu di restoran-restoran lain, ya cuma kaya gitu itu, mungkin cuma aku ya yang ga suka Shabu-Shabu... :) Habis selesai makan kita jalan-jalan di Tunjungan Plaza dan melewati Qua-Li disana... :) Trus kita balik ke hotel deh.

Malamnya, kita ga kemana-mana soale kan ada pesta di hotel. Tema dari pestanya adalah "Pirates of The Caribbean". Jam 8 malem, karena lagi laper banget, kita makan deh di Rawon Setan lagi. Nggak jauh sih dari hotel, cuma tinggal nyebrang jalan doank... :) Jam 9 malem, kita balik lagi ke hotel dan istirahat disana, dan jam 10.30 malem turun lagi ke lobby untuk ikutan pestanya. Pestanya oke-lah, MC-nya ruh niru "Captain Jack Sparrow" (btw, mirip loh klo diliat dari jauh, lol). Ada game, pertunjukan tari, dan band untuk ngisi acara. Dan akhirnya, tahun 2007 sudah dekat, dan setelah nyanyi lagu klasik "Auld Lang Syne", kita mulai menghitung mundur. 30, 29, ... FF ..., 3, 2, 1!!! HAPPY NEW YEAR!!! Habis merayakan tahun baru, mereka mengundi doorprize final (Tiket Cathay Pacific untuk 2 orang tujuan Surabaya - Hong Kong), tapi nggak dapet. Sebenernya kita nyaris dapet beberapa hadiah loh. Nomer kita 0192, dan nomer yang memenangkan sebuah hadiah adalah 0193 (arrrggghhh....), dan nomer beruntung yang memenangkan hadiah final adalah

192

5!! Arrrggghhhh.... . Trus pestanya dah hampir selesai dan kita tidur deh

to be continued...........
Yang selanjutnya:
- Supermal Pakuwon dan makan siang di Qua-Li Surabaya (menu baru loh!! :D)
- reuni keluarga
- ziarah
- cepet-cepet balik ke rumah