ENGLISH
Last night I watched the 12th episode of
TARA
. It was one of the most important episodes where we would find out who were the grand-finalist of TARA season 1.
On the latest episode of
TARA
, all teams didn't have to leave United Arab Emirates. They had to leave the pitstart bounding for Desert Area Number 53 where they found out they had to do a

Detour

Task. The

Detour

Task was a choice between RIDE or SEEK. In Ride, teams had to ride a camel and grab 5 flags. In Seek, teams had to use a metal detector to find a camel souvenir buried beneath the sand. Then, they had to go to the Eye of Emirates (a ferris wheel, just like London Eye). There, they had to choose the correct cabin to find the next clue (only 5 of 42 of them correct). Then, they had to do a

Road-Block

Task at Al Maraqabat Restaurant and one of them had to eat traditional Arab Cuisine, brain. After completing it, they had to go to Sheikh Saeed Al Maktoum House and Wild Wadi Water Park to find the next clue. Then, they could proceed to the last pitstop of the race, at Mina A' Salam Beach. The final placing: Andrew&Syeon (1), Joe-Jer & Zabrina (2), Sandy&Francesca (3), and Mardy&Marsio (4 >> ELIMINATED). Arrrrggghhhh.... .

So sad Mardy&Marsio (Indonesian team) got eliminated, but that's okay. They had been extremely great and entertaining during the whole 12 episode they had completed. So, the final three were Andrew&Syeon (Malaysia), Zabrina&Joe-Jer (Malaysia), and Sandy&Francesca (Hong Kong). Who do I think would win the grand prize?? Hmmm, based on their performance from the first leg until the 11th leg, I think Andrew&Syeon were the strongest team... :) But it's also nice to see Joe-Jer&Zabrina won since if they really won, they would create a new history in The Amazing Race to be the first all-female team to win the race. (in fact, they were the SECOND all-female team to make it to the final three, after Lyn&Karlyn in TAR 10). We are still proud of you M&M!!! :)
Btw, this Friday, I also had my ordinary college-day. I got up at 8.20 AM and after showering and having breakfast, I went to my campus to have my first lecture today at 9 AM (actually I was almost absent since twas raining, but I killed my tendency to absent). At 11 AM, my lecture finished and I met some 2004 seniors to talk about the TA (Temu Akrab) tomorrow... :) At 1 PM, my second lecture started. My lecturer of this second lecture (Linear Programming) is one of the eldest professor. Well, just as usual, I think he is extremely smart, but I guess he got one problem in teaching. He couldn't really explain the matery really well to us (compared to some other younger lecturers). O yea, according to the schedule, my Friday College-Day finishes at 4 PM, but this afternoon, it finished at 2 PM since my lecturer had an important business... . Btw, if my MKU is really on Friday, so on Friday, I would have to study at my campus starting at 7 AM until 4 PM with only 1 hr break at 12 PM till 1 PM!!!

::: quick update :::

Since this weekend I'm having a TA (Temu Akrab) with my fellows in math and we'll spend one night in a villa sumwhere (I dun remember the place), so this evening and tomorrow morning I won't be able to surf the net. Probably I'll be back tomorrow evening... :)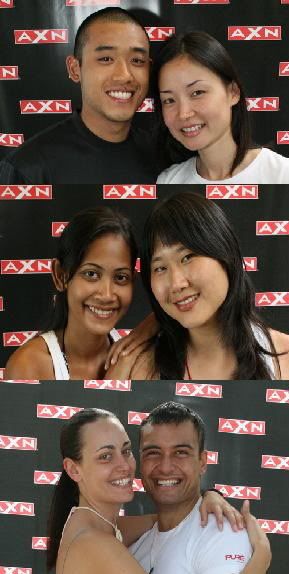 ::: Top three of TARA season 1.

From top to bottom: Andrew&Syeon (MY), Zabrina&Joe-Jer (MY), Francesca&Sandy (HK)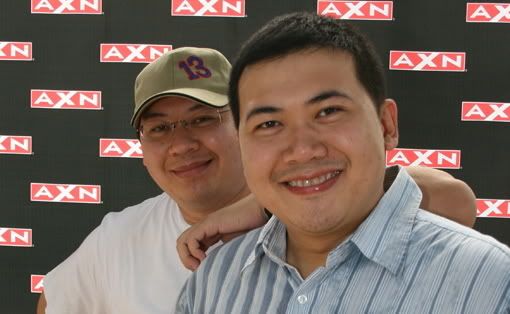 ::: Mardy&Marsio / M&M (Indonesian Team), the last team to be eliminated
::: Leader-Board up to 12th episode

BAHASA INDONESIA
Semalam aku nonton episode ke 12 dari
TARA
. Episode ini adalah salah satu episode terpenting dimana kita akan mengetahui siapa saja grand-finalis dari TARA musim ke-1.
DI episode terbaru dari
TARA
ini, semua tim ga harus meninggalkan Uni Emirat Arab. Mereka harus meninggalkan pitstart dan pergi menuju Desert Area No. 53 dimana mereka menemukan bahwa mereka harus melakukan tugas

Detour

. Tugas

Detour

-nya adalah pilihan diantara RIDE atau SEEK. Di Ride, mereka harus mengendarai unta dan mengambil 5 bh bendera. Di SEEK, mereka harus menggunakan alat pendeteksi logam untuk menemukan souvenir unta yang dikubur di dalam pasir. Kemudian, mereka harus pergi ke Eye of Emirates (kaya bianglala gitu, mirip sama London Eye). Disana, mereka harus memilih kabin yang benar untuk mendapatkan petunjuk selanjutnya (hanya 5 dari kesemua 42 kabin yang berisi petunjuk yang benar). Trus mereka harus melakukan Tugas

Road-Block

di Restoran Al Maraqabat dan salah satu dari mereka harus makan masakan Arab tradisional, otak. Habis menyelesaikannya, mereka mesti pergi ke Rumah Sheikh Saeed Al Maktoum dan Wild Wadi Waterpark untuk menemukan petunjuk selanjutnya. Kemudian, mereka bisa pergi menuju ke pitstop di Pantai Mina A' Salam. Posisi akhirnya: Andrew&Syeon (1), Joe-Jer & Zabrina (2), Sandy&Francesca (3), dan Mardy&Marsio (4 >> TERELIMINASI). Arrrrggghhhh.... .

Sedih juga Mardy&Marsio (dari Indonesia) tereliminasi, tapi nggak papa sih. Mereka kan udah bener-bener hebat dan menghibur sekali selama 12 episode yang sudah mereka selesaikan. Jadi, tiga besarnya adalah Andrew&Syeon (Malaysia), Zabrina&Joe-Jer (Malaysia), dan Sandy&Francesca (Hong Kong). Siapa yang menurutku bakalan menang?? Hmm, berdasarkan penampilan mereka selama babak pertama sampai babak terakhir, menurutku Andrew&Syeon adalah tim yang terkuat... :) Tapi asik juga ya ngeliat Joe-Jer&Zabrina menang soale mereka akan mencetak sejarah baru dalam The Amazing Race untuk menjadi tim semua-wanita pertama yang memenangkan pertandingan. (pada kenyataannya, mereka adalah tim semua-wanita KEDUA yang masuk ke babak 3 besar, setelah Lyn&Karlyn). Btw, kita masih bangga loh sama M&M!!! :)
Btw, Jumat ini, juga adalah hari kuliah saya yang biasa. Aku bangun jam 8.20 pagi dan habis mandi dan sarapan, aku pergi ke kampus untuk kuliah pertama hari ini jam 9 (tadi hujan tuh, nyaris ga kuliah, tapi gajadi bolos... :D). Jam 11 kuliah pertama saya selesai dan aku bertemu beberapa anak angkatan 2004 untuk ngobrol2 aja tentang TA (Temu Akrab) besok... :) Jam 1 siang kuliah kedua saya dimulai. Dosen saya pada kuliah kedua (Pemrograman Linear) ini adalah salah satu guru besar / professor tertua. Hmm, seperti biasa, menurutku beliau bener-bener pintar, tetapi ada masalah deh dalam pengajaran. Menurutku sih beliau agak nggak bisa menjelaskan dengan sangat jelas ke kita (kalo dibandingin sama dosen-dosen lain yang lebih muda sih). O iya, berdasarkan jadwal, hari kuliah Jumatku akan selesai jam 4 sore, tp tadi siang selesai jam 2 soale dosennya ada acara penting... . Btw, klo MKU-ku beneran jam 7 pagi mulainya, maka pada hari Jumat aku akan kuliah dari jam 7 sampe jam 4 sore dengan hanya 1 jam istirahat, dari jam 12 sampe jam 1!!!

::: apdet cepet :::

Karena akhir minggu ini aku akan mengikuti TA (Temu Akrab) sama temen-temen dari jurusan mat, dan kita akan nginep di sebuah villa di suatu tempat (aku ga inget tempatnya), makanya malam ini dan besok pagi aku nggak akan bisa internetan. Mungkin aku akan internetan besok sore deh... :)