ENGLISH

Just like my other off days, yesterday I got up at 9.30 AM (I slept at 3.30 AM) and just did my routinities, having breakfast, surfing the net, showering, etc. At 12.45 PM I picked my brother up from his school. Since last Saturday I ordered a new glasses and yesterday the glasses were finished, so yesterday I had a plan to go to Malioboro Mall. At first I thought I (or "we" >> since my mom paid for my glasses, lol) would go there in the evening, but apparently, my mom asked us to go there at 2.30 PM since she wanted to have a briefing with our
Kassaya
employees there first.

Well, the briefing took about 30 minutes, and after that, we took my new glasses. Well, this new glasses were a lot more expensive than my older glasses (well, that was because when I bought my first glasses, I were in Bandung, and I had to spend my monthly money to purchase it). If my first glasses were cost around Rp. 6xx.000,oo; then my new glasses were Rp. 3.xx0.000,oo. At first I didn't want to buy this one due to its price, but in the end, I gave in since I like its model, color, etc.

Then, we went to one supermarket. Well, since we shopped pretty much (mostly for my new glasses) at Mall Malioboro, so we got 70 pieces of coupons, wakakakakaka.... . Hmm, then I had to fill my identity at those coupons since by the end of this week, they will draw it... :) Seventy coupons were SO many.

Fast Forward

. Well, after I finished filling them and put them in the drawing box, we had dinner at Mie Nusantara. After that, we went back home.

Btw, tomorrow I'm going back to Bandung catching Argo Wilis Express. On Friday, I plan to have an FRS with my academic counselor consulting about my 2nd semester (what subjects should I take, what should I do, etc...). After that, I dunno yet but probably I'm going back to Yogyakarta again since my holiday still remains around 11 days from now.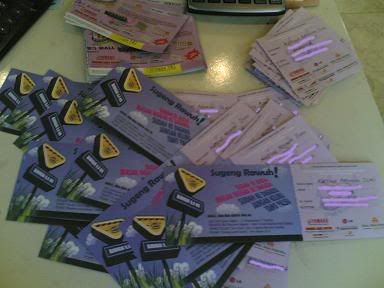 ::: 70 coupons...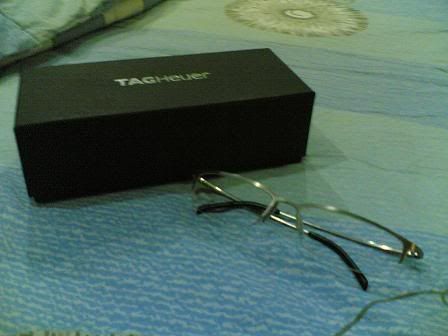 ::: My new glasses and the box.



BAHASA INDONESIA

Seperti hari-hari libur saya yang lainnya, kemarin aku bangun jam 9.30 pagi (aku mulai tidur jam 3.30 pagi) dan melakukan rutinitas saya, sarapan, internetan, mandi, dll. Jam 12.45 siang aku menjemput adikku di sekolahnya. Karena Sabtu kemarin aku pesen kacamata baru dan kemarin kacamatanya selesai, jadi kemarin aku emang berencana pergi ke Mall Malioboro sih. Pertamanya aku kira aku (atau "kami" soale kan mamaku yang bayar kacamatanya, lol) akan pergi malamnya, tapi ternyata, mamaku ngajak kesana jam 2.30 siang soale dia mau mengadakan briefing dengan karyawan
Kassaya
yang jaga disana.

Hmm, briefingnya ternyata memakan waktu 30 menit, dan setelahnya, kita ngambil kacamataku. Hhh, kacamata ini lumayan jauh lebih mahal daripada kacamata saya yang lebih lama sih (soale kan waktu aku beli kacamata lamaku aku lagi di Bandung, dan harus menyisihkan uang bulanan saya untuk membelinya). Klo kacamata lama saya berharga Rp. 6xx.000,oo; nah kacamataku yang baru harganya Rp. 3.xx0.000,oo. Pertamanya aku gamau sih beli kacamata ini gara-gara harganya, tapi akhirnya, aku menyerah soalnya aku suka modelnya, warnanya, dll.

Trus, kita pergi ke supermarket. Hmm, karena kita belanja lumayan banyak (terutama untuk kacamata saya) di Mall Malioboro, jadi kita dapet kupon undian 70 biji, wakakakakaka.... . Hmm, trus aku mengisi identitas di kupon tersebut karena di akhir minggu ini akan diundi tuh kuponnya... :) Tujuh puluh kupon tuh BANYAK loh.

Fast Forward

. Trus habis selesai mengisi dan memasukkannya di dalam kotak undian, kita makan malam di Mie Nusantara. Habis itu kita balik ke rumah deh.

Btw, besok aku akan balik ke Bandung naik Kereta Api Argo Wilis. Jumatnya, aku rencana mau ada FRS sama dosen waliku untuk konsultasi tentang semester 2 saya (mata kuliah yang perlu diambil, apa yang harus dilakukan, dll...). Habis itu, aku nggak tahu sih, tapi mungkin aku bakal balik ke Yogyakarta lagi soale liburnya kan masih 11 hari tersisa dari sekarang.