ENGLISH

Day 1 (Thursday, 28th December 2006)

I got up at 4.30 AM and at 5.30 AM, we departed from my house heading east to Malang, East Java. At first, my dad drove first since it was still in the morning. At 6.40 AM, we arrived at Solo. We had a traditional breakfast there, called Nasi Liwet (Liwet Rice). After having breakfast, at 7.40 AM, I replaced my dad and drove my car.

At 10.15 AM, we arrived at the town of Nganjuk, and dropped in a restaurant, called Nirwana Restaurant. I ordered fried chicken, but apparently, it was not as tasty as it used to be (at least for me). Then, at about 11 AM we continued our journey. At Kertosono, we turned right (we decided not to go via Kediri) bounding for a small town Ngoro, then from Ngoro we could go to Kandangan. The road was not really in a good condition, but it still could be passed by a truck.

After Kandangan, the road was inclining and bending (well, lucky us, 2 days after I passed that road, there was a landslide there exactly at the road I had passed in 5 places!! Wow...). At about 2 PM, finally we arrived at Malang City.

After checking in at the hotel, we went to Toko Oen. Toko Oen is an old-fashioned restaurant and the atmosphere was still almost the same as it used to be (at the colonial era before 1940 >> this restaurant was opened at 1930). I ordered Biefstuk Van de Hass (I guess it's a Dutch Language, he3... :D) >> can anyone guess wha does that mean?? Apparently it was so expensive... :( Then, we went back to the hotel. At the evening, my mum's friends arrived and we had dinner at Raja-Raja Restaurant, a seafood restaurant. I ate fish and crab, but I forgot to take the pics, lol... :D

Day 2 (Friday, 29th December 2006)

Since there was no breakfast service in the hotel, so we had breakfast in the city of Malang (that's an advantage since we can really enjoy the city by having meal in the city itself than having meal at the hotel). We had breakfast at Soto Gang Lombok. Then, we went to our relatives home (my grandpa's lil' brother). After having a chat there, we went to Matos (Malang Town Square), but apparently, it was not exciting at all. Some other malls at other big cities are better... :) Then, we heard that there would be built one new mall (and hotel) in Malang, hmm.

After that was food-marathon. We went to Cak Gondhol (meatballs) and had lunch there. It was delicious. Just right after that, we went to Sawahan Yamie (noodles), it was also delicious). My stomach had already been full then. But it was not over yet, we then went to Cairo (I guess it was an Arabic or Egpytian restaurant) and again, had meal there. Arrgghhh >> that was my dad's idea, he wanted to try all traditional foods in Malang.

At the evening, we walked around at our hotel (Tugu Hotel Malang), and it was fascinating apparently!! There were many historical stuffs, such as traditional puppets, traditional table-set, ancient barber chair, ancient harp, ancient cashier machine, 1929 calendar, etc. Wow... . Then after walking around there, we had dinner at Pemuda Fried Chicken

Day 3 (Saturday, 30th December 2006)

We got up pretty early in the morning, and then had breakfast at Soto Rampal. It was pretty tasty, but I felt that I had ever had meal with similar taste as that, but I can't remember where. Then, my dad wanted to try Nasi Madura (Madura Rice), but it was undelicious at all... :( After buying bakpao for gifts, we left the city of Malang and bounding for Surabaya in the north.



to be continued.........




::: Liwet Rice at Solo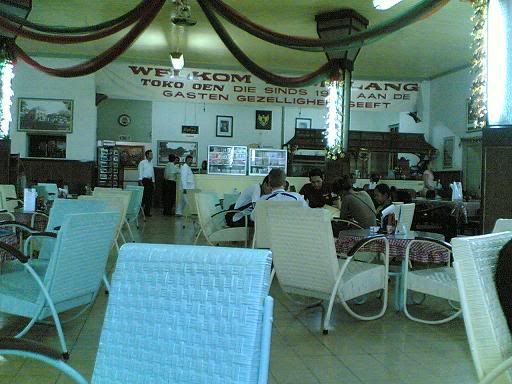 ::: Toko Oen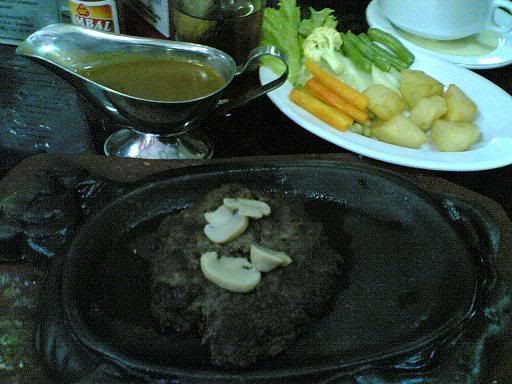 ::: Biefstuk Van de Hass


::: Half-Eaten Sawahan Yamie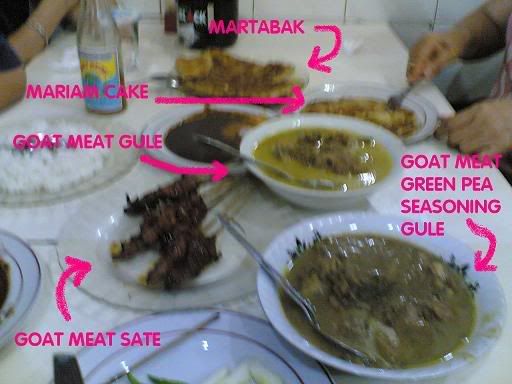 ::: Foods we ordered at Cairo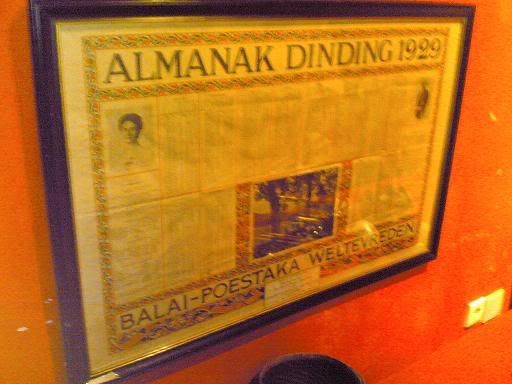 ::: 1929 Calendar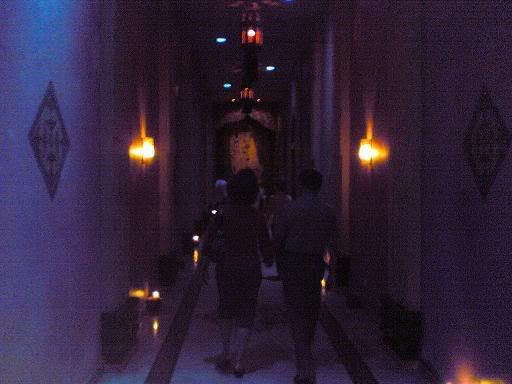 ::: One spot at Tugu Hotel, Malang


::: Pemuda Fried Chicken


::: Madura Rice

BAHASA INDONESIA

Hari 1 (Kamis, 28 Desember 2006)

Aku bangun jam 4.30 pagi dan jam 5.30 pagi, kita berangkat dari rumahku menuju ke Malang, Jawa Timur. Pertamanya sih papaku yang nyetir duluan soale kan masih pagi. Jam 6.40 pagi, kita sampai di Solo. Kita makan pagi yang tradisional disana, bernama Nasi Liwet (Liwet Rice). Habis makan pagi, jam 7.40 pagi, aku menggantukan papaku dan menyetir mobil.

Jam 10.15 pagi, kita sampai di kota Nganjuk, dan mampir di sebuah restoran, bernama Restoran Nirwana. Aku pesen ayam goreng, tapi ternyata, kemarin ayamnya nggak seenak biasanya deh (paling nggak untuk aku sih). Trus, sekitar jam 11 pagi, kita melanjutkan perjalanan. Di Kertosono, kita belok ke kanan (kita memutuskan untuk nggak pergi melewati Kediri) menuju kota kecil Ngoro, trus dari situ masuk ke Kandangan. Jalannya nggak dalam kondisi yang bagus tuh, tapi masih bisa dilewati truk sih.

Habis Kandangan, jalannya nanjak dan berbelok-belok (hmm, beruntung banget loh, 2 hari setelah kami melewati jalan itu, ada tanah longsor disana tepat di jalan yang kami lewati di 5 titik!! Wow...). Sekitar jam 2 siang, akhirnya kita sampai di Kota Malang.

Habis check in di hotelnya, kita pergi ke Toko Oen. Toko Oen adalah restoran kuno dan suasananya masih hampir sama dengan suasana dulu (di masa penjajahan sebelum tahun 1940 >> restoran ini berdiri tahun 1930). Aku pesen Biefstuk Van de Hass (kayanya bahasa Belanda yah??) >> hayo, ada yang tahu artinya ga?? Ternyata mahal banget tuh... :( Trus kita, balik ke hotel lagi. Sorenya, temen2nya mamaku datang dan kita makan malam di Restoran Raja-Raja, restoran seafood. Aku makan ikan dan kepiting, tp lupa ngambil fotonya, lol... :D

Hari 2 (Jumat, 29 Desember 2006)

Karena nggak ada fasilitas makan pagi di hotel, makanya kita makan paginya di Kota Malang (itu sebuah keuntungan soalnya kita bisa menikmati kotanya dengan makan di kotanya sendiri daripada makan di hotel). Kita makan di Soto Gang Lombok. Trus, kita pergi ke rumahnya kerabat (adiknya engkongku). Habis ngobrol2 disana, kita pergi ke Matos (Malang Town Square). Tetapi ternyata nggak menarik deh. Beberapa mall lain di kota lain lebih baik... :) Trus, kita mendengar kalo akan dibangun mall baru (dan hotel) di Malang, hmm.

Habis itu adalah maraton makanan. Kita pergi ke Cak Gondhol (bakso) dan makan siang disana. Enak juga loh. Tepat habis itu, kita pergi ke Yamie Sawahan (mie), dan ternyata enak juga. Perutku dah lumayan penuh tuh waktu itu. Tapi masih belum selesai, kita trus pergi ke Cairo (kayanya sih restoran Arab atau Mesir deh) dan makan disana. Arrgghhh >> itu adalah idenya papaku, dia mau makan semua makanan tradisional di Malang.

Sorenya, kita jalan-jalan di hotel aja (Hotel Tugu Malang), dan ternyata bagus loh!! Ada banyak benda-benda bersejarah, misalnya boneka tradisional, satu set meja tradisional, kursi salon kuno, harpa kuno, mesin kasir kuno, kalender tahun 1929, dll. Wow... . Habis jalan-jalan, kita makan malam di Ayam Goreng Pemuda.

Hari 3 (Sabtu, 30 Desember 2006)

Kita bangun lumayan pagi, trus makan pagi di Soto Rampal. Lumayan enak juga, tapi rasanya aku pernah makan dengan rasa yang hampir sama deh kaya itu, tapi aku nggak inget dimana. Trus, papaku mau mencoba Nasi Madura, tapi nggak enak sama sekali... :( Habis beli bakpao untuk oleh-oleh, kita meninggalkan Kota Malang dan menuju Surabaya di utara.



bersambung.........