ENGLISH
Well, last Monday, the number of visitors of my blog reached 80,000. Well, it was
this time
it reached 70,000 which was about 6.5 months ago. So in average there were about 1,538.46 visitors per month. A pretty big decline tho compared to the last few years, but that's fine, hmm... . Thanks for them who have always been supported this blog! :) I will write the same thing when it reached 90,000.
Anyway, so this morning I had a Theory & Management of Investment Exam. Well, apparently it required common knowledge and lucky me I read newspaper everyday!! hahaha... . I hope I did well.
Anyway, I just watched the sixth leg of
TARA 3
. All teams went to Hong Kong. Well, Sam & Vince were first on the previous leg with good lead and now they went to HK (they were from HK), I think they were so lucky, haha... . It was obvious twas gonnabe a NEL (Non Elimination Leg). Ida & Tania were last and they were saved. Anyway, I hate the penalty: taking away all money. HELLO??? Dun you learn Mr. Producer? It's not a good penalty!! It should have been a speedbump.
::: 80,000!!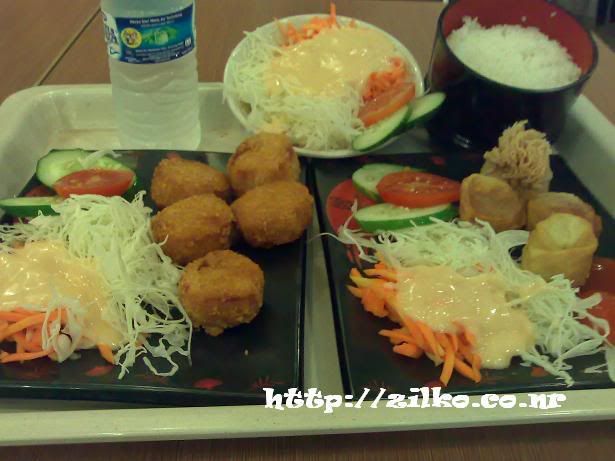 ::: my meal at Hokben this evening, thanks to
Naki
for giving me the idea, LOL.

BAHASA INDONESIA
Hmm, Senin kemarin, jumlah pengunjung blogku mencapai bilangan 80.000. Hmm, adalah pada
waktu ini
nilainya mencapai 70.000 yang mana sekitar 6,5 bulan yang lalu. Artinya, di rata-rata ada 1.538,46 pengunjung per bulan. Sebuah penurunan yang lumayan sih dibandingkan beberapa tahun terakhir ini, tapi ga masalah sih, hmm... . Terima Kasih ya sudah mendukung blog saya! :) Aku akan menulis hal yang sama ketika jumlahnya mencapai 90.000.
Ngomong2, jadinya pagi tadi aku ujian Teori & Manajemen Investasi. Ternyata, ujiannya juga membutuhkan pengetahuan umum dan beruntunglah saya soalnya membaca koran setiap hari!! hahaha... . Semoga kerjaanku tadi bagus deh.
Ngomong, baru aja aku nonton leg keenam dari
TARA 3
. Semua tim pergi ke Hong Kong. Hmm, Sam & Vince kan nomer satu tuh babak sebelumnya dengan beda waktu memimpin yang lumayan dan sekarang mereka ke HK (mereka dari HK), wah, beruntung bener mereka, haha... . Jelas banget lah babak ini akan merupakan NEL (Non - Elimination Leg / Babak Non Eliminasi). Ida & Tania sampe yang terakhir dan mereka terselamatkan. Ngomong2, aku benci penaltinya: mengambil semua uang. HELLO??? Apa dikau tak belajar Pak Produser? Ini bukanlah penalti yang bagus!! Harusnya sebuah speedbump tuh penaltinya.