ENGLISH
Yeah, finally midterms of 5th semester is a history!! hahahaha!!! :) Yesterday I had a nihongo exam, and I think I did okay, hmmm.... . We will see. I know my answer was not perfect tho...
Well, finally now I'm back in Yogyakarta, haha... :) Last evening my friends, two lecturers, and I went to Yogyakarta catching Evening Lodaya Express. It departed at 8 PM and arrived at Yogyakarta Railway Station at 4.15 AM. Of course, as usual, I couldn't sleep really well on the train, haha... . This morning after arriving at Yogyakarta, I drove my dad to the airport (he was going to Surabaya catching the earliest flight this morning, hehe... :D)
Then, today was kinda a free day for me (the competition is held tomorrow). So, since starting from earlier this week my cellphone had mysteriously been error, so I decided to trade it today, hmmm... . So, this afternoon my bro and I went looking for a new cellphone for me and also traded my old one, haha... :) Finally I got a new Nokia N82. I think it's cool, hehe... :)
Tonight I just had dinner with my friends and Ayam Lombok Idjo Restaurant, haha...
O yea, this morning I watched the seventh leg of
TARA 3
. All teams went to Macau. Geoff & Tisha yielded Henry & Bernie, hmmm... . It was an interesting episode, and twas another NEL. Again, Ida & Tania were saved by the NEL. This time, the penalty was a 'marked for elimination'.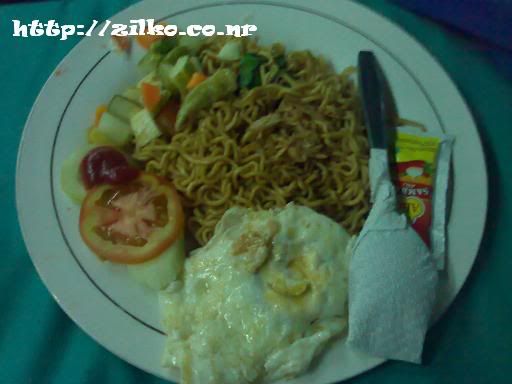 ::: fried noodle I bought on train last night (Rp 12,000.-)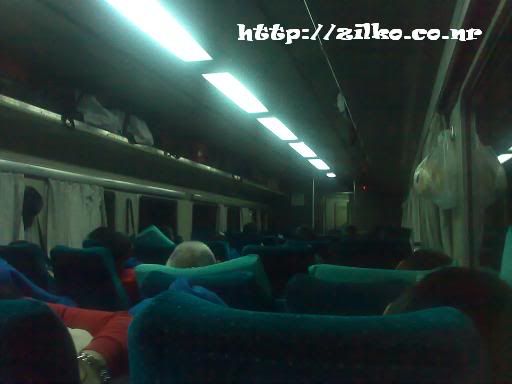 ::: inside Night Lodaya Express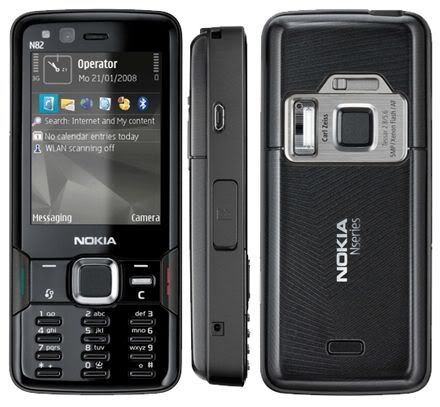 ::: N-82

BAHASA INDONESIA
Yeah, akhirnya UTS semester lima ku udah lewat sekarang!! hahahaha!!! :) Kemarin aku ada ujian nihongo, dan kayanya bisa de, hmmm... . Akan dilihat nanti lah. Walau aku tahu jawabanku ga sempurna bener sih, haha...
Hmmm, akhirnya sekarang aku balik ke Yogyakarta nih, haha... :) Semalam teman2, dua dosen, dan saya pergi ke Yogyakarta naik Kereta Lodaya Malam. Berangkatnya jam 8 malam dan tiba di Stasiun Kereta Yogyakarta jam 4.15 subuh. Tentu saja, seperti biasa, aku ga bisa tidur dengan nyenyak di kereta, haha... . Pagi tadi habis sampe di Yogyakarta, aku nganter papaku ke bandara (soale dia mau pergi ke Surabaya naik penerbangan terpagi tadi, hehe... :D)
Trus, hari ini kan lumayan kosong nih jadwalnya untuk aku (lombanya baru berlangsung besok). Jadi, karena semenjak awal minggu ini hape saya uda secara misterius menjadi error, jadi aku memutuskan untuk menukarkannya hari ini, hmmm... . Jadi, siang tadi aku sama adikku pergi mencari hape baru de untuk aku dan sekalian aja ngejual yang lama, haha... :) Akhirnya aku mendapatkan Nokia N82 yang baru. Rasanya keren juga, hehe... :)
Malem tadi aku ya makan malam sama teman2 di Ayam Lombok Idjo, haha...
O iya, pagi tadi aku nonton babak ketujuh dari
TARA 3
. Semua tim meninggalkan Hong Kong menuju ke Macau. Geoff & Tisha menge-yield Henry & Bernie, hmm... . Episodenya cukup menarik, dan ternyata merupakan NEL lagi. Sekali lagi, Ida & Tania terselamatkan karena NEL-nya. Kali ini, penaltinya adalah 'marked for elimination'.