ENGLISH
Well, I am so tired now, haha... :(
So, last Sunday evening I went back to Bandung catching Turangga Express. It departed at 11.15 PM from Yogyakarta Railway Station. Well, it was one of the weirdest train ride I have ever rode, hmmm... . About 40 minutes after Tasikmalaya Station, the locomotive didn't have enough strength to pull the train!! WTH!! It was after Cirahayu Station (small station). So, the train stopped, then moved backwards (LOLz) to Cirahayu Station to wait for the replacement locomotive, hmmm... . So, as a logic result, it was late again!! Dang. It arrived at 8.35 AM at Bandung Railway Station.
Yesterday was a really full day. Arriving at 8.35 AM, I had a lecture at 9 AM. Imagine that!! And I still managed to attend it, haha... . I arrived at 9.05 AM at my boarding house then after taking a quick shower I ran to my campus, haha... . In the afternoon I gotta work on a Technical Meeting for Math Competition next week. Wah!! Time really flies!! It's now only one week left before it!! Waaa!!! I still have some works to do.
::: Turangga Express entering Yogyakarta Tugu Railway Station, platform 3.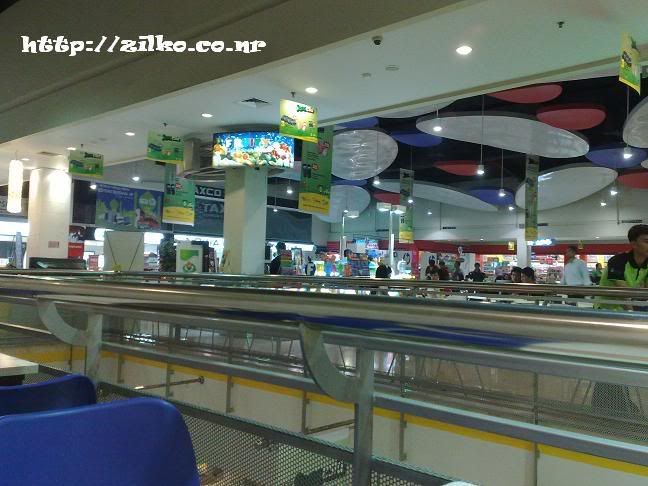 ::: BEC Food Court
::: my meal at Hokben, haha

BAHASA INDONESIA
Hmmm, lelah sekali nih aku, haha... :(
Jadi, Minggu malam kemarin aku balik ke Bandung naik Kereta Turangga. Berangkatnya jam 11.15 malam dari Stasiun Kereta Yogyakarta. Hmm, kayanya kemarin itu adalah salah satu dari kereta paling aneh yang pernah aku tumpangi deh, hmmm... . Sekitar 40 menit setelah Stasiun Tasikmalaya, lokomotif nya kaga kuat narik keretanya!! WTH!! Kejadiannya setelah Stasiun Cirahayu tuh (stasiun kecil). Jadi, keretanya berhenti, trus jalan mundur de ke belakang (LOL) ke Stasiun Cirahayu untuk menunggu loko pengganti, hmmm... . Sebagai konsekuensi logis-nya, keretanya terlambat lagi!! Sial. Baru sampe di Stasiun Kereta Bandung jam 8.35 pagi.
Kemarin beneran hari yang melelahkan de. Nyampe di Bandung jam 8.35 pagi, aku ada kuliah jam 9 pagi loh!! Bayangkan itu!! Dan aku masih bisa menghadirinya, haha... . Aku tiba jam 9.05 pagi di kos, trus langsung de cepat2 mandi trus lari ke kampus, haha... . Siangnya aku harus megang Technical Meeting untuk Kompetisi Matematika minggu depan!! Wah!! Waktu benar2 cepet bgt yah!! Sekarang uda tinggal seminggu lagi ne!! Waa!! Masih ada banyak kerjaan lagi, duh.