ENGLISH
Well, so these last two days I have been in Yogyakarta. Yesterday was the competition day. Hmmm, we arrived the competition place at about 8 AM. Guess what? The competition was about to start at 1 PM. Dang. So, we just waited also for the opening ceremony. Well, everything was late. Very typical of Indonesia, but not a good thing to do by The National Education Department, I think. Anyway, the first round started at 1.30 PM (again, late for 30 minutes). It shocked us since there was a 'new' (read: unannounced) test material: Aplication, hmmm... . Okay, so I just read the questions. Apparently, the material of the questions was the same with material of one of my lectures this semester, Mathematical Modelling. Wakakakaka... . Lucky last week I studied so I still know and remember vividly how to solve the problems.
Then, at 4.30 PM it ended and we had like 2.5 hours break. So, we left the place and had dinner at Mie Bandung, hmmm... . At 6 PM we finished having meal and wanted to go back there. However, because there was a Joga Something Carnival on Malioboro last night, the Malioboro Street was closed and that caused a massive traffic jam!! Dang It!! I was in a rush then, hmmm...
At 7.25 PM (late for 25 minutes), the second test began. It ended at 9 PM.
Today, I went to the church in the morning, as usual, haha... . Then my family and I had breakfast at Soto Kadipiro. In the afternoon, my friend, my lecturer, and I went to the competition place to get the result (and the closing ceremony). After being late for TWO HOURS (goddamn it!!), the closing ceremony began. Of course, I didn't win (I could foresee that) (win = top three). Then, when I saw the whole result, I was on the #4th place!! Waaaaa!!!!!!
That really surprises me!! haha... :) I'm happy I'm #4, that was exceeding my expectation, but on the same time I also feel like: "

Ugh, #4?? Come On!!

". Well, #4 is just one place behind #3 and the prizes (LOL) are only for top three, hmmm... . Anyway, I'm happy, haha... :) Then we had dinner at Mang Engking Soragan. On the evening I went to Malioboro Mall, haha
Well, tonight I'm catching Turangga Express to go back to Bandung tho. Next Monday is gonnabe a looong day, hmmm...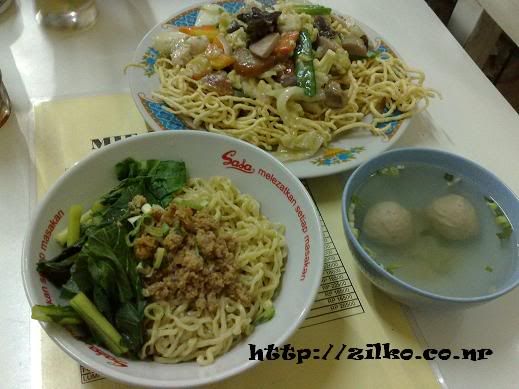 ::: my meal at Mie Bandung: Mie Bakso and Ifumie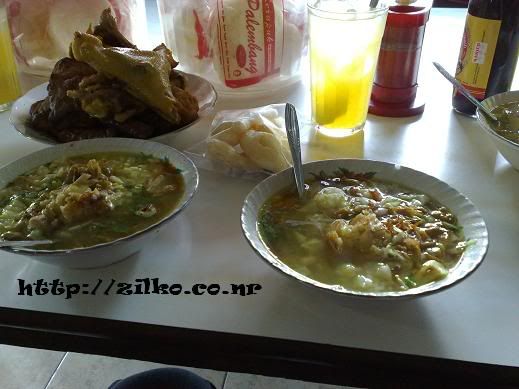 ::: my meal at Soto Kadipiro this morning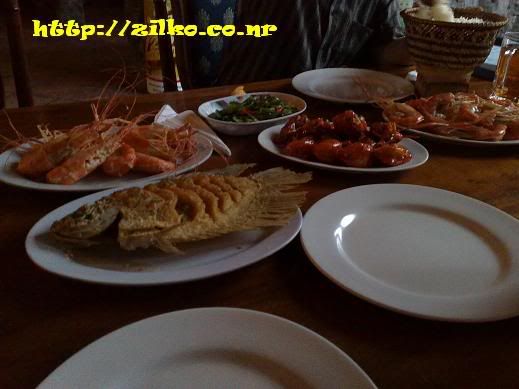 ::: our meal at Mang Engking Soragan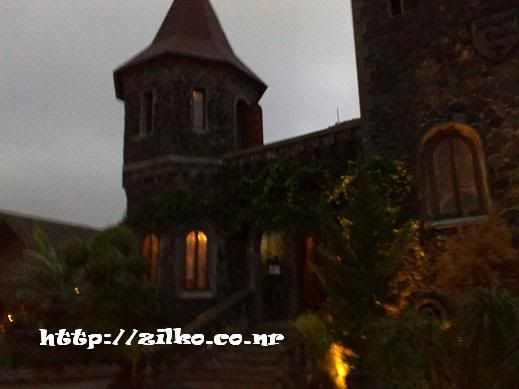 ::: Mang Engking Soragan

BAHASA INDONESIA
Hmm, jadi dua hari belakangan ini aku udah ada di Yogyakarta. Kemarin adalah hari kompetisinya. Hmmm, kita tiba di lokasi kompetisinya jam 8 pagi loh. Dan bagaimana? Kompetisinya baru mulai jam 1 siang tuh. Sial. Makanya jadi harus nunggu deh sekalian sama Upacara Pembukaannya. Hmmm, semuanya serba telat tuh. Sangat tipikal Indonesia sih, tapi kan tetap aja bukan hal yang baik yang bisa dilakukan oleh Departemen Pendidikan Nasional, menurutku. Ngomong2, akhirnya babak pertama dimulai jam 1.30 siang (lagi, telat 30 menit tuh). Agak mengejutkan kita awalnya karena ada bahan 'baru' (baca: yang gak dikasih tau sebelumnya), yaitu Aplikasi, hmmm... . Oke, ya uda de pasrah aja dan baca pertanyaannya. Eh, ternyata materinya sama kaya materi salah satu kuliahku semester ini, Pemodelan Matematika, wakakaka... . Untung de minggu lalu aku belajar untuk ujian kan makanya masih inget segar bagaimana cara penyelesaian beberapa masalah.
Trus jam 4.30 babak pertamanya beres dan ada sekitar 2,5 jam untuk istirahat. Nah, kita meninggalkan tempat itu dan makan Mie Bandung, hmmm... . Jam 6 uda beres makannya dan mau balik ke sana kan. Eh, karena ada Jogja Carnival apa gitu di Malioboro makanya Jalan Malioboro nya ditutup, dan itu menyebabkan macet parah!! Sialan!! Jadi keburu2 deh, hmmm...
Jam 7.25 malam (telat 25 menit) babak keduanya dimulai dan beresnya jam 9 malam an.
Hari ini, aku pergi ke gereja pagi tadi, kaya biasa, haha... . Trus aku dan keluarga makan di Soto Kadipiro de. Siangnya, temenku, dosenku, dan aku pergi ke tempat kompetisinya untuk melihat hasil dan upacara penutupan. Habis telat selama DUA JAM (sialan banget tuw!!), akhirnya upacara penutupannya dimulai. Tentu saja. aku gak menang (iyalah, aku tahu itu) (baca: menang = tiga besar). Dan gimana? Waktu aku melihat hasil keseluruhannya, aku ada di tempat ke #4!! Waaaaa!!!!!!
Ini bener2 mengejutkan aku!! haha... :) Aku senang aku ada di tempat ke 4, bener2 melebihi harapan awal, namun pada saat yang sama sayang juga gitu: "

Ugh, koq 4 sih?? Ayolah!!

". Hmmm, #4 kan 1 posisi di belakang #3 dan hadiahnya (LOL) kan cuma untuk 3 besar, hmmm... . Gapapa sih, tetap senang koq, haha... :) Trus kita makan di Mang Engking Soragan. Malemnya aku ke Malioboro Mall, haha...
Hmm, malam nanti aku akan naik Kereta Turangga untuk balik ke Bandung. Besok Senin akan menjadi hari yang panjaang neh, hmmm...