ENGLISH
Well, finally now one subject is left. One To Go. It is Nihongo (Japanese Language). Hahaha... . Well, so far we have learned some really basic stuffs and now I gotta memorize all the Hiragana words. Well, two weeks ago I think I had already memorized them pretty well, but now I have forgotten some because I had so many things going around lately, midterms, haha... :) Beside, one big program is coming up: Unpar Math Competition is in two weeks!! Waaa!!! I gotta dash on some works, hmmm... .
Arrggghhh, now I want all these burdens to go!! But I wonder, when they are really gone (and I'm left with not so many burdens), will I miss it? LOLz. I mean, I think now I'm getting used to work with many things going on, hmmm... . When things are not these many, probably I'll have the excess of energy (LOL) to spend, haha... . We will see later lah, haha...
Anyway, later this evening I'm going back to Yogyakarta catching Evening Lodaya Express. Well, I love my campus so much (LOL). They paid all the tickets (and hotel accomodation, but since I still prefer to stay on my home -- of course -- so it's not counted, LOL). Plus, they give us some extra money to spend, wahahahaa... . The amount is confidential (LOL), but pretty much for a 3 days trip, hmmm... .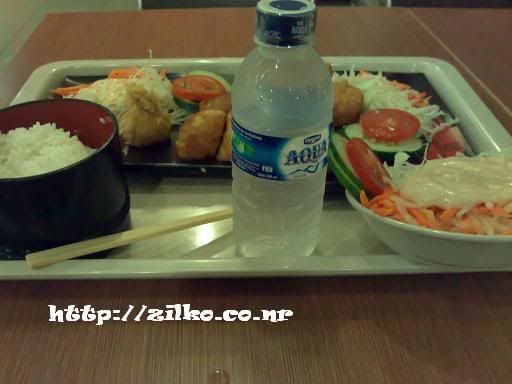 ::: Hokben (again), haha...

BAHASA INDONESIA
Hmmmm, akhirnya aku ada satu matkul tersisa. Satu Lagi neh. Mata kuliah itu adalah Nihongo (Bahasa Jepang). Hahaha... . Hmm, sejauh ini aku baru belajar hal-hal dasar dan aku harus menghapalkan semua karakter
Hiragana
. Hmm, dua minggu lalu rasanya aku udah cukup menghapalkannya sih, tapi sekarang udah lupa beberapa soalnya ada banyak hal sih yang berlaku akhir2 ini, UTS, haha... :) Di samping, satu acara besar akan datang: Kompetisi Matematika Unpar dalam dua minggu lagi!! Waaa!! Aku harus cepetan kerja neh, hmmm... .
Arrggghhh, sekarang aku mau semua beban ini selesai!! Tapi penasaran juga sih, kalau udah beneran selesai (dan jadi ga ada sebanyak tekanan seperti kaya sekarang), akankah aku merindukannya? LOLz. Maksudku, kan sekarang aku sedang 'membiasakan' diri dengan kerjaan sebanyak ini yang berlaku, hmmmm... . Nah, ketika nggak sebanyak ini lagi, mungkin aku jadi akan memiliki kelebihan energi (LOL) untuk disalurkan, haha... . Ntar aja ah dipikirkannya lah, haha... .
Ngomong2, malam nanti aku akan pergi ke Yogyakarta naik Kereta Lodaya Malam neh. Hmmm, aku cinta kampusku deh (LOL). Kan jelas tiket keretanya dibayarin tuh (dan hotel juga sih, tapi berhubung aku mendingan tidur di rumah saja --tentu saja-- jadi ga dihitung deh, LOL). Plus, mereka juga ngasi uang jajan loh, wahahahaha... . Jumlahnya rahasia dong (LOL), tapi ya lumayanlah untuk perjalanan 3 hari, hmmm... .