ENGLISH
Well, yeah Thursday is now passed. LOL. As you can read at some previous entries, yesterday I went to Jakarta for a 'Company Visit' and (unluckily) I was the project manager of the program.
Well, overall the program went pretty well despite the fact that the crowdedness of Jakarta was beyond expectation. That thing caused we were late... :( Well, I hope the guys on Bank Indonesia understand it... :( After visiting Bank Indonesia we went downstairs (our class was on the 2nd floor of Syafruddin Tower). Unpredictably, they gave us a really good 'service'. There was a coffee break during the program (that was cool!). Plus, they gave us lunch! What!?!?!? We didn't know that and unfortunately we had prepared meals for our lunch from Bandung, duh... .
Then, we went to Ancol and went to Sea World (some friends chose to be apart from us and had their own schedule). Then at 6.15 PM we left Jakarta and went back to Bandung. Undeniably, there were some flaws on the program. I could say it was because it was the first program held by us. There was no 'Company Visit' before causing we had no idea about what we were going to plan for the program during the planning time. Overall, I like the fact that it went well... :)
Anyway, this week is the top 6 week of AI 7. I think, my top two: David Cook and Syesha Mercado. My bottom two: Jason Castro and Brooke White. They were the weakest, plus Brooke forgot the lyrics and decided to start over. It was a bit awkward. However, after 38 millions vote, the bottom two: Syesha Mercado and Carly Smithson!! What!! Arrrggghhh, OMG. They didn't deserve to be there (now I hate Jason Castro even more, haha...

). Daaammnnn... . However, from these two, Carly should go simply because Syesha was so great this week and she was not. Well, then Carly got voted off...

note: photos about yesterday's trip will be posted soon since now I forget to bring the cable data to this warnet, hahaha... :)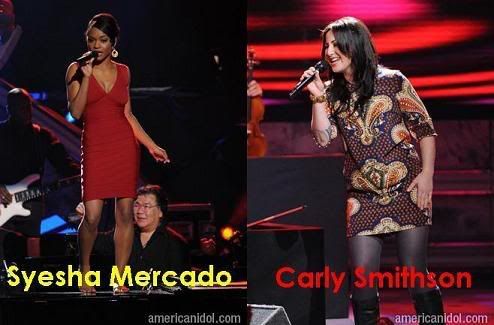 ::: Bottom Two this week: Syesha Mercado and Carly Smithson.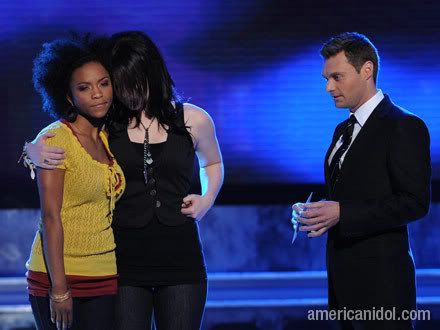 ::: "

Carly ... is leaving us tonight on American Idol

"

BAHASA INDONESIA
Hmmm, yeah Kamis terlewati sudah, LOL. Seperti yang bisa dibaca di beberapa posting sebelumnya kan kalo kemarin aku pergi ke Jakarta untuk 'Kunjungan Perusahaan' dan (sialnya) aku adalah ketua program (project manager) dari acara ini.
Hmmm, secara keseluruhan acaranya berjalan dengan lancar sih kecuali fakta bahwa kemacetannya Jakarta itu benar-benar melebihi ekspektasi. Hal itu membuat kami terlambat... :( Semoga orang2 di Bank Indonesia maklum sih... :( Habis mengunjungi Bank Indonesia kita ke bawah (kan acaranya ada di lantai 2 Menara Syafruddin tuh). Tak terduga, mereka memberika 'servis' yang bagus bgt loh. Sampe ada coffee break segala di tengah acara (keren dah!). Plus, mereka juga ngasi kita makan siang. Apa!?!?!?!? Kita nggak tahu itu dan sayangnya kan kita juga udah nyiapin makan siang dari Bandung tuh, duh... .
Trus, kita pergi ke Ancol dan ke Sea World deh (beberapa memilih untuk memisahkan diri dan jalan2 sendiri sih). Sebenarnya dari awal aku uda ngerencanain mending ke Dufan aja, cuma kalo masuk Dufan kan lebih mahal trus baru sempet masuk jam 2 siang paling cepet, rugi lah... . Trus jam 6.15 sore kita meninggalkan Jakarta dan balik menuju Bandung. Tak terelakkan kalo pasti ada deh kekurangan dari acara ini. Yah soalnya gimana lagi soalnya kemarin tu programnya pertama kali diadain sih. Belum pernah ada tu 'Kunjungan Perusahaan' sebelumnya makanya kan kita jadi bener2 ga ada gambaran tentang apa yang akan kita adakan pada waktu perencanaan. Secara keseluruhan sih aku senang dengan program ini soalnya berjalan lancar sesuai dengan rencana.... :)
Ngomong2, minggu ini adalah minggu 6 besar AI 7. Aku rasa, dua teratasku: David Cook dan Syesha Mercado. Dua terendahku : Jason Castro dan Brooke White. Mereka tu yang terlemah, ditambah lagi Brooke lupa lirik dan memutuskan untuk ngulang tuh waktu nyanyi. Suasananya ganjil bgt. Namun, setelah 38 juta suara yang masuk, dua terendahnya: Syesha Mercado dan Carly Smithson!! Apa!! Arrrggghhh, OMG. Mereka nggak berhak tu masuk 2 terbawah (sekarang aku makin membenci Jason Castro dah, haha...

). Siaaaalll... . Namun dari dua ini ya memang Carly sih yang harus out, soalnya ya sederhana aja, Syesha bagus bgt minggu ini dan dia enggak. Hmm, kemudian Carly tersisih...

catatan: foto2 tentang perjalanan kemarin akan di upload kemudian deh ya soale sekarang aku lupa ni untuk bawa cable data ke warnet ini, hahaha... :)