ENGLISH
Fiuh, finally today is almost over. Today has been such a busy and tiring day for me... :(
Well, I already knew that today was gonnabe busy so yesterday I made myself about tired all day and so I could go to sleep a bit early. Yea, I slept a bit early last night, at about 10 PM, huehehehe.... . So, I had a well slumber last night and this morning I got up at 6.20 AM without alarm. Then, I went to my campus to have my ordinary and tiring college day.
My lectures today started at 7 AM and ended at 3 PM. Errr, I dunno it's a good thing or not but since one of my lecturers was having a surgery today so the 9 AM class was canceled. However, it didn't mean that I could be free, I still gotta make my homework. Plus, I also had to attend a meeting about 'Company Visit' in the next 2 week (I'm the project manager of this event, shoot, it's frustrating that now I gotta make a budget list where I have to be smart and a bit sneaky, hmmmm). Therefore, next Thursday I'm gonna go to Jakarta to do a survey, haha.... :) Anyway, do anyone know how much it costs to enter Sea World in Jakarta for collective tickets? Hmmmm.... .
Well, then at 3 PM I went back to my boarding house. I was still not free yet. Two friends and I had to go to Istana Plaza to attend a meeting with the owner of a kid-store here which ventures with us (committee of Math Competition 2008 next November). They have an event next Friday and we will help them. Okay, after the meeting, my friends went back home and I had dinner here at Hoka-Hoka Bento. So here I'm now at a cafe at Istana Plaza browsing the net, haha...
Grrr, tomorrow is also gonnabe a pretty busy day!! :( Beside, I also have 2 assignments to submit... :( This week is a busy day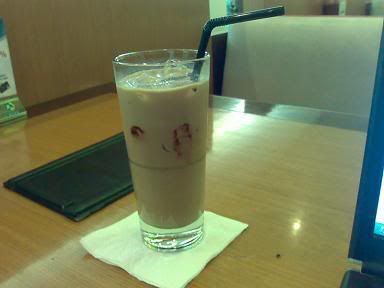 ::: a Rp 15,300.- decafed iced mocha. A lot better (in term of price, taste, and service) than the fruity frappucino I got last weekend at Starbucks

BAHASA INDONESIA
Fiuh, akhirnya hari ini hampir selesai juga. Hari ini beneran hari yang sibuk dan melelahkan neh buat saya... :(
Hmmm, aku uda tau sih alo hari ini bakalan sibuk makanya kemarin aku membuat diri saya capek deh seharian jadinya kan bisa tidur awal tu. Ya, akhirnya aku tidur lumayan awal loh, jam 10 malem, huehehehe.... . Jadinya, aku bisa tidur nyenyak dan pagi ini bangun jam 6.20 pagi tanpa alarm. Trus aku ke kampus deh dan hari melelahkan saya dimulai.
Kuliah saya dimulai jam 7 pagi dan selesai jam 3 sore. Emmm, gatau neh hal yang baik atau jelek tapi salah satu dosen saya kan lagi mau dioperasi tu hari ini makanya tadi kelas yang jam 9 dibatalkan. Tetapi itu nggak trus berart bebas deh. Aku masih harus bikin pr dan tugas. Trus, aku juga harus menghadiri rapat deh tentang 'Kunjungan Perusahaan' 2 minggu lagi (aku tu project manager dari acara ini, sial, makanya neh pusing nih sekarang untuk bikin anggaran soalnya kan aku harus bener2 cerdas dan dikit licik tuh, hmmmm). Makanya besok Kamis aku mau ke Jakarta deh buat survey, haha... :) Ngomong2, ada yang tau ga berapa sih biaya buat masuk Sea World untuk tiket rombongan? Hmmmm.... .
Hmm, trus jam 3 sore aku balik deh ke kos. Aku masih belum bebas deh. Aku sama dua temen mesti ke Istana Plaza untuk ikutan rapat sama salah satu pemilik toko mainan disini yang kerjasama sama kita (panitia Kompetisi Matematika 2008 besok November). Mereka kan ada acara tu besok Jumat nah kita sih mau bantu2 gitu. Oke, habis rapat, temenku balik dan aku sih makan di Hoka-Hoka Bento. Jadi, disinilah saya sekarang di Istana Plaza Bandung sambil internetan, haha....
Grrr, tbesok akan jadi hari yang cukup melelahkan lagi neh!! :( Ditambah aku juga ada 2 tugas untuk dikumpul... :( Pokoke minggu ini minggu sibuk dah