ENGLISH
These last two days, my family and I went to Bandungan, a small town located in the foothill of a mountain near Semarang. We went there with our relatives and we rented a villa at a hotel to stay.
We departed on Monday morning at 7.30 AM and we made a stop at Muntilan to have breakfast. We had "sop empal" as our breakfast. I personally didn't really like the taste even though many other people loved it, hmmm. Anyway, then we continued our trip and arrived at Bandungan at around 11.30 AM. We apparently must wait until 1 PM to check in. Therefore, we decided to go to Bandungan Market first to have dinner at a warung bakso there.
At 1 PM we went back to our hotel and checked in. Next, my brother and I played tennis at the tennis court (that's obvious since we wouldn't have played at a swimming pool, rite? :D), tho we didn't bring any equipments, we rented it and played barefoot, damn, LOL. Anyway, after that we took a rest. We then had dinner in the evening at a chinese food restaurant. Well, there were not so many activities that we did as we just enjoyed the atmosphere of the small town.
We got up early on Tuesday as my relatives had another trip to Purwokerto coming that day. After having breakfast and checking out, we went to Bandungan Market again. After that, we went back to Yogyakarta and my relatives headed Purwokerto. On the way back home, we made two stops. The first stop was at the Kerep Cave. The last time I visited Kerep Cave was
this time
, not so long ago. The second stop was at a warung near Yogyakarta as we had lunch there. It was the "Lombok Ijo Sego Abang" warung (roughly translated as "green chili red rice"). It served traditional Gunung Kidul cuisine, and I think the menus were unique :-)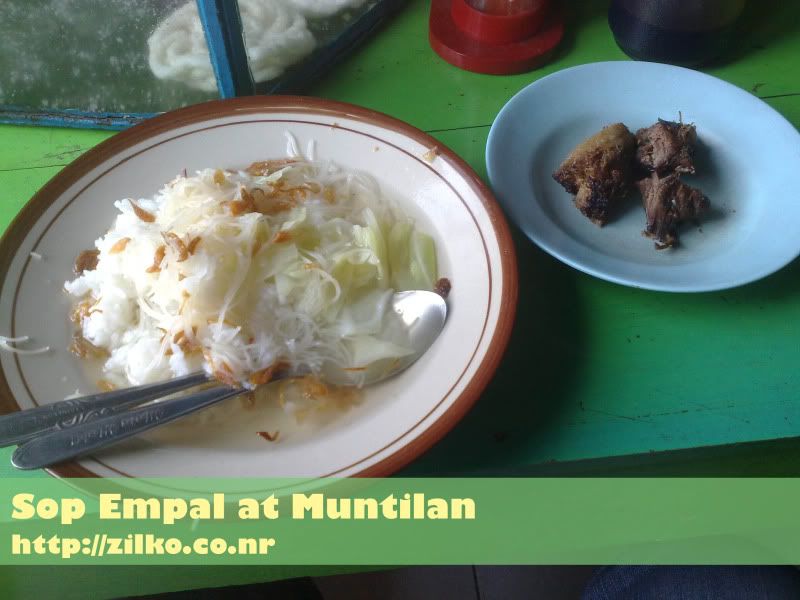 ::: Sop Empal
::: A scenery at Bandungan. Rawa Pening Reservoir and the town of Ambarawa is within visible range.
::: Bakso Brengos at Bandungan Market.
::: Bandungan Traditional Market.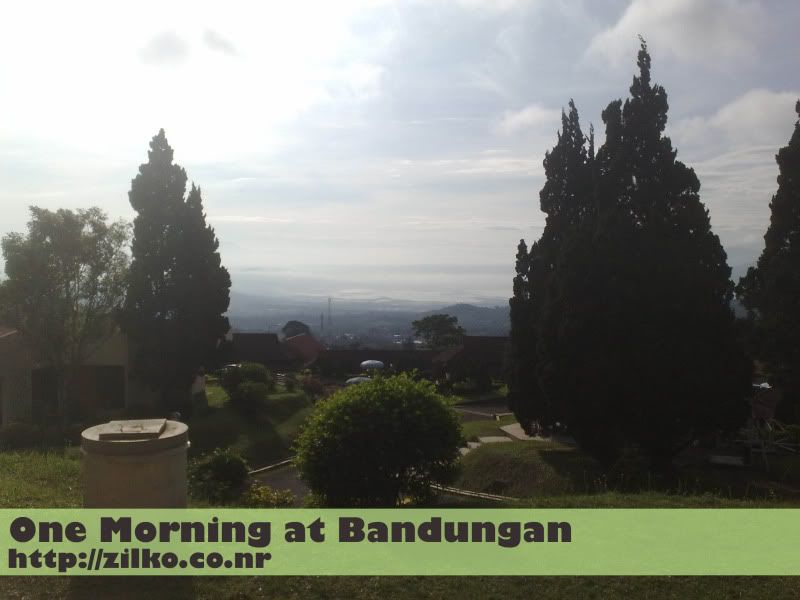 ::: One morning scenery at Bandungan.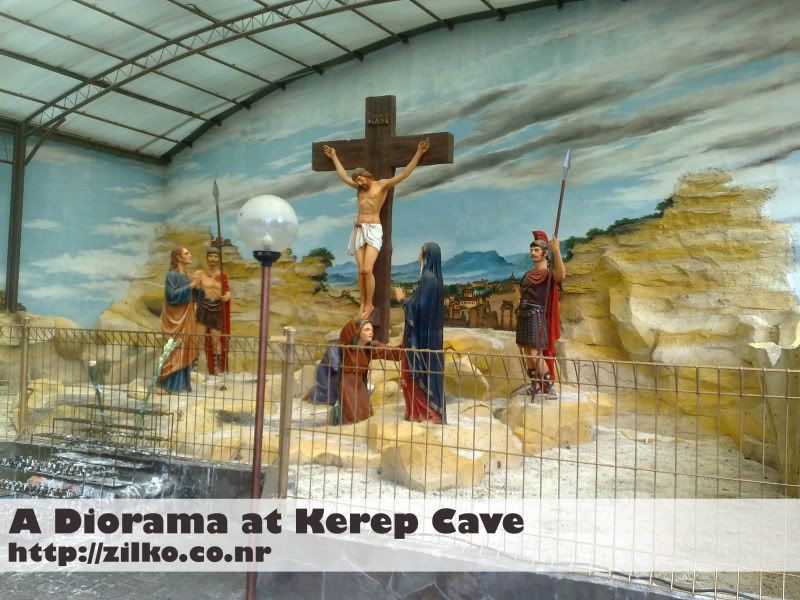 ::: A diorama at Kerep Cave.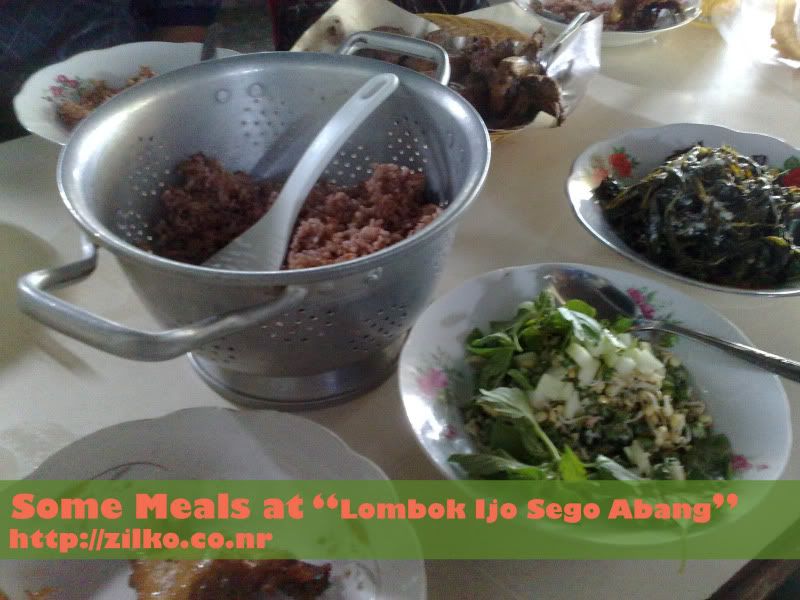 ::: Menus at "Lombok Ijo Sego Abang" warung.

BAHASA INDONESIA
Dua hari terakhir ini, aku dan keluarga pergi ke Bandungan, sebuah kota kecil yang terletak di kaki gunung di dekat Semarang. Kami pergi kesana bersama kerabat dan kami menyewa villa di sebuah hotel untuk tinggal.
Kami berangkat Senin pagi, sekitar jam 7.30 pagi dan berhenti di Muntilan untuk sarapan. Kami makan "sop empal" sebagai sarapan. Aku sih ga gitu suka sama rasanya ya walau banyak orang yang bilang enak banget sih, hmmm. Ya, pokoknya kemudian kami melajutkan perjalanan dan tiba di Bandungan sekitar jam 11.30 pagi. Kami ternyata harus menunggu sampai jam 1 untuk
check in
. Makanya, kami memutuskan untuk jalan ke Pasar Bandungan aja dan makan siang di sebuah warung bakso disana.
Jam 1 siang kami kembali ke hotel dan
check in
. Kemudian, aku dan adikku main tenis di lapangan tenis (iyalah, masa di kolam renang? :D), walau kami ga bawa peralatan apa-apa sih, makanya kami menyewanya dan bermain dengan telanjang kaki, sial, LOL. Yah, kemudian kami beristirahat. Malamnya kami makan malam di sebuah restoran
chinese food
. Yah, memang sih nggak banyak aktivitas yang dilakukan karena kalau disana ya memang sebatas menikmati suasana kota kecil itu saja.
Selasa pagi, kami bangun lumayan pagi karena kerabat harus melanjutkan perjalanan ke Purwokerto. Setelah makan pagi dan
check out
, kami pergi ke Pasar Bandungan lagi. Kemudian, kami kembali ke Yogyakarta dan kerabat pergi menuju Purwokerto. Di perjalanan pulang, kami mampir di dua tempat. Tempat pertama adalah Goa Kerep. Terakhir kali aku ke Goa Kerep adalah
waktu ini
, belum terlalu lama deh. Perhentian yang kedua adalah di sebuah warung deket Yogyakarta karena kami makan siang disana. Warung itu adalah "Lombok Ijo Sego Abang" (terjemahan kasarnya kira2 "cabai hijau nasi merah"). Menunya adalah menu tradisional khas Gunung Kidul, dan aku rasa unik juga tuh :-)